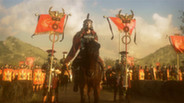 Hegemony Rome: The Rise of Caesar takes you to the plains and forests of ancient Gaul where Julius Caesar wages a decade long war to subjugate the barbarian hordes. Hegemony Rome will immerse you in the history like no other real time strategy game ever before, forcing you to pay close attention to the changing seasons and rapidly...
Release Date: Feb 12, 2014
Watch all 3 trailers
Early Access Game
Get instant access and start playing; get involved with this game as it develops.
Learn more about Early Access.
What the developers say:
"Early Access gives you the opportunity to support us during the development process of Hegemony Rome: The Rise of Caesar. We are a small developer with a passion for quality games and Early Access allows us to use your feedback in order to make sure we deliver the best possible experience.

The game is already in an advanced state of completion. The Early Access beta version includes approximately 12 hours of gameplay and most of the main game features, as well as the first two chapters of the campaign are already playable.

If you are looking to play a polished and finished game, we advise you NOT to purchase this Early Access version.

However, if you would love to dig a little deeper into the world of game development and design, you can have immediate access to the beta version of the game at a discounted price and actively help us with your participation, comments and constructive criticism to create a great strategy game.

Please note that Hegemony Rome: The Rise of Caesar is not fully polished and some features are yet to be added. This includes:

*Sandbox Mode is not yet complete
*Game Mechanics require balancing
*We need to localise the game in more languages
*The graphics are still in need of enhancement
*General bug fixing and QA stages that are vital to getting you the polished title at release

Of course, the full game will be unlocked upon release without any additional charge!

Thank you for your support!

About us

Longbow Games is a small independent development studio established in 1998 and located in Toronto, Canada. We are a small team of half a dozen passionate developers working hard on our dream to make great strategy games that combine complexity, fun and historical accuracy. Teaming up with Kasedo Games as a "digital-first" publisher and going into Early Access on Steam gives us the opportunity to interact with an active community to achieve our vision of a great strategy experience."
Read more
April 11th, 2014
And here's another update which brings you the final chapter of the campaign: "Men Believe What They Wish" and tells you the story of the rebellion of Vercingetorix. Also, we significantly re-balanced the siege mechanics as well as many more bug fixes and gameplay improvements. Here's the changelog:

- Significant re-balancing of siege mechanics (Siege AI still WIP)
- Chapter 4 enabled (Still WIP, most rewards are missing)
- Fixed a lot of group formation bugs (auto-grouping to come later)
- Misc bug fixes and improvements
1 comments
Read more
April 4th, 2014
Another week, another update - and with this update you get a first look at the game's sandbox mode, but please keep in mind that this particular feature is still a work in progress! Additionally, the update provides lots of improvements, especially for chapter 3. And here's the according changelog:

- The Belgica mini-sandbox has been enabled (first glimpse at sandbox mode; still a WIP)
- All chapter 3 rewards have been implemented
- Added new optional objectives in chapter 3 after returning from Britannia
- Combat charging bonuses have been reworked
- Combat XP is now based on the size of the enemy at the start of the battle
- Walled cities will still fire at nearby enemies even when they are out of food
- Cities now get a morale debuff when out of food
- Fixed some boundary issues with the Battle of the Sabis in Chapter 2
- General bug fixes and improvements
0 comments
Read more
Reviews
"'…an interesting twist on the wargame framework with a rarely covered setting'"
Strategy Informer

"'… it'll offer a surprising amount of tactical depth'"
RockPaperShotgun

"'…a fresh experience that will appeal to any strategy fan. Can you tell I am excited about this game yet?'"
Hooked Gamers

Early Access Version
WARNING: THIS GAME IS AN EARLY ACCESS BETA VERSION. PLEASE DO NOT PURCHASE IT UNLESS YOU WANT TO ACTIVELY SUPPORT THE DEVELOPMENT OF THE GAME AND ARE PREPARED TO HANDLE SERIOUS ISSUES, UNFINISHED FEATURES AND POSSIBLE INTERRUPTIONS OF GAMEPLAY.
About the Game
Hegemony Rome: The Rise of Caesar takes you to the plains and forests of ancient Gaul where Julius Caesar wages a decade long war to subjugate the barbarian hordes.
Hegemony Rome will immerse you in the history like no other real time strategy game ever before, forcing you to pay close attention to the changing seasons and rapidly changing military situation. Unfolding across an epic satellite-accurate map stretching from the Mediterranean coast to the British Isles, the game utilizes the Hegemony series' trademark zoom to seamlessly take you from a grand strategic view of your empire right down to the battlefield at any time.
Hegemony Rome: The Rise of Caesar brings the past to life as you manage your armies and manipulate your enemies in a beautifully drawn simulation of 1st century BC warfare. Bring all of Gaul under the rule of the Senate and People of Rome. Or, unite the Gallic tribes in the expanded sandbox mode and end the threat of Roman rule forever.

Direct from the hand of Caesar – All chapters of the campaign are available: "Migrants and Conquerors", "The Bravest of These", "An Island Unto Himself" and "Men Believe What They Wish"; these follow the conquests of Julius Caesar in Gaul as he wrote them in Commentarii de Bello Gallico.
All new map – Explore over one million square kilometers that are seamlessly zoomable, from the Mediterranean coast to the shores of Britannia.
Improved graphics engine – Hegemony Rome supports 10x the terrain detail over previous installments and features a diverse and immersive landscape to explore.
Build an empire – The construction system allows players to build forts, walls, and bridges at thousands of sites across the map to cement Roman control over the barbarian kingdoms.
Promote your legions – Players can train officers to augment their unit's skills as well as appoint governors and construct buildings to expand and improve their cities.
Starve your enemies – Supply camps and logistics system makes sieges and supply lines more intuitive and more important than ever.
There will be regular, constant beta updates delivering, step by step, the following features:
Sandbox mode – choose from 20 different factions.
Many more mission objectives
New languages and voice recordings (e.g. French, Italian, Russian, etc.)
Improved gameplay
Enhanced graphics
AI balancing
General polishing
Beside the above, we are hoping to get more input and proposals for improvements and new features from the Early Access community. While we cannot guarantee to consider and implement every proposal due to time, game design and budget, we are promising that we will consider all ideas very carefully!
System Requirements
Minimum:


OS: Windows XP / Vista / Windows 7 / Windows 8

Processor: 2 GHz Intel Dual Core processor

Memory: 3 GB RAM

Graphics: 512 MB DirectX 9.0c compatible card

DirectX: Version 9.0c

Network: Broadband Internet connection

Hard Drive: 3 GB available space

Sound Card: DirectX 9.0c-compatible sound card
There are no public reviews for this product yet
You can write your own review for this product to share your experience with the community. Use the area above the purchase buttons on this page to write your review.
Title:
Hegemony Rome: The Rise of Caesar
Genre:
Early Access
,
Indie
,
RPG
,
Simulation
,
Strategy
Developer:
Longbow Games
Publisher:
Kasedo Games
Release Date:
Feb 12, 2014
Languages:
| | Interface | Full audio | Subtitles |
| --- | --- | --- | --- |
| English | | | |
| German | | | |