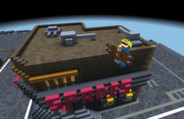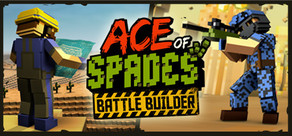 Say hello to the creative shooter. Ace of Spades: Battle Builder is the first-person shooter that lets you create your battleground, destroy it, then create it again. Up to 32 players choose from seven unique classes and jump into team-based, multiplayer mayhem across an endlessly evolving battlefield, to construct, destruct and take out...
Release Date: Dec 12, 2012
Watch HD video
Buy Ace of Spades: Battle Builder
Buy Ace of Spades: Battle Builder 4-Pack
April 16th, 2014
We're happy to announce that from today, everyone can now access a preview of the upcoming Dedicated Servers update.
We have picked 3 key Community members to head up the servers for the three core regions, the admins can then recruit additional admins if they wish to help them run a great server during the preview period.

The Servers will be running on Multiplay's ClanForge Software, you can read up on all the features provided here

Count - Wiki Overlord, and awesome evangelist of all things community! He will be admining all the servers located in the US Region

Marisa Krisiame - Providing us with laughter with the 'easy-listening' music, and much super clever technical talk. MK will be admining all the server in the Australian region.

Old Flads - It's not often you see Olly without his Camera, he has been an awesome member of our Community, he will be admining the London Server.

Throughout the duration of the Preview you will only be able to play on the Servers provided in the Server Browser

How they choose to run the servers during this preview period is completely up to them, and we look forward to what they come up with!

Check out Old Flads' video of how to get involved in the preview.

https://www.youtube.com/watch?feature=player_embedded&v=wUY6t53XGNM

Or check out the text tutorial below to access the preview & get involved.

1. Head into your Steam Library, right click Ace of Spades then go into properties

2. Click the 'Betas' tab and enter the following code j@g3x_s3rv3r (This should provide you with confirmation of access to the 'Server Preview' branch)

3. Make sure the Server Preview branch is selected in the the drop down menu

4. Press 'Play, and wait for the update to download, go to 'Find Match > Server Browser > Community' and join one of the preview servers and play with everyone!

We hope you will check it out, and take advantage of the opportunity to get involved via the dedicated server update before it is launched.

The Ace of Spades Community Team
0 comments
Read more
February 20th, 2014
Hello Soldiers, as we approach the start of our GameBlast Stream we're happy to announce that Ace of Spades will be going on sale from 10AM EST tomorrow until 10AM PST on the 24rd February with 75% off for £2.50, 50% of these profits will be donated to GameBlast.

The 24 hour Stream Schedule is listed below, we will go live on www.twitch.tv/aceofspades from 1PM GMT tomorrow. We hope to see you all there!

1PM - We announce the winners of the Ace of Spades RT, Follow & Win. (find out more)

1.30 PM - Public Matches on the AoS Servers

3PM - Custom Game Masscare (Crazy settings + Rules)

5PM - Custom Game Requests, the viewers decide what rules we play on.

7PM - Buildathon Winner Announcement - We review the top maps made with the GameBlast tag.

9PM - 2 vs 2 Charity Wingman Rumble - Highest team point score over the 2 hours wins!

11PM - Build a Battle - Zombie Midnight Theme, what can Shaun & Sally come up with?

1:00 AM - Bring Out the DEAD! - The Community Zombie voices come to life! In this special section of the stream, we show off all of the Community Made Voiceovers in Zombies!

3:00 AM - Best of Steam Workshop - Give an overview of who won the map making contest (cut down version) & then have a look through the workshop. We'll show you specifically why we chose this map and give you some advice upon on how to improve upon your maps!

5:00 AM - Public Freeplay - The Ace of Spades Team jump straight in to a public server to play a variety of standard games.

7.00 AM - Custom Game Craziness - Crazy combinations to the extreme, we may take requests from the viewers also!

9.00 AM - Build a Battle - We take on a Community Team to build the best map possible in the given time. (Dream Theme)

11.00 AM - GameBlast Grudge Match - 1vs1, 2vs2, 6vs6? Who knows! It's the battle of Green vs Blue!

See you there.

Sally, Chris & Shauny
The Ace of Spades Community Team
14 comments
Read more
Reviews
"It's Team Fortress with a spade, Call of Duty with a trowel, Battlefield with a powerdrill."
– IGN

"There's just no equivalent of it in any other FPS game we've ever played"
–Now Gamer

"The natural successor to the title of King of Lunchbreak LAN"
– FPSGURU
About the Game
Say hello to the creative shooter. Ace of Spades: Battle Builder is the first-person shooter that lets you create your battleground, destroy it, then create it again. Up to 32 players choose from seven unique classes and jump into team-based, multiplayer mayhem across an endlessly evolving battlefield, to construct, destruct and take out the opposition.
Key Features
CONSTRUCTION, COMBAT AND CREATIVITY - Complete strategic and creative freedom is at your disposal to annihilate the enemy however you like.
MULTIPLAYER MAP CREATION - Ace of Spades: Battle Builder includes a map creator mode, which allows you to collaborate with up to 23 friends and make your very own Ace of Spades battleground! Custom tools and over 400 prefabricated structures will help you build the ultimate multiplayer maps, which you can upload and share via Steam Workshop.

CUSTOM GAME MODES - Play the way YOU want to play! Host your own match or create your own mode using the wide selection of settings available to you. From fine tuning your favourite mode & classes, to turning TDM into a Spade-only grudge match with predefined teams, as a lobby host you can:

Set your lobby to invite only, friends, or open, and also have full control over who joins with the host 'kick' function

Sort players into specific teams – great for clan matches, or for playing on the same team as your friends

Choose the map you want to play, official or player made

Set the size of the match, and it's duration

Set up vanilla game modes or tweak them to suit by using an extensive set of customisable game rules

Tons Of Insane Game Modes

Team Deathmatch - The Grandaddy of them all. Kill the enemy; try not to die doing it.

Zombie Mode - Survive the onslaught of the living dead. Failing that, join them.

Classic CTF – Back to basics, one class, one loadout, the classic rifle. You know what to do.

Capture the Flag – No FPS is complete without CTF. Protect your flag, take the enemies'.

Demolition - Demolish the enemy's base before your own is decimated.

Diamond Mine - Dig up precious diamonds & defend the diamond carrier as they attempt to cash in their discovery at your team's base for points.

Occupation - A game mode that pits offence against defence. The defensive team must protect their teams based in the green occupied area of the map while the attacking Blue team try to destroy the enemy position by successfully detonating bombs.

VIP – Play in 1930's era Chicago or LA's Alcatraz and protect your mob boss from the opposing Mafioso.

Territory Control - Claim key tactical areas of the map for your team, gain a majority territory control of the map to win, or even better go for glory and take over the entire map!
PC System Requirements
Minimum:


OS: Windows XP with SP3 / Vista / 7

Processor: 2.4 GHz Intel Dual Core Processor or AMD equivalent

Memory: 2 GB RAM

Hard Disk Space: 500 MB free

Graphics: 800 x 600 Minimum Resolution, OpenGL 2.0 Support or better.

Video Card: Recommend use of dedicated graphics card (GeForce 6800 GT or higher, Radeon X1600 or higher, Intel Graphics version GMA 4500 or higher with 128 MB of dedicated RAM. Laptop/Mobility cards will vary.

DirectX: 9.0

Other Requirements: Broadband Internet connection
Recommended:


OS: Windows XP with SP3 / Vista / 7

Processor: 2.6+ GHz Intel Quad Core Processor or AMD equivalent

Memory: 4 GB RAM

Hard Disk Space: 500 MB free

Graphics: 800 x 600 Minimum Resolution, OpenGL 2.0 Support or better.

Video Card: GeForce GTX460 dedicated graphics card or AMD equivalent

DirectX: 9.0

Other Requirements: Broadband Internet connection
Mac System Requirements
Minimum:


OS:OSX version 10.6 or above

Processor: 2.4 GHz Intel Dual Core Processor or AMD equivalent

Memory: 2 GB RAM

Open GL: Open GL 1.5 Support

Graphics: 800 x 600 Minimum Resolution.

DirectX®: 9.0

Hard Drive: 500 MB HD space

Graphics Card: Radeon X1600 dedicated RAM, Recommend use of dedicated graphics card

Other Requirements:Laptop/Mobility cards will vary
Ace of Spades and its contents are copyright © 2012 Jagex Ltd. All rights reserved.
Jagex® and Ace of Spades™ are trademarks of Jagex Limited in the UK, US and other countries.
Use of this game is subject to the Terms & Conditions and Privacy Policy found at www.aceofspades.com.
Helpful customer reviews
Title:
Ace of Spades: Battle Builder
Genre:
Action
,
Indie
Developer:
Jagex Limited
Publisher:
Jagex
Release Date:
Dec 12, 2012
Languages:
| | Interface | Full audio | Subtitles |
| --- | --- | --- | --- |
| English | | | |
| German | | | |
| French | | | |
| Italian | | | |
| Spanish | | | |
| Polish | | | |
| Portuguese-Brazil | | | |
| Russian | | | |
| Turkish | | | |
See all 9 supported languages