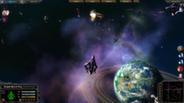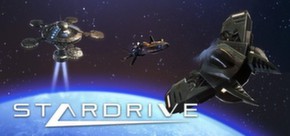 As a space bear, human or any other race, venture forth into the galaxy, create custom ships, conquer new worlds, build new colonies and defend your very existence against those who would take what is yours.
Veröffentlichung: 26 Apr. 2013
HD-Video ansehen
27 April 2014
Come check out this cool story about 4x games that PC Gamer has done. A meaty chat.

http://www.pcgamer.com/2014/04/25/interview-endless-space-and-stardrive-developers-talk-about-4x-design/
0 Kommentare
Weiterlesen
16 März 2014
Here is a video log update of our development progress on StarDrive 2!

http://youtu.be/xz0OI-K-Oak
77 Kommentare
Weiterlesen
Reviews
"When you finally uncover the secrets to ancient alien technology or build a frigate that wins a deep space battle, StarDrive provides a sense of accomplishment few games can."
73 – GameInformer

"Some omissions and flaws, but balanced by excellent alien races and ship design. A welcome addition to the crew."
78 – PC Gamer

"I love that StarDrive's master lists of ships and planets can be sorted by any column, making it easy to find the largest nearby planet or ships in your fleet that are costing you the most in maintenance."
70 – Machinima

Über das Spiel
StarDrive setzt neue Maßstäbe für das '4X Weltraumstrategie' Genre. Beginnend mit einem einzigen Planeten und einer kleinen Anzahl von Weltraumschiffen wagst du dich in die Galaxie vor, eroberst neue Welten, gründest neue Kolonien und verteidigst deine gesamte Existenz gegen diejenigen, die sich nehmen wollen, was dir gehört. Wie du spielst, ist ganz alleine deine Entscheidung, ob du diplomatisch vorgehst oder mit roher Gewalt. Treibe Handel, spioniere deine Gegner aus und entwickle bahnbrechende Technologien auf deinem Weg zur intergalaktischen Herrschaft. Schließe Freundschaften oder mache dir Todfeinde…
Das Herz von StarDrive ist das umfangreiche Schiffsdesign und die Engine für die Weltraumschlachten. StarDrive´s Schiffsdesign verfolgt einen modularen Ansatz und erlaubt dem Spieler die Schiffsmodule so zusammen zu stellen und zu platzieren, dass sie spürbare Auswirkungen auf die Performance des Schiffes haben. Wenn die Panzerung der Backbordseite während einer Schlacht Schaden erleidet, drehe das Schiff um die eigene Achse und zeige die Steuerbordseite! Verstecke dich hinter den Schilden eines befreundeten Schlachtschiffes; verschwinde mit Hilfe des Warp Antriebs einfach aus dem Schlachtgetümmel oder tauche plötzlich wieder auf, starte deine Jäger, installiere Minenfelder und noch so vieles mehr.
Game Features
Echtzeit Gameplay mit nahtlosem Übergang von der großen Strategie Ansicht zur Action Nahansicht

Entscheide dich für eine von 8 fantastisch gerenderten Alien Rassen oder designe deine eigene Rasse, die du durch die Galaxis leitest; interagiere, verhandle und täusche Loyalität vor auf deinem Weg zum Sieg!

Erkunde das riesige Universum, das buchstäblich zum Leben erwacht durch Zufallsereignisse, ümherfliegender Weltraumschrott, verborgene Schätze, Weltraumterror und Gefahren, die sich erst zum Ende des Spiels auswirken.

Baue Forschungszentren zur Entwicklung und Freischaltung neuer Technologien, um den militärischen und industriellen Technologiestandard zu verbessern.

Erweitere dein Imperium und kolonisiere alle Arten von Planeten. Besiedle sie, nachdem du sie durch Terraforming bewohnbar gemacht hast und baue

Spezialisierte Industrie- Und handelszentren.

Kontrolliere deine Schiffe entweder mit klassischen Echtzeitstrategie Befehlen oder spring direkt mitten in das Schlachtgeschehen und steuere 'arcademäßig' jedes beliebige Schiff deiner Flotte.

Entwirf dein einzigartiges Schiffsdesign mit Hilfe des modularen Schiffsdesigns und nimm dadurch Einfluss auf den Ausgang der Schlachten.

Kreire spezielle Flottenformationen und schreibe Regeln vor für Angriff oder Verteidigung mit Hilfe des Easy-To-Use Flotteneditors.

Schick Bodentruppen vom Orbit auf die Planetenoberfläche, und zerstöre die letzten Verteidigungseinrichtungen des Feindes im Bodenkampf.
Systemvoraussetzungen
Minimum:


Betriebssystem: Windows XP

Prozessor: Intel® Pentium® IV 2,4 GHz oder AMD 3500+

Speicher: 3 GB RAM

Grafik: NVIDIA® GeForce 8800 oder ATI Radeon® X1900

Festplatte: 2 GB frei

Zusätzliche Informationen: Bitte beachten: integrierte Intel Grafikkarten/Chips nicht unterstützt
Empfohlen:


Betriebssystem: Windows 7

Prozessor: 2,4 GHz Dual Core Prozessor oder Better

Speicher: 4 GB RAM

Grafik: NVIDIA® GeForce 8800 oder ATI Radeon® X1900 oder besser

DirectX®: 9.0c

Festplatte: 2 GB frei

Zusätzliche Informationen: Bitte beachten: integrierte Intel Grafikkarten/Chips nicht unterstützt
StarDrive © 2013 Zero Sum Games. Developed by Zero Sum Games. Licensed exclusively worldwide to and published by Iceberg Interactive B.V. All brands, product names, and logos are trademarks or registered trademarks of their respective owners. All rights reserved. Made in Europe.
Hilfreiche Kundenreviews