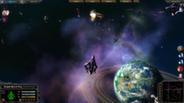 Trade, spy and research your way to galactic domination.
Veröffentlichung: 26 Apr. 2013
HD-Video ansehen
16 März 2014
Here is a video log update of our development progress on StarDrive 2!

http://youtu.be/xz0OI-K-Oak
53 Kommentare
Mehr erfahren
18 Januar 2014
Here is the changelog for the 1.15 patch. I think many players will appreciate both the fixes and the additions, and it also holds some good stuff for modders.


Fixed an issue with the Fletchette cannon and other dual-purpose Anti-Ship/PD weapons not damaging ships as they should.


Increased the 'time-out range' of all weapons by 25%.

You may have noticed your missiles exploding prematurely and other projectiles disappearing before they reached their target, therefore resulting in misses. This was due to the 'time-out' range of projectiles in the engine being equal to the maximum firing range of that weapon, so your ships fire on inevitably moving enemies at a range that means the projectiles can't travel far enough to hit them. This change will result in more satisfying projectile behavior, as projectiles fired at a moving ship that is in range will no longer time out before the target is reached when fired at maximum engagement range unless the enemy ship performs successful evasive manoeuvres.


The automated freighter system has been patched so that it will no longer assign freighter-class vessels with no cargo capacity to carry cargo.

This means that vessels designed on freighter hulls but purposed for other uses (e.g. supply ships, repair ships, 'Q-ship' warships) will no longer have their user-assigned orders overridden by the auto-freight AI if enabled.


Adjusted the AI's desired ratio of ships to ensure mixed fleets.

This now results in the AI splitting its proportions roughly between: Capitals: 3, Cruisers: 5, Frigates: 7, Fighters: 7, Dedicated Bombers: 1. This means that, given 23 ships, the ratio would break down like that. This should result in some more mixed AI fleets, and fix the issue seen at present wherein the AI is only fielding the largest ship type available at once. Expect more dangerous enemies with mixed target types - bring some anti-fighter cannons!


Flak Cannons are now proximity fused.

They therefore do not require direct hits to detonate anymore, and instead detonate either in proximity to any enemy vessel, or at their maximum pre-determined range, so they can be used as area-suppression weapons against fighter swarms.


Enabled the use of the "ProjectileRadius" tag in weapons files. This will work on any weapons that modders may want to add this functionality to.



Removed the requirement that you need money to rush production.



You only need production now. I think this was causing a great deal of confusion about the economy, as players would see their income decreasing and have no feedback as why. What is happening is that your governors are spending your cash. Well, no more. Both the AI and the player will benefit from this change so it should be balance-neutral. In fact, I expect the AI will become more dangerous.


Fixed an issue where Remnant kills weren't tracking properly through saved games which could result in you either missing the event or getting the event multiple times.


Significant buff to the Disintegrator Cannon (ultimate beam weapon in vanilla SD) so that it is both superior to earlier beams, and also generally just deadly.


Added a tag for Mod files < DisableDefaultRaces >true< /DisableDefaultRaces > if you want to remove the original StarDrive races from appearing while your mod is loaded.


The sickbay should now appropriately heal injured troops that are stationed on board the craft


Fixed the victory music not playing on the victory screen


Fixed some inconsistencies between the displayed empire income and the calculated empire income. Somehow these could become desynced, but now they use the same function and should not desync.


And finally..:



Added a satisfying conclusion to the Remnant quest line. Be ready.
17 Kommentare
Mehr erfahren
Über das Spiel
StarDrive setzt neue Maßstäbe für das '4X Weltraumstrategie' Genre. Beginnend mit einem einzigen Planeten und einer kleinen Anzahl von Weltraumschiffen wagst du dich in die Galaxie vor, eroberst neue Welten, gründest neue Kolonien und verteidigst deine gesamte Existenz gegen diejenigen, die sich nehmen wollen, was dir gehört. Wie du spielst, ist ganz alleine deine Entscheidung, ob du diplomatisch vorgehst oder mit roher Gewalt. Treibe Handel, spioniere deine Gegner aus und entwickle bahnbrechende Technologien auf deinem Weg zur intergalaktischen Herrschaft. Schließe Freundschaften oder mache dir Todfeinde…
Das Herz von StarDrive ist das umfangreiche Schiffsdesign und die Engine für die Weltraumschlachten. StarDrive´s Schiffsdesign verfolgt einen modularen Ansatz und erlaubt dem Spieler die Schiffsmodule so zusammen zu stellen und zu platzieren, dass sie spürbare Auswirkungen auf die Performance des Schiffes haben. Wenn die Panzerung der Backbordseite während einer Schlacht Schaden erleidet, drehe das Schiff um die eigene Achse und zeige die Steuerbordseite! Verstecke dich hinter den Schilden eines befreundeten Schlachtschiffes; verschwinde mit Hilfe des Warp Antriebs einfach aus dem Schlachtgetümmel oder tauche plötzlich wieder auf, starte deine Jäger, installiere Minenfelder und noch so vieles mehr.
Game Features
Echtzeit Gameplay mit nahtlosem Übergang von der großen Strategie Ansicht zur Action Nahansicht

Entscheide dich für eine von 8 fantastisch gerenderten Alien Rassen oder designe deine eigene Rasse, die du durch die Galaxis leitest; interagiere, verhandle und täusche Loyalität vor auf deinem Weg zum Sieg!

Erkunde das riesige Universum, das buchstäblich zum Leben erwacht durch Zufallsereignisse, ümherfliegender Weltraumschrott, verborgene Schätze, Weltraumterror und Gefahren, die sich erst zum Ende des Spiels auswirken.

Baue Forschungszentren zur Entwicklung und Freischaltung neuer Technologien, um den militärischen und industriellen Technologiestandard zu verbessern.

Erweitere dein Imperium und kolonisiere alle Arten von Planeten. Besiedle sie, nachdem du sie durch Terraforming bewohnbar gemacht hast und baue

Spezialisierte Industrie- Und handelszentren.

Kontrolliere deine Schiffe entweder mit klassischen Echtzeitstrategie Befehlen oder spring direkt mitten in das Schlachtgeschehen und steuere 'arcademäßig' jedes beliebige Schiff deiner Flotte.

Entwirf dein einzigartiges Schiffsdesign mit Hilfe des modularen Schiffsdesigns und nimm dadurch Einfluss auf den Ausgang der Schlachten.

Kreire spezielle Flottenformationen und schreibe Regeln vor für Angriff oder Verteidigung mit Hilfe des Easy-To-Use Flotteneditors.

Schick Bodentruppen vom Orbit auf die Planetenoberfläche, und zerstöre die letzten Verteidigungseinrichtungen des Feindes im Bodenkampf.
Systemvoraussetzungen
Minimum:


Betriebssystem: Windows XP

Prozessor: Intel® Pentium® IV 2,4 GHz oder AMD 3500+

Speicher: 3 GB RAM

Grafik: NVIDIA® GeForce 8800 oder ATI Radeon® X1900

Festplatte: 2 GB frei

Zusätzliche Informationen: Bitte beachten: integrierte Intel Grafikkarten/Chips nicht unterstützt
Empfohlen:


Betriebssystem: Windows 7

Prozessor: 2,4 GHz Dual Core Prozessor oder Better

Speicher: 4 GB RAM

Grafik: NVIDIA® GeForce 8800 oder ATI Radeon® X1900 oder besser

DirectX®: 9.0c

Festplatte: 2 GB frei

Zusätzliche Informationen: Bitte beachten: integrierte Intel Grafikkarten/Chips nicht unterstützt
StarDrive © 2013 Zero Sum Games. Developed by Zero Sum Games. Licensed exclusively worldwide to and published by Iceberg Interactive B.V. All brands, product names, and logos are trademarks or registered trademarks of their respective owners. All rights reserved. Made in Europe.
Hilfreiche Kundenreviews