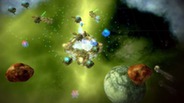 ¡En Stellar Impact comandas una nave espacial de combate en intensos combates tácticos con tus compañeros!
Fecha de lanzamiento: 12 Abr 2012
Ver vídeo en alta definición
Paquetes que incluyen este juego
Comprar Stellar Impact Bundle
Incluye 4 artículos: Stellar Impact, Stellar Impact - Support Ship DLC, Stellar Impact - Carrier Ship DLC, Stellar Impact - Artillery Ship DLC
Contenido descargable para este juego
Acerca del juego
En el espacio se ha desatado una guerra entre las fuerzas aliadas y las del eje.
¡En Stellar Impact comandas una nave espacial de combate en intensas batallas tácticas multijugador! Puedes escoger entre diversas clases de nave, desde la rápida corveta hasta el pesado acorazado. Crea tus propias plantillas de habilidades de acuerdo con tus preferencias: ataque, defensa, velocidad, maniobrabilidad o reconocimiento. Mejora tu nave, su tripulación y el sistema de armamento para que sea más fuerte y aplaste a tus enemigos en los diversos modos de juego.
¡Únete a la lucha ahora!
Características Principales
Innovadora mecánica de juego basada en las maniobras y el posicionamiento

Un profundo contenido táctico y estratégico

Hasta 12 jugadores en una misma batalla

2 facciones con una fuerte identidad gráfica

5 clases de nave únicas

Encuentra las mejores combinaciones de habilidades para que tu nave pueda eliminar a tus oponentes y apoyar a tus aliados

13 mapas de combate y varios modos de juego

Gran cantidad de equipo y armas que obtener

Administra la experiencia de los miembros de tu tripulación para adquirir nuevos talentos

El Auto-matching te enviará directamente a la batalla con otros jugadores de tu mismo nivel de habilidad
Requisitos del sistema
SO: Windows® XP / Vista™ / Windows® 7
Procesador: Dual Core a 2.33 GHz o superior
Memoria: 2 GB de RAM
Disco Duro: 275 MB de espacio libre
Gráficos: 512 MB de VRAM o superior
Sonido: Dispositivo compatible con DirectX 9.0c
2012 © Meridian4. All rights reserved. Stellar Impact is a trademark of Tindalos Interactive and Headup Games. All rights reserved. All other trademarks and copyrights are the properties of their respective owners.
Análisis útiles de usuarios