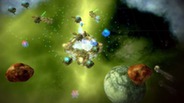 In Stellar Impact you command a space battleship in intense tactical combat with teammates!
Data wydania: 12 Kwi 2012
Obejrzyj film HD
Pakiety zawierające tę grę
Kup Stellar Impact Bundle
Zestaw 4 produktów: Stellar Impact, Stellar Impact - Support Ship DLC, Stellar Impact - Carrier Ship DLC, Stellar Impact - Artillery Ship DLC
Zawartość do pobrania dla tej gry
Informacje o grze
In space, war rages between allies and axis forces.
In Stellar Impact you command a space battleship in intense tactical multi-player battles! You can choose between several ship classes--from the fast corvette to the heavy dreadnought. Make your own skills template according to your preferences: attack, defense, speed, maneuverability or reconnaissance. Upgrade your spaceship, its crew and the weapons system to get stronger and crush your enemies in various game modes.
Join the fight now!
Key features
Innovative gameplay based on maneuvers and positioning

A deep tactical and strategic content

Up to 12 players in a single battle

2 factions with a strong graphical identity

5 unique spaceship classes

Find the best combinations of skills for your ship to eliminate your opponents and support your allies

13 battle maps and various game modes

Tons of equipment and weapons to loot

Manage the experience of your crew members to acquire new talents

Auto-matching will send you into battle with other players of the same skill level
Wymagania systemowe
OS: Windows® XP / Vista™ / Windows® 7
Processor: Dual core 2.33GHz processor or better
Memory: 2 GB RAM
Hard Disk Space: 275 MB
Video Card: 512 MB GPU memory or better
Sound: Sound card with DirectX 9.0c support
2012 © Meridian4. All rights reserved. Stellar Impact is a trademark of Tindalos Interactive and Headup Games. All rights reserved. All other trademarks and copyrights are the properties of their respective owners.
Pomocne recenzje klientów