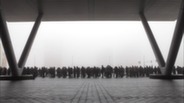 El viaje emocional de cuatro desarrolladores a medida que sacrifican su dinero, salud y cordura para hacer realidad el sueño de compartir sus juegos con el mundo.
Fecha de lanzamiento: 12 de Jun, 2012
Ver vídeo en alta definición
Comprar Indie Game: The Movie
Paquetes que incluyen este juego
Comprar Indie Game: The Movie Special Edition
Incluye 2 artículos: Indie Game: The Movie, Indie Game: The Movie Special Edition DLC
Comprar Indie Game The Movie Bundle
Incluye 5 artículos: Braid, Super Meat Boy, Indie Game: The Movie, FEZ, Indie Game: The Movie Special Edition DLC
Contenido descargable para este juego
12 de Junio
The Bundle includes...
Indie Game: The Movie

Indie Game: The Movie Special Edition DLC

Super Meat Boy

FEZ

Braid
Click here to check out the bundle
It's part of the
Two Year Anniversary
of the film happening over at
IndieGameTheMovie.com
Also, if you've ever been interested in an IGTM Poster, T-Shirt, DVD or Blu-Ray, you may want to check out the
IGTM Shop Sale
also going on.
Thanks for reading!
3 comentarios
Leer más
11 de Junio
IGTM turns two this week!
...yikes! That happened quickly. We have some fun birthday stuff happening. Including a live event on Twitch, This Friday!
We'll be streaming the movie with live commentary/AMA from Edmund & Tommy of Super Meat Boy and hosted by Northernlion.
Should be a lot of fun.
Read about it all here:
Here are the details...
What:
IGTM Screening Event with Team Meat Live Commentary
Date:
Friday, June 13th
When:
4pm PST
Where:
http://www.twitch.tv/northernlion
Schedule:
4-5pm, Video AMA with Ed, Tommy & Northerlion, 5-7pm IGTM Screening.
Hope to see you there!
1 comentarios
Leer más
Análisis
"¡100% fresca! Clasificada como la película con mejores críticas de 2012."
– Rotten Tomatoes
"Hay victorias, derrotas, lágrimas y sonrisas. Indie Game: The Movie es un documental que HAY QUE VER para cualquiera que se considere un entusiasta de los juegos o que se deje atrapar por una buena historia."
– Ain't it Cool News
"'Indie Game: The Movie' pone al descubierto la pasión detrás de los píxeles, revelando el sudor, las lágrimas y la privación del sueño que hacen falta para intentar crear lo último en el mundo de los juegos"
– New York Times
Special Edition DLC
Special Edition DLC now available. With 100+ minutes of new epilogues & short films, the Indie Game: The Movie Special Edition DLC is another film's worth of stories, crafted by the directors of the original award-winning feature documentary. Find out about what happened after to the developers of Super Meat Boy & FEZ, and about other games and game creators.
Update
Indie Game: The Movie has been updated with new languages, directors' commentary, trading cards & achievements.
Acerca del juego
Follow the creation of the games Super Meat Boy, Braid and FEZ through this Sundance award-winning feature documentary. Critic's Pick of the New York Times and declared a "Must See" by Ain't It Cool News. Watch the full theatrical cut in 1080p HD.
After almost two years of painstaking work, designer Edmund McMillen and programmer Tommy Refenes await the release of their first major game for Xbox, Super Meat Boy—the adventures of a skinless boy in search of his girlfriend, who is made of bandages. At PAX, a major video-game expo, developer Phil Fish unveils his highly anticipated, four-years-in-the-making FEZ. Jonathan Blow considers beginning a new game after creating Braid, one of the highest-rated games of all time.
First-time filmmaking duo Lisanne Pajot and James Swirsky capture the emotional journey of these developers as they sacrifice money, health and sanity to realize their lifelong dreams of sharing their games with the world. Four developers, three games, and one ultimate goal— to express oneself through a video game.
Features:
1080P, full HD video application.

'Team Meat' Audio Commentary Track: Edmund McMillen and Tommy Refenes provide their various insights throughout the film. Hilarious, informative and sometimes outright lies. It's a great compliment to the film.

Subtitle / Language Support: Arabic, Chinese (traditional), Czech, Danish, Dutch, English, Finnish, French, German, Greek, Hebrew, Hungarian, Italian, Japanese, Korean, Norwegian, Polish, Portuguese, Russian, Spanish, Swedish, Thai, Turkish and Ukraine.

Video Extras: Assorted video pieces produced during the production of the film.
Festivals:
2012 Sundance Official Selection World Documentary Competition


2012 Sundance Winner for Best Editing in World Documentary Cinema


2012 South by Southwest Official Selection


2012 Hot Docs Festival Official Selection

2012 Sheffield Doc/Fest Official Selection
Requisitos del sistema (PC)
Mínimo:


SO: Microsoft® Windows® XP Home, Professional o Tablet PC Edition con Service Pack 3; Windows Server® 2003; Windows Server® 2008; Windows Vista® Home Premium, Business, Ultimate o Enterprise (incluyendo ediciones de 64 bits) con Service Pack 2

Procesador: 2.33 GHz o superior, compatible con x86. Intel® Atom™ a 1.6 GHz o superior para netbooks

Memoria: 512 MB de RAM

Disco Duro: 4 GB de espacio libre
Recomendado:


SO: Windows 7

Procesador: 2.4 GHz o superior, compatible con x86

Memoria: 2 GB de RAM

Disco Duro: 4 GB de espacio libre
Requisitos del sistema (MAC)
Mínimo:


SO: Mac OS X v10.6

Procesador: Intel Core™ Duo o superior

Memoria: 512 MB de RAM

Disco Duro: 4 GB de espacio libre

Adicional: No compatible con OS X 10.7.3
Recomendado:


Procesador: Intel Core™ Duo a 2.4 GHz o superior

Memoria: 2 GB de RAM

Disco Duro: 4 GB de espacio libre
Análisis útiles de usuarios
Título:
Indie Game: The Movie
Género:
Indie
Desarrollador:
BlinkWorks Media
Editor:
BlinkWorks Media
Fecha de lanzamiento:
12 de Jun, 2012
Idiomas:
| | Interfaz | Voces | Subtítulos |
| --- | --- | --- | --- |
| Español | | | |
| Inglés | | | |
| Francés | | | |
| Italiano | | | |
| Portugués de Brasil | | | |
| Chino tradicional | | | |
| Arabic | | | |
| Checo | | | |
| Holandés | | | |
| Alemán | | | |
| Ruso | | | |
| Tailandés | | | |
| Turco | | | |
| Danés | | | |
| Finés | | | |
| Griego | | | |
| Húngaro | | | |
| Japonés | | | |
| Coreano | | | |
| Noruego | | | |
| Polaco | | | |
| Portugués | | | |
| Sueco | | | |
| Búlgaro | | | |
| Rumano | | | |
| Chino simplificado | | | |
| Ucraniano | | | |
Ver todos 27 idiomas disponibles
Premios