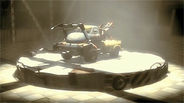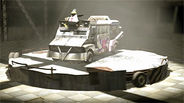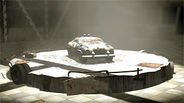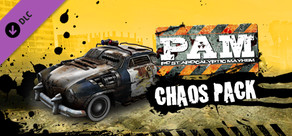 Çalışması için Post Apocalyptic Mayhem oyununun Steam sürümüne sahip olmanız gerekmektedir.
Çıkış Tarihi: 29 Eylül 2011
Fragmanları seyret (3 fragman)
İndirilebilir İçerikler
Çalışması için Post Apocalyptic Mayhem oyununun Steam sürümüne sahip olmanız gerekmektedir.
Post Apocalyptic Mayhem - Chaos Pack DLC Satın Alın
Oyun Açıklaması
The Chaos Pack includes three new vehicles for the Apocalyptic Wasteland tracks in Post Apocalyptic Mayhem.
New Vehicles:
The Fuzz! Even though the world has been destroyed and the only law survivors know is; kill or be killed, the 5-0 is still cruising your neighborhood, but this cop is not here to serve and protect, it's here to maim and destroy.

Weapons include:

Boom Zoom: Two incredibly violent six barreled grenade launchers that obliterates all vehicles in its path.
Dough Boy: Side launchers that release numerous explosive donut bombs that blow apart enemy vehicles.
Road Block: Numerous intimidating spike strips that rip apart any vehicle that comes in contact with them.
TOW'er: This tow truck doesn't talk with a southern drawl and is not friendly with any race cars. This truck is all about destruction and mayhem. If you're stuck on the side of the road, this is the last truck you want to call for help.

Weapons include:

Chops: This massive and violent hydraulic claw grabs and easily crushes any of its victims.
Steel Boot: Incredibly dangerous steel wheel boots are released and attach themselves onto enemy vehicles.
Towed Terror: A towed car is menacingly released from the back of the vehicle and wipes out everything it hits.
Ice Scream: When you hear this ice cream truck's bell ringing, you get as far away as possible. This truck may look nice and innocent from the outside, but at its core, there's no sugary center, there's nothing but sweet death for whoever gets close.

Weapons include:

Flavor Bombs: The weapon fires small but very nasty scoops of ice cream that severely damage enemy vehicles.
Cotton Candy Killer: Side mounted valves that release pink, fluffy and extremely dangerous cotton candy.
Sweet Disaster: A violent launcher catapults enormous balls of frozen ice cream onto unsuspecting opponents.
Sistem Gereksinimleri
İşletim Sistemi: Windows® XP/Vista™/7
İşlemci: Intel P4 3.0GHz veya benzeri AMD işlemci
Bellek: 1GB RAM
Sabit Disk Alanı: 1GB boş alan
Ekran Kartı: nVidia GeForce 6800 Ultra, ATi Radeon X1800 XT veya daha iyisi
DirectX®: 9.0c, Haziran 2010 güncellemesi
Ses: DirectX 9.0c desteği
2011 © Meridian4. All rights reserved. Post Apocalyptic Mayhem (PAM) is a trademark of Steel Monkeys International. All rights reserved. All other trademarks and copyrights are the properties of their respective owners.
Yararlı müşteri incelemeleri
55 kişiden 13 tanesi (24%) bu incelemeyi yararlı buldu
Hesabında 2,017 ürün var
425 inceleme
Başlık:
Post Apocalyptic Mayhem: DLC - Chaos Pack
Tür:
Aksiyon
,
Yarış
Geliştirici:
Steel Monkeys
Yayımcı:
Meridian4
Çıkış Tarihi:
29 Eylül 2011
Diller:
| | Arayüz | Seslendirme | Altyazı |
| --- | --- | --- | --- |
| İngilizce | | | |
| Fransızca | | | |
| Almanca | | | |
| İtalyanca | | | |
| Japonca | | | |
| Rusça | | | |
| İspanyolca | | | |
Tümünü gör 7 desteklenen diller