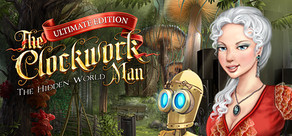 Ein seltsames, obsidianisches Artefakt führt Miranda auf die Suche nach 'The Hidden World - Die verborgene Welt', eine verschollen geglaubten Land voller Legenden.
Veröffentlichung: 23. Sep. 2011
HD-Video ansehen
The Clockwork Man: The Hidden World kaufen
Pakete, die dieses Spiel enthalten
The Clockwork Man Bundle kaufen
Beinhaltet: The Clockwork Man und The Clockwork Man: The Hidden World
Über das Spiel
Bereiten Sie sich auf eine fantastische Reise in dem einzigartigen Abenteuer The Clockwork Man: The Hidden World vor! Begleiten Sie Miranda und ihren besten Freund Sprocket bei ihrer Reise durch ein viktorianisches Paralleluniversum, wo Wasserdampf die Technik antreibt.
Ein geheimnisvolles Artefakt führt Miranda auf eine Suche nach der Hidden World, einem Land, welches in der Zeit verloren ist und nur flüchtig von Legenden erwähnt wird. Gewappnet mit einem nicht enden wollenden Wissensdurst begibt sich Miranda auf eine Reise - allerdings ist sie nicht alleine! Eine unbekannte Bedrohung ist ihr auf den Fersen und gibt alles in ihrer Macht dafür, die Legende zu ihrem eigenen Nutzen zu entdecken.
Eigenschaften
Erkunden Sie atemberaubende scroll- und zoombare handgezeichnete Szenen!
Lösen Sie innovative und aufregende Rätsel!
Wenden Sie Sprockets verbesserte Gadgets an, einschließlich eines fortschrittlichen Hinweissystems!
Interagieren Sie mit farbenprächtigen Charakteren, um mit Ihrer Aufgabe voranzukommen.
Genießen Sie etliche Stunden Spielzeit, doppelt so viel wie im ersten Spiel.
Ultimate Edition Extras
Ein zusätzliches Unterwasser-Kapitel!
Ein zusätzliches Gadget für Sprocket: Das Sonar
Ein Offener Modus bietet unzähligen Stunden Such-und-Find-Spaß
Systemvoraussetzungen (PC)
Betriebssystem: Windows XP/Vista/7
Prozessor: 2.0 GHz oder besser
Speicher: 1024 MB oder mehr
Festplatte: 260 MB
Grafikkarte: DirectX 8.0 kompatible Grafikkarte oder höher
DirectX®: 8.0
Systemvoraussetzungen (Mac)
Betriebssystem: OS X Version Leopard 10.5.8, Snow Leopard 10.6.3 oder besser.
Prozessor: 2.0 GHz oder besser
Speicher: 1024 MB oder mehr
Festplatte: 270 MB
Systemvoraussetzungen (Linux)
OS: 32-bit Ubuntu 6+ or Fedora 6 / Open Suse 10.2 / Mandriva 2007 (Kernel 2.6, GLIB 2.4, GTK 2)
Processor: 2.0 GHz
Memory: 1024 MB
Hard Drive: 270 ΜΒ
Hilfreiche Kundenreviews
Titel:
The Clockwork Man: The Hidden World
Genre:
Abenteuer
,
Indie
,
Gelegenheitsspiele
Entwickler:
Total Eclipse
Publisher:
Total Eclipse
Veröffentlichung:
23. Sep. 2011
Sprachen:
| | Oberfläche | Ton | Untertitel |
| --- | --- | --- | --- |
| Deutsch | | | |
| Englisch | | | |
| Niederländisch | | | |
| Französisch | | | |
| Italienisch | | | |
| Spanisch | | | |
| Schwedisch | | | |
| Portugiesisch | | | |
Alle 8 unterstützten Sprachen anzeigen