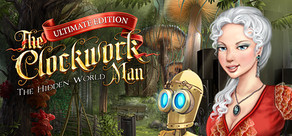 A strange obsidian artifact leads Miranda on a quest for The Hidden World, a land lost in time and glimpsed through legends.
Data de lançamento: 23/set/2011
Assistir ao vídeo em HD
Comprar The Clockwork Man: The Hidden World
Pacotes que incluem este jogo
Comprar The Clockwork Man Bundle
Includes: The Clockwork Man and The Clockwork Man: The Hidden World
Sobre o jogo
Prepare-se para uma jornada fantástica em The Clockwork Man: The Hidden World, um jogo único de aventura e objetos escondidos! Acompanhe Miranda e seu melhor amigo, Sprocket, em um incrível conto através de um universo paralelo Vitoriano onde o vapor nutre a tecnologia.
Um estranho artefato de obsidiana leva Miranda em busca de Hidden World, um lugar perdido no tempo e vagamente mencionado em lendas. Equipada com uma incessante sede por conhecimento, Miranda inicia sua jornada - mas ela não está sozinha! Persistentemente rastreando todos os passos de Miranda, uma ameaça desconhecida fará qualquer coisa em seu alcance para descobrir a lenda a favor de seus próprios interesses.
Características principais
Explore cenas ampliáveis, pintadas à mão, de tirar o fôlego!
Resolva quebra-cabeças inovadores e excitantes!
Requisite os dispositivos atualizados de Sprocket, incluindo um avançado sistema de dicas progressivas!
Interaja com personagens característicos para avançar em sua jornada!
Divirta-se com várias horas de tempo de jogo, o dobro em relação ao último jogo!
Peculiaridades da Ultimate Edition
Um capítulo adicional subaquático!
Um dispositivo adicional para Sprocket: o Sonar!
Um modo Freeplay com incontáveis horas de diversão com objetos escondidos!
Requisitos do sistema – PC
OS: Windows XP/Vista/7
Processor: 2.0 GHz or better
Memory: 1024 MB or more
Hard Disk Space: 260 MB
Video Card: DirectX 8.0 compatible video card or higher
DirectX®: 8.0
Requisitos do sistema – Mac
OS: OS X version Leopard 10.5.8, Snow Leopard 10.6.3, or later.
Processor: 2.0 GHz or better
Memory: 1024 MB or more
Hard Disk Space: 270 MB
Requisitos do sistema - Linux
OS: 32-bit Ubuntu 6+ or Fedora 6 / Open Suse 10.2 / Mandriva 2007 (Kernel 2.6, GLIB 2.4, GTK 2)
Processor: 2.0 GHz
Memory: 1024 MB
Hard Drive: 270 ΜΒ
Análises úteis de usuários
Título:
The Clockwork Man: The Hidden World
Gênero:
Aventura
,
Indie
,
Casual
Desenvolvedor:
Total Eclipse
Distribuidora:
Total Eclipse
Data de lançamento:
23/set/2011
Idiomas:
| | Interface | Dublagem | Legendas |
| --- | --- | --- | --- |
| Inglês | | | |
| Holandês | | | |
| Francês | | | |
| Alemão | | | |
| Italiano | | | |
| Espanhol | | | |
| Sueco | | | |
| Português | | | |
Ver todos 8 idiomas disponíveis