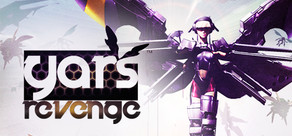 Take flight as you explore exotic alien worlds and seek to avenge your fallen race
Release Date: Apr 28, 2011
About the Game
In Yar's Revenge, take flight as you explore exotic alien worlds and seek to avenge your fallen race. Gain experience to upgrade and expand your armor and weapon capabilities as you fight off the evil Qotiles. But remember to take care in the choices you make – as the fate of your species and home world hangs in the balance.
Key features:
An exhilarating on-rails shooter – a tightly scripted cinematic experience in which Yar flies through visually stunning Miyazaki-inspired landscapes while fighting a wide variety of memorable enemies.
6 unique and beautiful environments - fly through the rich and lush environment of the Yar Village to the bio-technological nightmare of the Qotile Homeworld.
Upgrades and RPG elements - Gain experience while customizing your armor and weapon abilities.
Drop in/drop out co-op – Join your friend at any time and help them conquer the Qotile menace.
Flashback – Unlock bonus features such as the original comic and challenge modes which will test your skills.
System Requirements
OS: Windows XP SP2, Vista SP2, 7
Processor: Intel Core 2 Duo E4300 or AMD Athlon X2 4400+
Memory: 1 GB
Graphics: : Radeon ATI Radeon HD 2600 or NVIDIA GeForce 8600 or faster. Other integrated graphics, such as the Intel G43/G45 Express, are not supported.
DirectX®: 9.0c
Hard Drive: 1.5 GB free
Sound: DirectX 9.0c-compatible
Yars' Revenge © 2010 Atari Interactive, Inc. All rights reserved. The ESRB rating icons are registered trademarks of the Entertainment Software Association
Helpful customer reviews
5 of 7 people (71%) found this review helpful
1,579 products in account
22 reviews
2.4 hrs on record
cute little rail shooter.
6 short levels but fun.
1 of 1 people (100%) found this review helpful
162 products in account
3 reviews
2.0 hrs on record
This is a pretty good distraction to keep you busy for around an hour if you're into shooters, and a GREAT re-imagining of the original story to Yar's Revenge. This is a dual-analog on-rails shoot-em-up that's easy to pick up. The soundtrack is actually really good.

Alas, I don't think this game is worth $10. Be sure to keep an eye on it during the Steam sales, though.