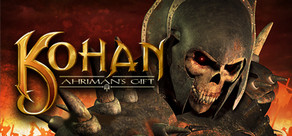 #app_97120_short_desc
Veröffentlichung: 6 Nov. 2001
Kohan: Ahriman's Gift kaufen
Pakete, die dieses Spiel enthalten
Kohan Warchest kaufen
Enthält 3 Artikel: Kohan: Immortal Sovereigns, Kohan: Ahriman's Gift, Kohan II: Kings of War
Über das Spiel
Kohan: Ahriman's Gift wurde durch Computer Gaming World als "Strategiespiel des Jahres" ausgezeichnet und ist ein Echtzeit-Strategiespiel in der Fantasy-Welt von Khaldun. Basierend auf dem Gameply von Kohan:Immortal Sovereigns umfasst Ahrimans Gift die Vorgeschichte der Welt von Khaldun. Erleben Sie die Welt von Khaldun durch einen völlig neuen Blickwinkel: bösartig. Führen Sie eine Armee von Schattenbestien und Untoten an und ziehen Sie durch das Land, während Sie alle Ihre Gegner vor sich hertreiben. Ahrimans Gift führt nicht nur neue Kampagnen und eine verbesserte künstliche Intelligenz ein, sondern beinhaltet auch mehrere dutzende neue Helden und Einheiten unter Ihrer Kontrolle hinzu.
Besondere Eigenschaften:
Zwei neue politische Fraktionen und zwei neue unabhängige Rassen.
Eine Einzelspieler-Kampagnenmission
5 Kampagnen, in denen Sie erkunden und erobern können auf 40 zusätzlich gestalteten Karten, inklusive mehrerer offizieller Turnier-Karten.
Robuster Mehrspielermodus für bis zu 8 Spieler.
Zufälliger Kartengenerator und Karteneditor, sodass Sie Ihre eigenen Deathmatch-, Szenario- und Kampagnen-Karten erstellen können.
Über 90 wunderschön detaillierte Einheiten und über 70 verschiedene Helden.
Über 100 Zauber und 75 Technologien, die Ihre Strategien verbessern werden.
30 verschiedene computergesteuerte Spieler werden Sie mit unterschiedlichen Spieltaktiken herausfordern.
Sieben verschiedene Spielmodi (inklusive Bloodbath und King of the Hill).
Systemvoraussetzungen
Betriebssystem: Windows 9x/ME/2000/XP/Vista/Windows 7
Prozessor: Pentium II (oder vergleichbar) 233MHz
Speicher: 64MB RAM
Grafik: DirectX 9.0b
DirectX®: DirectX 7.0 kompatible Grafikkarte mit 4 MB VRAM
Festplatte: 150MB
Sound: Direct Sound kompatible Karte
©2001 Strategy First Inc. All rights reserved. Kohan: Ahriman's Gift is a trademark of TimeGate Studios. All rights reserved. All other trademarks and copyrights are the properties of their respective owners.
Hilfreiche Kundenreviews