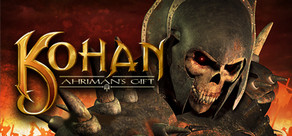 #app_97120_short_desc
Release Date: Nov 6, 2001
Buy Kohan: Ahriman's Gift
Packages that include this game
Buy Kohan Warchest
Includes 3 items: Kohan: Immortal Sovereigns, Kohan: Ahriman's Gift, Kohan II: Kings of War
About the Game
Kohan: Ahriman's Gift, awarded "Strategy Game of the Year" by Computer Gaming World, is a real-time strategy game set in the fantasy world of Khaldun. Built on the award-winning Kohan:Immortal Sovereigns gameplay, Ahriman's Gift is the stand-alone prequel to Kohan: Immortal Sovereigns. Experience the world of Khaldun from a whole new perspective: evil. Lead armies of Shadowbeasts and Undead as you ravage the countryside, driving all enemies before you. Ahriman's Gift not only provides new campaigns and improved artificial intelligence, but also introduces dozens of new heroes and units to control.
Key features:
Two new political factions and two new independent races.
A single player campaign mission
5 campaigns to explore and conquer and an additional 40 custom designed maps, including several official Tournament maps.
Robust multiplayer support for up to 8 players.
Random map generator and map editors to custom make your own Deathmatch, Scenario, and Campaign maps.
Over 90 beautifully detailed units and over 70 different heroes.
Over 100 spells and over 75 technologies that will enhance your strategy.
30 different AI players challenge you with various styles of play.
Seven different game types (including Bloodbath and King of the Hill).
System Requirements
OS: Windows 9x/ME/2000/XP/Vista/Windows 7
Processor: Pentium II (or equivalent) 233MHz
Memory: 64MB RAM
Graphics: DirectX 9.0b
DirectX®: DirectX 7.0 Compatible Video Card with 4 MB VRAM
Hard Drive: 150MB
Sound: Direct sound Compatible Card
©2001 Strategy First Inc. All rights reserved. Kohan: Ahriman's Gift is a trademark of TimeGate Studios. All rights reserved. All other trademarks and copyrights are the properties of their respective owners.
Helpful customer reviews