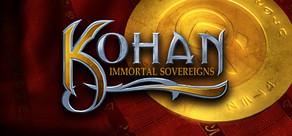 Si vous voulez rendre à votre race la gloire qui lui revient, vous devez résoudre le mystère de sa destruction.
Date de parution: 15 mar 2001
This item does not have support for your local language. Please review the supported language list before purchasing
Acheter Kohan: Immortal Sovereigns
Packages qui comprennent ce jeu
Acheter Kohan Warchest
Inclut les 3 articles suivants : Kohan: Immortal Sovereigns, Kohan: Ahriman's Gift, Kohan II: Kings of War
À propos du jeu
Kohan: Immortal Sovereigns est le premier jeu de la série du jeu de stratégie fortement récompensé. Promu "Jeu de stratégie de l'année" par PC Gamer et Computer Games Magazine, Immortal Sovereigns est un jeu de stratégie en temps réel qui se déroule dans un monde fantastique où vous jouez le rôle de Kohan, un immortel. Votre race dominait le monde mais elle est à présent menacée. En temps qu'immortel vous parcourez un monde neuf qu'il va falloir reconquérir. Pour ce faire il faut résoudre le mystère de la destruction qui a frappé votre race.
Comprend :
Campagne solo complète
Le mode multijoueur supporte jusqu'à 8 joueurs qui peuvent choisir parmi 4 factions, tous vont lutter pour obtenir la suprématie.
Plus de 40 unités uniques.
Porter le conflit dans différents environnements y compris des forêts, des collines et des déserts.
De nombreux pouvoirs magiques : boules de feu, sorts de guérison...
Éditeur fonctionnel et générateur de cartes aléatoire qui permet aux joueurs de construire leur propre campagne, scénario solo et même carte death match.
Configuration requise
Système d'exploitation : Windows 98 / SE / Me / 2000 / XP / Vista / Windows 7
Processeur : Pentium IV 1,5 GHz ou AMD Athlon équivalent
Mémoire vive : 256 Mo de RAM
Disque dur : 700 Mo d'espace disque disponible
Carte graphique : NVIDIA GeForce 3 / ATI Radeon 8500 ou carte équivalente avec des pilotes 100% compatibles DirectX 9.0b comportant 64 Mo de mémoire vidéo
DirectX® : 9.0b
Son : Carte son 100% compatible DirectX 9.0b avec haut-parleurs ou casque
©2001 Strategy First Inc. All rights reserved. Kohan: Immortal Sovereigns is a trademark of TimeGate Studios. All rights reserved. All other trademarks and copyrights are the properties of their respective owners.
Évaluations intéressantes des utilisateurs