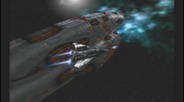 The life of an independent mercenary is rarely without excitement. Your spacecraft awaits and your adventure begins in the Sapphire solar system.
Release Date: Jan 16, 2012
Watch HD video
August 1
Version 2.878 is now live and includes the following improvements:

- Current selected device now displayed in individual axis channel control mapping menu.
- Individual axis channels can now be mapped across multiple devices (previously required the complete binding process).
- Crew members are now kept with the player in an 'inactive' status when they pilot ships that lack the capacity to use them.
- Ship rescue distress call time limit doubled and cargo delivery distress call time limit increased by about 50%.
- Option to move a selected crew member to the top of the list in the crew management console added.
- Updated button input binding system to better accommodate button 32 on certain devices.
- Clearing individual axis channels now limited to selected device only.


To access the option to move a crew member to the top of the list, hold the Alt key in the crew management console.

The server program has also been updated for this version to accommodate the new distress call time limit increases. Server operators will need to update to the new server build to allow for the longer time limits in multiplayer, otherwise the old limits will apply.
0 comments
Read more
May 28
Version 2.848 is now live and includes the following improvements:

- New scaling option added to modification options for 3D radar.
- Positioning of 3D radar and target object display updated for improved positioning and more modification flexibility.
- Several container locations repositioned to be more accessible, more now also allowed to orbit planets as debris.
- Option to lock the mouse pointer to the display field during gameplay added to Options menu.
- Water shader updated to prevent certain indicators from casting a reflection.


Changes to the 3D radar and target display may impact some cockpit mods using non-default placement values in the gauges.txt file. So some mods may need to update some of the position values. While testing, I discovered that some cockpit mods used old gauges.txt files that also lacked shadow placement values for the chase view mode. So for a few of them, I've updated the gauges files myself to provide proper alignment for the radar and target display as well as including shadow placement values that they lacked before. The new values for the 'SilicuMax' and 'Perch' cockpits are available in the customizing forum here:
SilicuMax: http://www.starwraith.com/forum/viewthread.php?tid=10093&page=3#pid170374
Perch: http://www.starwraith.com/forum/viewthread.php?tid=9243&page=4#pid170373

The new Mouse Lock option can be optionally bypassed in the exit menu while the game is paused as well as during gameplay by toggling the mouse flight-to-selection control lock mode (press both Alt keys to toggle on or off).

For more update information and details, the game's official news page is here: http://www.starwraith.com/evochronmercenary/about.htm
4 comments
Read more
About the Game
Trading commodities while sneaking past hostile forces, racing the best pilots in the area, mining for diamonds, negotiating for survival, spying for a curious energy company, cleaning dirty solar arrays, transporting an impatient passenger... and that's just on a Monday. The life of an independent mercenary is rarely without excitement. At times, you may choose to work under contract, while at others, you may want to take matters into your own hands in a quest to build your reputation and fortune. Your spacecraft awaits. Your adventure begins in the Sapphire solar system.
In Evochron, you are free to seek your fortune as an independent mercenary in an adventure directed by your choices, abilities, and accomplishments. Each player can bring their unique skills and interests to the game, forming clans for cooperative goals or remaining solo to complete objectives on their own in true freeform space-sim gameplay.
Key Features:
True freeform gameplay without plot restrictions, conditions, or limitations. No character attribute/skill limitations to hold you back. Experience ultimate gameplay freedom and play the game the way you want to. Your decisions and abilities define your role in the game and establish your reputations, wealth, progress, and ranking.

Diverse gameplay choices and activities including racing, spying, mining, trading, commodity shipping, escorting, combat (both in civilian space and military war zones), exploring, asteroid clearing, equipment cleaning, crew management, station building, and ship designing. There are many ways to make money and advance in the game.

A vast seamless universe that lets you fly anywhere without in-game loading screens. The Evochron universe is not boxed in by 'walls' or 'rooms' that require a jumpgate 'door' to access, there are no required gates or trade lanes to restrict your travel and hold you back. You can travel virtually anywhere you want. Descend into planet atmospheres to land at city trade stations, mine valuable materials, or explore for hidden items. You can escape to nebula clouds for sensor cover or hide in a massive asteroid cave for protection. Fly from planet to planet, star to star, and solar system to solar system.

Unified gameplay architecture and profiles let you keep the ship, upgrades, equipment, money, weapons, crew, and commodities you acquire in the game for use in both single player and multiplayer.

Cooperative multiplayer objectives that pay all linked players. Join forces with other players to complete more challenging activities that can offer much better pay.

Construct space stations to dynamically expand the game's universe with new trade routes, docking points, and economies. The online multiplayer system stores player built stations with the server so other players can have access to the new stations and trade routes you create.

Specialized industries and economies provide realistically variable item availability and pricing.

Use your wealth to design and build a new ship, buy better weapons, hire crew members, recruit other ships, install upgrades, load commodities, and more.

Advanced physics system features velocity adjusted acceleration curves and accounts for mass, thrust, and vector calculations. Realistic zero gravity inertia based 'Newtonian' style flight model including complete 3-way rotation and 3-way direction control with optional variable input. An advanced inertial dampening system helps keep flight control simple in space, atmospheres, and gravity fields.

Realistic environment interaction far beyond the genre's typical 'background wallpaper'. Nebula clouds, asteroid fields, planet atmospheres, moons, and more all provide unique options for shelter and strategy. Such environment elements include changes in gravity, fuel consumption, physics, sensor range, and visibility.

Supports keyboard, mouse, gamepad, and joystick flight control. Use the control device you prefer to play the game.

Supports Natural Point's TrackIR 3D head control system for managing the viewpoint from the cockpit with all six degrees of movement.

System Requirements
OS: Windows XP, Vista, 7, 8.1
    
Processor: 2.0 GHz AMD/Intel
    
Memory: 1.5 GB RAM
    
Hard Disk Space: 750 MB
     
Video Card: 128 MB DirectX Compatible
     
DirectX®: 9.0c

Helpful customer reviews