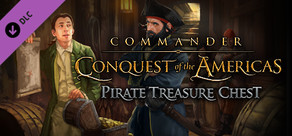 This content requires the base game Commander: Conquest of the Americas on Steam in order to play.
Release Date: Feb 17, 2011
Buy Commander: Conquest of the Americas - Pirate Treasure Chest
Packages that include this game
Buy Commander: Conquest of the Americas Complete Pack
Includes 3 items: Commander: Conquest of the Americas, Commander: Conquest of the Americas - Colonial Navy, Commander: Conquest of the Americas - Pirate Treasure Chest
About the Game
Pirate Treasure Chest introduces the notorious pirate island and stronghold of Tortuga. From Tortuga, players can procure an array of pirate treasures, maps and weapons. Tortuga also offers pirate ships for hire and the ability to purchase vessels pirates have commandeered from other nations. Hire pirate captains and their fleets and have them do your bidding, without facing the consequences.
Players can alternatively choose to rid the sea of the pirate scourge and hunt them down while stealing their riches. No matter how you choose to play, the rewards are many: wealth, unique ships and treasure maps that lead to powerful artifacts.
Key Features:
The infamous pirate island Tortuga where players can purchase items and ships.
10 pirate bounty missions
Hire pirate captains and use their fleets against your enemies without taking the blame for their unprovoked attacks.
Hunt down famous pirates and confront their fleets in naval battle.
Capture the pirates and use their maps and ships as your own.
Find 10 powerful artifacts that benefit your fleets and colonies.
Pirate Treasure Chest also introduces forward and aft chasers cannons into the naval battles for the first time.
System Requirements
OS: Windows 7 / Vista / XP
Processor: 2.0 GHz Core Duo or equivalent
Memory: 2 GB RAM
Hard Disk Space: 4 GB
Video Card: 256 MB of dedicated memory with support for pixel shader 3.0. NVIDIA 7800 or equivalent
Sound Card: DirectX9 compatible
Controller Support: 3-button mouse, keyboard and speakers
There are no public reviews for this product yet
You can write your own review for this product to share your experience with the community. Use the area above the purchase buttons on this page to write your review.
Title:
Commander: Conquest of the Americas - Pirate Treasure Chest
Genre:
Strategy
Developer:
Nitro Games
Publisher:
Paradox Interactive
Release Date:
Feb 17, 2011
Languages:
| | Interface | Full audio | Subtitles |
| --- | --- | --- | --- |
| English | | | |
| French | | | |
| German | | | |