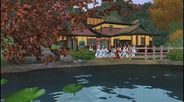 Este artigo requer o jogo base The Sims™ 3 no Steam para poder ser jogado.

Data de lançamento: 17 Nov, 2009
Ver vídeo HD
Conteúdo Transferível
Este artigo requer o jogo base The Sims™ 3 no Steam para poder ser jogado.
Comprar The Sims 3 World Adventures
Acerca do Jogo
Take your Sims on the adventure of their lives with The Sims 3 World Adventures. Guide your Sims to acclaimed fortune—or potential doom. Take your Sims to exotic destinations to hunt for hidden treasures. Uncover new skills, experience new personality traits and garner rewards, if your Sims succeed. Explore ancient tombs in the pyramids of Egypt, master martial arts in the Far East, and discover rich culture and famous landmarks in France. Adventure is on the horizon — what will your Sims discover?
Key features:
Accept challenges, find treasures, and discover what's lurking in hidden caves and more.
Explore famous landmarks in China, Egypt, and France.
Learn new skills like photography and pursue new opportunities.
Meet new Sims from exotic locations and share their cultures.
Customize your Sims homes with new styles & artifacts from their adventures.
Online Disclaimer:
INTERNET CONNECTION AND ACCEPTANCE OF END USER LICENSE AGREEMENT REQUIRED TO PLAY THE SIMS 3 DIGITAL DOWNLOAD PRODUCT. ACCESS TO ONLINE SERVICES REQUIRES AN INTERNET CONNECTION, EA ACCOUNT AND GAME REGISTRATION WITH THE PROVIDED ONE-TIME USE SERIAL CODE. REGISTRATION IS LIMITED TO ONE EA ACCOUNT PER SERIAL CODE AND IS NON-TRANSFERABLE. EA ONLINE PRIVACY POLICY AND TERMS OF SERVICE CAN BE FOUND AT www.ea.com. YOU MUST BE 13+ TO REGISTER FOR AN EA ACCOUNT. MAC USERS MUST UPDATE TO THE LATEST VERSION OF THE SIMS 3 LAUNCHER TO ACCESS ONLINE SERVICES, INCLUDING SIMPOINTS AND DOWNLOADS. INCLUDES SOFTWARE THAT COLLECTS DATA ONLINE NECESSARY TO PROVIDE AND ACTIVATE IN-GAME ADVERTISING FOR ALL THE SIMS 3 PRODUCTS PREVIOUSLY OR HEREAFTER INSTALLED.
EA MAY RETIRE ONLINE FEATURES AFTER 30 DAYS NOTICE POSTED ON www.ea.com/2/service-updates.
Requisitos do Sistema
OS: Windows XP SP2, Windows Vista SP1 or Windows 7
Processor: (XP) 2.0 GHz P4 processor or equivalent; (Vista and Windows 7) 2.4 GHz P4 processor or equivalent
Memory: (XP) 1 GB RAM; (Vista and Windows 7) 1.5 GB RAM
Graphics: A 128 MB Video Card with support for Pixel Shader 2.0
DirectX®: 9.0c
Hard Drive: At least 3.5 GB of free space (9.6 GB if installing with The Sims 3) with at least 1 GB additional space for custom content and saved games.
Sound:
Supported Video Cards: Nvidia GeForce series: FX5900 or greater, G100, GT 120, GT 130, GTS 150, GTS 250, GTX 260, GTX 275, GTX 280, GTX 285, GTX 295; ATI Radeon™ series: ATI Radeon 9500 series of greater, X300, X600, X700, X800, X850, X1300, X1600, X1800, X1900, X1950, 2400, 2600, 2900, 3450, 3650, 3850, 3870, 4850, 4870, 4890 series or greater; Intel® Graphics Media Accelerator (GMA): GMA 3-Series, GMA 4-Series
*Please note that the GeForce 6100 and 7100 cards are not supported
Análises úteis de clientes
33 de 40 pessoas (83%) acharam esta análise útil
This is by far my favorite of the sims 3 expansions. There's loads of things to do that will keep you busy for weeks to come.