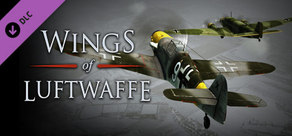 This content requires the base game Wings of Prey on Steam in order to play.

Release Date: Apr 19, 2010
Watch HD video
Notice: Wings of the Luftwaffe requires Wings of Prey (v 1.0.3.2) to run.
Downloadable Content
This content requires the base game Wings of Prey on Steam in order to play.
Buy Wings of the Luftwaffe
About the Game
This expansion will feature ten single missions with support for up to four players in co-op mode, two new planes and over 40 aircraft skins.
In Wings of Luftwaffe, the player takes the role of a German pilot in explosive battles over Britain, Sicily, the USSR, Belgium and Germany. From blockading aerodromes, to intense dogfighting and bombing runs, players must fight with honour and bravery for the glory of Germany.
Air combat fans will enjoy strapping into one of the game's many planes and seeing the Second World War through the eyes of a German pilot. Wings of Luftwaffe puts you in the heat of battle, creating an experience so lifelike, you'll feel the padded seat yield to your weight as you evade enemy fire. Wings of the Luftwaffe offers a chance to experience first hand the desperate fight in the skies over Europe during World War II from another perspective.
Key Features:
Take to the skies as a German pilot;
Embark on 10 new missions;
Cooperative mode for up to four players;
New planes: the Ju 88 A-4 and the P-39N-0;
44 new skins for the various planes.
System Requirements
OS: Microsoft Windows XP SP3
Processor: Intel Pentium 4 3200MHz
Memory: 1 GB Ram
Graphics: NVIDIA GeForce 7600 256 Mb
DirectX®: 9.0c or higher
Hard Drive: 10 Gb free disk space
Sound: DirectX compatible
OS: Windows XP SP3, Vista, Windows 7
Processor: Intel Core 2 Duo 2400 MHz
Memory: 2 GB Ram
Graphics: NVIDIA GeForce GTS 250 512 Mb or higher
DirectX®: 9.0c or higher
Hard Drive: 10 Gb free disk space
Sound: DirectX compatible with support 5.1
© Gaijin Entertainment Corporation, 2005-2010
Helpful customer reviews
8 of 9 people (89%) found this review helpful
280 products in account
126 reviews
I will get this out of the way: this is not worth $15 by a long shot. They can't even get their tricycle geared offerings to behave correctly on landing. It's also already downloaded and included with WoP by default, forcing you to buy parts you already have on your HDD. ♥♥♥♥ that. Finally, the cockpit atmosphere is still pretty dismal despite how great they look from the cockpit. The engine effects are horrendous.

The addition of Luftwaffe missions is great, but it's not worth $15. I'm glad I got this on sale.

Pass this ♥♥♥♥ otherwise.
8 of 12 people (67%) found this review helpful
692 products in account
53 reviews
STAY AWAY FROM THIS STEAMING PILE OF ♥♥♥♥.

While the gameplay itself is actually pretty good, the multiplayer is utter garbage.

The activation process is a form of slow torture thanks to the required yu(can't)Play client that must be running for activation (which is coded by 8 year old monkies), but unfortunately, when you try to activate the game (and any DLCs), the game 'locks' as it waits for the client to pop up the activation window, which can't come to the foreground because the game is locked because it is waiting for the client.

Don't bother trying to contact support, I'm pretty sure it doesn't exist except as a mailbox that no one actually looks at.

Also, browsing the multiplayer server list brings up an empty page. Which means either the game is not retrieving server information, or there are actually no games taking place (likely due to the client being utter feces). Either way, there is effectively no multiplayer in this game due to garbage code.

Save your money.
Title:
Wings of Luftwaffe Add-on
Genre:
Simulation
Developer:
Gaijin Entertainment
Publisher:
Gaijin Entertainment
Release Date:
Apr 19, 2010
Languages:
| | Interface | Full audio | Subtitles |
| --- | --- | --- | --- |
| English | | | |
| French | | | |
| German | | | |
| Italian | | | |
| Spanish | | | |
| Polish | | | |
| Russian | | | |
See all 7 supported languages