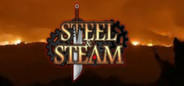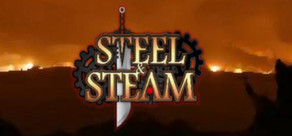 Steel & Steam takes the best elements from the fantasy JRPG's of old, such as great stories, awesome characters, and classic monsters, and combines them with a touch of steampunk. It's like taking Lord of the Rings and mixing in the Wild West.
Release Date: Jul 16, 2014
Watch HD video
Reviews
"I don't know why I never tried one of these earlier; they're pretty awesome!"
cliqist

About the Game
Steel & Steam is a Jrpg Fantasy Steampunk Adventure!
The desert plague is spreading from the East: a reminder of a destructive past.
Man has evolved since the wars of old, creating new ways to combat this deadly expanse.
Using Steel and Steam, man fights this terror, as well as the monsters that spawn from its touch.
Now covering half the continent of Terra Corpus, the desert's slow and steady hunger is threatening to consume and corrupt all life in the world.
Some of the desperate seek out legends of the past: elemental guardians said to sleep inside the planet. Once resurrected, these powerful beings can be controlled, and guided to stop the desert.
The legends speak of a chosen few who have the ability to tame these elemental beings and reshape the world.
Our story Begins With One Such Person.
Steel & Steam takes the best elements from the fantasy JRPG's of old, such as great stories, awesome characters, and classic monsters, and combines them with a touch of steampunk. It's like taking Lord of the Rings and mixing in the Wild West.
It's a game where you, the player, decide how to interact with the game. The classic games usually had a linear, player-focused story moving the game forward. Steel & Steam follows this model, but also gives you the option of moving the story forward through multiple, intertwined story lines. Any character you meet has the potential to affect the end. Will you or will you not save the world? Who you interact with, and how, will affect the way the ending is played out. Whatever happens in one city or town can affect another. These choices give additional life to the world of Steel & Steam.
Who Are the Main Heroes Of Steel & Steam?
Noah Phoenix, age 19, 5'10, 170 lbs. Favourite weapons: sword, axe or pistol. Protective wear: shirts, light, medium and heavy coats. Noah is an adventure junky; he likes to jump in feet first, while searching for the next mystery around the corner. After a short stint with the Silver Head City Guard, Noah decided to move on as a freelancer. Without Alyssa to watch his back, he probably would have already bitten off more than he could chew.
Alyssa Noble, age 21, 6'3, 180 lbs. Favourite weapons: fists, clubs or rifles. Protective wear: shirts, light, medium, and heavy corsets. Alyssa grew up learning how to fight by protecting her father's caravans. She likes to step back and assess the situation, before laying it out cold with a good punch. Noah's best friend and protector, she believes that if she wasn't around to watch Noah's back, he would have been killed long ago.
Here is an idea of some of the things you can expect from Steel & Steam:
A PC release: The game will be released for PC.
A huge world to explore: The game is being designed as an immersive fantasy world. Cities and towns will be full of people and buildings to engage with, with story lines that characters can choose to follow regarding the history and current state of affairs that affect the day to day lives of the people who live here.
An engaging story: An episodic story that involves two main heroes, with an epic conclusion.
Choose your story: You have the chance to complete side missions that change how you interact with the world of Steel & Steam. From changes to the characters you meet, all the way down to changes in the very landscapes you encounter, the side missions provide extra depth that unlocks new stories and opportunities to earn experience without the grind.
Retro style gaming at its finest: Remember the glory days when games told epic stories? Steel & Steam is a retro RPG similar to the classic RPG games played on the Sega Genesis, NES and SNES systems. Relive the past, relish the future, and revel in the now.
A little side fun: Want to take a break from saving the world? Then you can also play some mini games, such as fishing or arena gambling
System Requirements
Minimum:


OS: Microsoft Windows XP/Vista/7

Processor: Intel Pentium 4 2.0 GHz or faster

Memory: 512 MB RAM

Graphics: Video 1024x768 or better video resolution

Hard Drive: 400 MB available space
Helpful customer reviews
15 of 32 people (47%) found this review helpful
342 products in account
7 reviews
4.4 hrs on record
First try on Steel&Steam: Episode 1
Updates will be posted boldly in the respective part of the review
The video is available here:
http://youtu.be/aiQW71D1ggA
First impressions on RPGs are always difficult, but I'll give it a try nonetheless.
First off, the user defined tag "RPG Maker" is as accurate as a single tag can be. That does not necessesarily mean, you can't do great things with it as well. But first things first:
The options are not accessible via the main menu, but you can access them while playing the game. 3 different sliders for audio options are available, which is a plus. Other than that you can change the default walking speed, the text speed from scrolling to instant and you can toggle battle animations on or off. Graphical options are not available, but this is not bothering in this case.
Into the game we go and we start off with a little tutorial in which movement, interaction, inventory manangement, as well as comat are shown to you. You move around using the arrow keys and interaction works via the spacebar or the enter button. You don't really need any more than that controlwise, since the combat is turnbased.
But the combat is not your typical run of the mill turnbased combat. Apart from critical hits, evasion and normal hits, there are different status conditions in which you can be set by the enemy or vice versa. For example, some hits or special abilities have the potential to knock you off balance which skips your turn until you regain balance.
So, after beating the first encounter you will be teleported into the first town. I didn't count each house and every npc individually, but I have to say that for a game of this format this has been one of the largest towns I've ever seen. The same applies to the second town as well.
In the town you can do what you can do in RPGs: Walk into some people's house, steal their stuff and talk to the people like nothing's ever happened. Sometimes it might occur that they give you some items or even quests as well.
And when you think that you have to listen(well, actually read) every dialogue, which by the way is recommended, because the dialogue is rather well written, you are mistaken. You can find the quests and their description in your controll panel.
In terms of the quest system I have to say the quests(side quests included) so far were rather enjoyable and I didn't expect to gain xp and gold from doing quests in a rpg like that, so I was positively surprised.
The control panel also includes your inventory and character information. Equipping your characters is relatively simple, since you have an autoequip button, which selects the best gear in terms of stats for you. Otherwise you can also equip the items yourself one by one. Other than that the inventory system is simple, but it fits its purpose.
So far there has been nothing negative to say, but as we progress through the main storyline we come to the point on which I start to scratch my head so hard that my scalp is coming off. By simply doing the necessary steps and encounters in the game, you gain 2-3 levels until that point, so you have your special ability. The game also gives you a healer, but not that it would matter in any way, because when you take on the 3rd quest(if I counted correctly) in the main storyline and venture towards the zone, the game suddenly turns around and gives you the finger.
From enemies which you killed in 2 to a maximum of 5 turns, the encounters suddenly take 10+ turns for no apparent reason. There are even some enemies which only take an average of 15-25 damage each turn while having 300-350 hp and not being the only enemy in an encounter. What spices things up even more is the fact that their attacks deal about 33-60% of your maximum hp. I've only done one encounter which took me 10 minutes and turned off the game, because I thought it was bs.
Either I am missing something, which is obvious to other people who are playing this game, or the balancing is completely off.
So, the tl:dr.... I cannot recommend it, I am sorry. The last point completely killed it for me.
If you can forgive the game for that, it might be right for you, but I can't be bothered. I might re-review it, if there is a solution to that, but at the current state, as much as it hurts, I have to give it a thumbs down.
Update: Even after doing all the sidequests in order to see if there are balance issues, I can't recommend this game. The problem with the trashmobs before the first boss is cleared that way, but even with best in slot geared characters the boss twoshots two characters within the first 2 turns and giving me no chance to heal at all.
I certainly hope not that the game expects you to reach an excact level before being able to kill the boss, because that would be crappy design.
19 of 42 people (45%) found this review helpful
94 products in account
6 reviews
0.7 hrs on record
https://www.youtube.com/watch?v=mXzE1JZtTCY
Big backer on kickstarter and played through alpha and Beta. Has a unique sountrack,characters and it's very own style.
Though it does use the rpg maker engine it is pretty fleshed out. The only really downside of this game is the combat is repetitve as the old school rpg's so if your not in to that you might want to skip. I already own this game but bought it to show my support for a pretty solid rpg and I'm not just saying that because I'm in it lol.
Check out my video for the first 15 minutes or so of gameplay.
Title:
Steel & Steam: Episode 1
Genre:
RPG
Developer:
Red Meat Games
Publisher:
Digerati Distribution
Release Date:
Jul 16, 2014
Languages:
| | Interface | Full audio | Subtitles |
| --- | --- | --- | --- |
| English | | | |