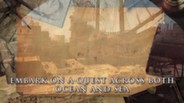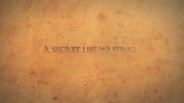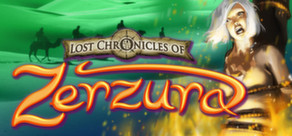 When one brother is taken away by the Inquisition, the other must search for answers that will set his imprisoned sibling free. You'll be quickly immersed in an extraordinary expedition, as you explore the ravishingly beautiful and detailed locations and solve a unique combination of puzzles, mini-games, and other challenges within the...
Release Date: Jul 10, 2014
Watch all 2 trailers
Reviews
"Good puzzles with intelligent difficulty levels. Nice overall length. Fantastic artwork. Exciting story filled with twists and turns."
5/5 – Gamezebo

"...Lost Chronicles of Zerzura combines all the right elements to create a thoroughly enjoyable old-school adventure."
4/5 – Adventure Gamers

About the Game
Join a young inventor on the expedition of his life. A remarkable journey from Spain, across the Mediterranean, to distant Africa; a quest to save his own soul and lives of those he holds most dear.

Two brothers operate a workshop that is well ahead of its time in Barcelona of 1514. It's the time of the golden epoch of the Renaissance, a time of discoveries and inventions; but also the brutal age of the Inquisition.

One brother puts all his efforts into building a flying machine, while the other dreams of Egypt and mysterious art treasures. The advanced ideas and exotic fantasies weaved by the pair arouses the suspicions of the Grand Inquisitor.

Quite suddenly their small world is turned upside down as one brother is taken away by the Inquisition; leaving the other alone to search for answers that will set his imprisoned sibling free.

Explore the ravishingly beautiful and detailed locations of this remarkable adventure as you become immersed in this mysterious medieval tale and solve a unique combination of puzzles, mini-games, and other challenges that are perfectly integrated within this breathtaking storyline.

Evade further attacks by the inquisition, and forge strong alliances with those you meet along the way. Trek across different countries and cultures and eventually to the legendary desert city of ZERZURA, where an ancient terror guards over powerful secrets - and poses the greatest challenge of all!
System Requirements
Minimum:


OS: Windows® XP, Windows Vista®, Windows® 7, Windows® 8

Processor: 1.0 GHz Processor or faster

Memory: 512 MB RAM

Graphics: AGP/PCI-E Graphics card with : Shader Model 2, DirectX®9 compatible, - min. 128MB VRAM (ATI Radeon 9800 or NVidia GeForce 6800) / Integrated (onboard)-graphics: Graphics with Shader Model 2, DirectX®9-compatible, min. 128 MB VRAM (Intel GMA x4500, ATI Mobility Radeon 9800 or NVIDIA GeForce Go 9800)

DirectX: Version 9.0c

Hard Drive: 4 GB available space

Sound Card: DirectX® compatible sound card
© 2014 dtp entertainment AG All rights reserved. Developed by Cranberry Production GmbH. Published under license by Viva Media ®
Helpful customer reviews
17 of 22 people (77%) found this review helpful
0.8 hrs on record
First impressions:
I've played for about 45 minutes so far.
(optional let's play footage)
http://youtu.be/I_dPFheMsL8
The game use a 2D background with 3D characters and objects over it. It doesn't look too bad. Initially I noticed a bit of contrast between the the 3D and 2D but these usually seemed to blend together most of the time. The game nice peaceful music playing at all times.
It's a point and click adventure problem solving game. You inspect objects, pick stuff up, use objects together to find solutions to problems. It is typical sort of stuff you in the genre.
It is not a fast game. You spend a lot of time listening to the protagonist's monologue about everything you try to do or look at. There is a lot trial an error finding solutions to objectives. Some of the dialogue is amusing; the protagonist is an inventor and does not speak kindly of Da Vinci who is a rival inventor for him. I kind of liked the part where you actually 'design' inventions by sitting down in the workshop and drawing sketches by combining ideas together. Some of them look pretty funny.
The game isn't too bad. I wouldn't of it's kind but I couldn't find any major problems with it. I would recommend is looking for games like this.
Click
here
for more let's play videos =)
9 of 10 people (90%) found this review helpful
2.3 hrs on record
Played for two hours so far and am really liking this one. The art, puzzles, and atmosphere are all top notch. I am not super into point & click adventure games, but this one stands out for me. The setting is simply great, and all the little details are really amazing. I highly recommend this game to any adventure game enthusiast, or even causual gamers who like a good story with some challenging, but solvable puzzles.

Its tone is a little like lost Horizon (similar title with no relation), but the production value and art style of Zerzura is far more evolved.

Overall, this is a great game that is well worth your time, even at full price, which is $10 cheaper then the boxed version.
Title:
Lost Chronicles of Zerzura
Genre:
Adventure
Developer:
Cranberry Production
Publisher:
Viva Media
Release Date:
Jul 10, 2014
Languages:
| | Interface | Full audio | Subtitles |
| --- | --- | --- | --- |
| English | | | |