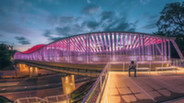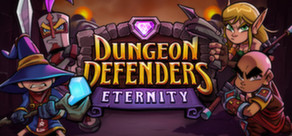 Dungeon Defenders Eternity is the definitive version of the original tower defense action-RPG! Now featuring a rebalanced endgame, all new missions, secure online play, links to Dungeon Defenders II and more!
Release Date: Jul 22, 2014
Watch all 2 trailers
Buy Dungeon Defenders Eternity
Dungeon Defenders owners can save 45% off when they purchase before September 22nd, 10am pacific.
September 17
NOTE: We are actively investigating the root issue that causes lag in high-stat builds. We will update you as soon as we have more information.

Content:

The Fairy pet has come to DDE with its own new special ability

Skin color region now can now be dyed with any dye

Lemon Dye has been added to the shop
Balance:
Increased the quality of loot that drop from chests in Nightmare; chest loot should now have closer parity to Nightmare enemies

Equipment can no longer roll negative stats
Bug Fixes:
Pressing "Sell All" in the Blueprints section of your inventory now properly updates the Blueprints section of your inventory

Fixed an issue where Mistymire was forcing players to play on Nightmare only

Pettable creatures (shroomites, seahorses, donkeys) now correctly give mana while playing on Nightmare on the following maps: Mistymire Forest, Moraggo Desert Town, Aquanos, Sky City and Akatiti

Deadly Striker Tower will now hit as far as it can see; increased the lifespan of DST projectiles so they hit those pesky far away enemies

Fixed a bug on Akatiti where Summoner's Minions can be built up in the trees

Fixed a bug where the Snowball Launcher's projectile was dealing damage multiple times to one target; now it only deals damage once, like the other launcher/AoE weapons

Fixed a misspelling on "Absorbent" armors

On Monsterfest Maps, readying up will ignore dead players when a player readies up

Forward slash and End keys are no longer bindable

Fixed a bug where enemies were gaining a short period of ultra-rapid-fire when being hit by the Spider Minion's web debuff

Enrage Aura tooltip now showing proper Damage Vulnerability amount

Fixed a bug on Tinkerer's Lab where doors were not opening; they are now opening
7 comments
Read more
September 10


We're very excited to announce that the first content update patch for Dungeon Defenders Eternity is live. Enjoy! Here are some of the new features in Content Update 1:

Campaign Nightmare Mode

Content Update 1 introduces Campaign Nightmare Mode to Dungeon Defenders Eternity! You can now enjoy Nightmare Mode on all Campaign and Bonus Missions.

Nightmare Mode in DDE brings a unique twist: We've added a new faction of enemies called Elite Enemies, which are upgraded/modified versions of the existing enemies to bring even more pain to the battlefield. Nightmare Mode also includes two new armor sets, 16 returning weapons from DD1 and even higher stats for you to discover!

Private Taverns

Want to get away from the noise of the public tavern? Want to test your heroes and defenses in peace? Now you can with our Private Taverns! Of course, the Public Taverns are still there if socializing is your thing. You can access the Private Tavern through the Main Menu or Mission Screen.

New Map: Buccaneer Bay

Content Update 1 adds Buccaneer Bay, a brand-new pirate-themed island map, to Dungeon Defenders Eternity!

https://www.youtube.com/watch?v=zNeIRFMFqtA

Full Patch Notes (Patch 4.0, Content Update 1):

New Content

Nightmare mode has been added for all Campaign and Bonus maps. This includes new gear drops, empowered enemies and even higher difficulties.

Private Taverns: Players can access their own private tavern through the Main Menu or Mission Screen! You can also change this setting in the Options menu.

New Bonus Mission Map: Buccaneer's Bay, a pirate-themed island map.

Nightmare exclusive rewards:


16 weapons back from DD1

2 new armor sets


Corrupted Set focuses on Hero Stats, for DPS characters

Divine Set focuses on Tower Stats, for Tower-building characters

8 returning pets with new abilities


Animus pets with Hero specific stats for DPS characters

Guardian pets with Tower stats for tower-building characters

8 new class-specific Amulets


Apprentice


Polymorph: Morph enemies into Goblins.

Squire/Countess


Execute: Kill low-health enemies around you.

Monk/Initiate


Perfect Evasion: Dodge all incoming attacks for a short time.

Huntress/Ranger


Concussive Shots: Add some knockback and damage to your shots.

Barbarian


Battle Roar: Let out a stunning roar that makes you stronger.

Jester


Elemental Surprise: Damage enemies in a cone with random elemental damage.

Summoner


Crystalline Champion: Promote one of your minions into a super minion.

Series EV


Tazer Bomb: Deal lightning damage and stun a group of enemies.

Transmogrification System


You can now hide your gear or change its appearance by talking to The Tailor. She is located across from the Tavernkeep.

Invisible Skins are purchasable in the shop with in-game currency. Use these with the new Transmogrification System to visually hide your armor.
Changes
Increase Folder Limit in Inventory from 8 to 10


More specifically, this is 10 folders wide (up to 10 folders inside of any one folder). Folder depth still remains at 5 folders.

Players can now drag an item from their Hero to a folder.

The Summoner can now swap their primary pet. Default Key set to Z.

Removed Dyes and Consumables from dropping in game. They are available in the shop.
Bug Fixes
Controllers now work with the Forge during Survival

Fixed bug with mission consumables that was causing them to not scale with enemy level

Summoner's Ogre Minion is now displaying the correct icon

Summoner's Dark Elf Mage Minion heal now triggers off both Summoner Minions and all other Defenses

Upgrade and Repair VFX now properly follow Summoner Minions

Fixed scale issue with Griffin, Laser Robot, Serpent, Shroomite, and Dragon pet projectile visual effects

Fixed bug where Imp Active Ability was registering twice per tick

Ogre notification is now displaying correctly

The Ancient Dragon in Crystalline Dimension now correctly shoots fireballs
Balance
Per map loot quality has been adjusted to ensure that harder maps drop better items

Increased initial build time from 90 to 120 seconds on Insane and Nightmare difficulties

Elemental Affinity now affects the Poison Weapon Ability

Added a limit to the number of Ogres that can be present on a Survival match at once.

Increased chance to drop blueprints

Imp Abilities no longer cost mana, like other pet abilities

Ogres now drop better loot

Reduced Goblin Copter base missile damage and missile damage scaling

Reduced Akatiti Goblin Mech Boss base damage

Reduced Dark Elf Warrior's Max Movement speed so players can better react to the Dark Elf Warrior on higher difficulties

Adjusted Enrage Aura to be more in line with other defenses (see this post for more info)


Aura attempts to enrage enemies once every 5 seconds

Enrage effect lasts 5 seconds, then can't affect enemy for 2.5 seconds

Nightmare Ogres cannot be Enraged

Redesigned Huntress Invisibility Ability to give a 50% attack speed buff after exiting stealth. To compensate for this increased power, the cooldown has been increased from 4 to 30 seconds. Note: We are testing this balance change. Please give us feedback on the forums this week. If this ability change is not liked, we will revert it.
Known Issues
Doors in Tinkerer's Lab do not open. (This will be fixed in an upcoming hotfix. We decided not to delay the update even further.)
14 comments
Read more
About the Game
Dungeon Defenders Eternity is the definitive version of the hit tower defense action RPG! Slice, shoot and pulverize your enemies, or build defenses to do the dirty work for you. Grab three friends and build a team of heroes from twelve different classes, each with their own defenses and abilities. Then embark on an adventure to defend Etheria from the Old Ones' army!
Eternity boasts all new missions, new features, a rebalanced endgame, secure online play (no more hacking!), along with a wide selection of content from the original game. Now is the perfect time to experience Dungeon Defenders and its expansions the way they were meant to be played!
Key Features
Defend with towers

Four-player online co-op

Ground-breaking story about a group of children who try to save the world

Level up 12 different hero classes

Argue about which hero is the best on our forums

Kill an Ogre with a chainsaw sword

Fight a gigantic dragon (Spoiler!)

Put some wings on your heroes and dye their clothes pink -- because you can

Look up the best map builds online; pass this knowledge off as your own

What's New

New Content:

4 campaign missions including Embermount Volcano with an all new Boss Fight and cinematics

A new challenge mission

A new community made mission (Moonbase)

Visible armor system with 56 new armor pieces

10 combat consumables (throw grenades, summon lightning storms, instantly heal your defenses, and more)

Amulets that let you find and equip unique hero abilities

New Features:

Secure dedicated servers for anti-hacking protection

Dyes that allow you to customize costumes and visible armor

Crafting system to create and modify high tier items from blueprints

Pet hatching and growth system, with activatable abilities

Dashing and manteling systems for better mobility

Weapon swapping between two weapon sets

Community tavern, where you can talk and trade with up to 16 other players before starting a mission

Quickmatch feature where you can quickly join a mission with other players (optional)

Cross-Platform play with PC, Mac, Linux, and Mobile all playing on the same servers

One Dungeon Defenders account, with your progression accessible from any account. Playing on supported Android devices requires purchasing the game on Google Play.

34 new equipable emotes (not included with purchase of base game)

Rebalanced Gameplay:

Rebalanced missions for shorter match times, less farming, and more interesting enemy clusters

Rebalanced stat system, so increasing stat points in the end game has a larger effect

Rebalanced, instanced loot system that drops less loot at higher quality

A revised Survival Mode, with shorter play times.

A revised Hardcore Mode with better rewards and perma-death

A revised User Interface

What's Returning

Our favorite Dungeon Defenders content:

All 12 Dungeon Defenders heroes

All 12 original Dungeon Defenders campaign missions and challenge missions

All 5 Quest for the Lost Eternity Shards campaign missions and 7 challenge missions

5 bonus missions (Glitterhelm, Karathiki, Tavern Siege, City In The Cliffs, Tinkerer's Lab)

2 community made missions (Akatit Jungle, Palantir)

22 original Dungeon Defenders hero costumes (found in your item box and equippable as a costume item)

Coming Soon: Begin Your Dungeon Defenders II Experience!

Check out the Tavern's new Hall of Triumphs where you can unlock unique items, titles and pets for Dungeon Defenders II!

Important Notes:

Dungeon Defenders Eternity is rebuilt from the ground up for security, so you will not be able to continue your previous Dungeon Defenders saves.

Dungeon Defenders Eternity requires an internet connection.

Dungeon Defenders Eternity requires you to create a playverse account.
PC System Requirements
Minimum:


OS: Windows XP

Processor: 1 Ghz Dual-Core CPU

Memory: 1 GB RAM

Graphics: Graphics Card with Shader Model 3 support, 256 MB video memory

DirectX: Version 9.0c

Network: Broadband Internet connection

Sound Card: DirectSound-compatible sound device

Additional Notes: Internet connection is required to play.
Recommended:


OS: Windows 7

Processor: 2Ghz Dual-Core CPU

Memory: 2 GB RAM

Graphics: Graphics Card with Shader Model 3 support, 512 MB video memory

DirectX: Version 9.0c

Network: Broadband Internet connection

Sound Card: DirectSound-compatible sound device

Additional Notes: Internet connection is required to play.
Mac System Requirements
Minimum:


OS: OS X version Lion 10.7, or later.

Processor: 1.3 GHz Intel CPU

Memory: 2 GB RAM

Graphics: Open GL 2.1 / Shader Model 3 capable graphics card with 256 MB video RAM

Network: Broadband Internet connection

Additional Notes: Internet connection is required to play.
Recommended:


Network: Broadband Internet connection

Additional Notes: Internet connection is required to play.
Linux System Requirements
Minimum:


OS: Ubuntu 12.04 LTS

Processor: 2 GHz CPU

Graphics: ATI Radeon HD 2400 or NVIDIA GeForce 7600, equivalent or greater

Network: Broadband Internet connection

Hard Drive: 6 GB available space

Additional Notes: Internet connection is required to play.
Recommended:


Network: Broadband Internet connection

Additional Notes: Internet connection is required to play.
© 2014 Trendy Entertainment LLC. All rights reserved. Trendy Entertainment' the Trendy Entertainment logo' Dungeon Defenders Eternity' and the Dungeon Defenders Eternity logo are trademarks and/or registered trademarks of Trendy Entertainment Corporation. All other trademarks are property of their respective owners.
Helpful customer reviews
Title:
Dungeon Defenders Eternity
Genre:
Action
,
Indie
,
RPG
,
Strategy
Developer:
Nom Nom Games
Publisher:
Trendy Entertainment
Release Date:
Jul 22, 2014
Languages:
| | Interface | Full audio | Subtitles |
| --- | --- | --- | --- |
| English | | | |