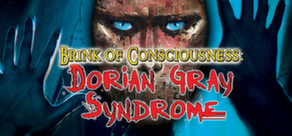 To free your beloved from captivity, you must venture into a maniacal world in this Special Collector's Edition of BRINK OF CONCIOUSNESS: DORIAN GRAY SYNDROME; an immersive tale of chilling surprise that's chock full of extras including bonus gameplay, concept art, soundtrack, and much more!
Release Date: Jul 1, 2012
Watch HD video
Reviews
"I will just start by saying that I cannot recommend Dorian Gray Syndrome enough."
5/5 – Gamezebo

About the Game
Venture into the realm of a madman to free your beloved from captivity in
Brink of Consciousness: Dorian Gray Syndrome Collector's Edition
, an incredible Hidden Object Puzzle Adventure game! As reporter Sam Wilde, you must work quickly to unravel a bizarre series of disappearances involving young and beautiful people.
Your investigation suddenly becomes personal as the next victim of this psychotic serial killer is Anna, your love! Sam's every move is being tracked so he has to be extra careful. Putting his journalistic talents to the test, Sam must find the maniac who has kidnapped Anna, and stop him before it's too late. Travel to Goldvale Manor and scour every nook and cranny of the grand mansion for clues that might lead you to her rescue. Use your instincts and intellect to solve devious puzzles, avoid traps and defy the lunatic's treacherous scheme.
Will you ever escape his clutches?
Features:
Explore gorgeous locations and highly detailed hidden object scenes

Unravel a thrilling horror adventure

Discover the truth and save your love!
The Collector's Edition includes:
Gorgeous locations and highly detailed hidden object scenes

Bonus gameplay

Interview with the developers

Concept art
System Requirements
Minimum:


OS: Windows® XP, Windows Vista®, Windows® 7, Windows® 8

Processor: 1.4 GHz Processor or faster

Memory: 512 MB RAM

Hard Drive: 500 MB available space
(c) 2014 Magic Indie Softworks.
Helpful customer reviews
53 of 55 people (96%) found this review helpful
381 products in account
7 reviews
0.7 hrs on record
I've played a lot of hidden object games, and Dorian Gray Syndrome is one of the better examples of the genre. The story starts us with a young journalist, Sam Wilde, hot off an article detailing the disappearances of numerous "beautiful" people in the area. Heading out to meet his lady love for a date, he arrives at the rendezvous only to discover a note beckoning him to the home of the man behind the kidnappings. If if he wishes to see his beloved Anna again he is to come alone. Sam must now travel to Goldvale Manor to confront the demented and insane Oscar and rescue his love. Ok, so the story is pretty cliché and hokey, but I have played many a game with worse premises than this. Where Dorian Gray excels is in the gorgeously detailed artwork and locations, great atmosphere and enjoyable "adventure-lite" game play.

I must reiterate how beautiful and imaginative the artwork is in this game. Each hand-drawn area features intricate detail that in a way feels almost life-like. Even the character models are nicely rendered and don't come off as stiff and awkward as they do in other games. A toggleable film grain filter finishes everything off with a gritty look. Discovering the many locations and enjoying the art is reason enough to play the game.

Adventure-lite is the best way to explain the game play. Most of the objectives and puzzles aren't too difficult to figure out, but a few may have you backtracking and running in circles for a bit. A large number of items will find their way into your inventory, many of which may not have an obvious use or be used for quite awhile; this is something I quite enjoy in standard adventure games and don't see too often in these.

Of course, there are a handful of hidden object scenes sprinkled throughout the mansion, all nicely drawn without much clutter. The items make sense for the location and time period, something so many games fail to do. There aren't too many, but the ones present are neither frustrating nor too easy, just a pleasant diversion (if you don't mind them) as you make your way through the game.

Unlike similar HOG's, I spent a good 8 hours playing through the entire story, including bonus chapter. Part of that may have been me taking time to enjoy the art and atmosphere. Playing on Expert with no hints and minimal strategy guide usage helped extend my play time as well. But the scope of the game itself feels much bigger than most and I feel like I really got my money's worth, especially since I'll be playing this one time and again.

A few things that bothered me included puzzles that are far too easy, many of which require very little thought and are often repetitive tasks once you figure out the method. The voice acting can be a tad melodramatic, but is admittedly better than other casual games. And Oscar tends to show up/be heard a bit too much which often pulled me out of my "adventure gamer" mode, but this is a personal gripe and others may have no problem with it. Other than those few complaints, the game shines.

Brink of Consciousness: Dorian Gray Syndrome may not be the perfect HOG, but what it does right it does really right. If you are a HOG aficionado, make sure to pick this one up. As a rule, I generally don't recommend these games at anything above the $7-$8 price range, but even if you shell out the full $10, I feel you'll get your money's worth considering game length, bonus chapter and extras (soundtrack, concept art, etc.).
Title:
Brink of Consciousness: Dorian Gray Syndrome Collector's Edition
Genre:
Adventure
,
Casual
Developer:
Magic Indie
Publisher:
Viva Media
Release Date:
Jul 1, 2012
Languages:
| | Interface | Full audio | Subtitles |
| --- | --- | --- | --- |
| English | | | |