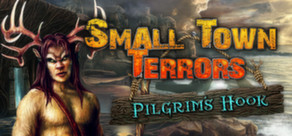 Save your twin brother from the sinister sea menace that overtakes everything and everyone on the troubled island of Pilgrim's Hook.
Release Date: Apr 18, 2013
Watch HD video
Buy Small Town Terrors Pilgrims Hook CE
Packages that include this game
Buy Sinister Stories Bundle
Includes 8 items: Shadows: Price For Our Sins Bonus Edition, Alex Hunter - Lord of the Mind Platinum Edition, House of 1,000 Doors - Family Secrets, Nearwood - Collector's Edition, Castle: Never Judge a Book by its Cover, Small Town Terrors Pilgrim's Hook Collector's Edition, House of 1000 Doors: The Palm of Zoroaster Collector's Edition, Brink of Consciousness: Dorian Gray Syndrome Collector's Edition
PROMOTIONAL PRICE! Offer ends September 23
Reviews
"Small Town Terrors: Pilgrim's Hook is one of the best hidden object adventures made this year."
4.5/5 – Gamezebo

"Small Town Terrors: Pilgrim's Hook...is the first hidden object game I enjoyed playing because the developers seamlessly incorporated finding hidden objects, solving puzzles, and uncovering a spooky mystery."
5/5 – Casual Game Guides

About the Game
A visit to Pilgrim's Hook is the last thing you wanted. You vowed never to return to your childhood home. The only person that could ever compel you to come back summoned you with an unexpected phone call. How could you not answer his desperate plea for help? You must go back and save your twin brother from the deadly menace that lurks below the island.
The horror begins at land's end and spreads its wrath over land like a web of suffocating tentacles. A tide of terror has attacked Pilgrim's Hook. Few townsfolk remain and the ones who do appear to have gone mad. A diabolical power eats away at those who dare to resist the call of the sea.
You could fall prey too. A mysterious underwater force threatens you with ominous words. "I keep everything that comes to me through the sea. I think I will keep you and your brother both," the voice resonates like the echoes of a living nightmare.
Defy destiny of doom. Your dear brother's fate is in your hands. Only you can free Arthur and the townsfolk from the perils of doom.
Dive in if you dare and brave the depths of Pilgrim's Hook. Encounter colorful characters, a kingdom of ocean life, mesmerizing aquatic sound effects and hauntingly realistic maritime scenes. You alone can unravel the mystery and break the horrific spell.
You are the last hope in this decades long struggle between good and evil, sand and surf, and land and sea. Turn the tide of deadly danger that lurks below the troubled shores of Pilgrim's Hook.
Features
Reveal the clues, piece them together, and solve the mystery of Pilgrim's Hook!

Discover life-saving clues and solve unusual puzzles

Find dozens of morphing sea creatures: starfish, lobsters, crabs and more

Earn a collection of sea-based achievements

Interact with the inhabitants of Pilgrim's Hook, from the seaman and priest, to the bartender and the townsfolk

Search Pilgrim's Hook for missing whale bones

Work with an integrated strategy guide

Bonus chapter Beneath the Sea
System Requirements
Minimum:


OS: Windows® XP, Windows Vista®, Windows® 7, Windows® 8

Processor: 1.2 GHz Processor or faster

Memory: 256 MB RAM

Graphics: DirectX® compatible video card

Hard Drive: 800 MB available space

Sound Card: DirectX® compatible sound card
Developed by Gunnar Games, Inc. © 2013. Portions of this software use the Ogg Vorbis and Theora libraries under the terms of the LGPL license. © 2002-2009 Xiph.org Foundation. Viva Media and the Viva Media logo are registered trademarks of Viva Media, INC. Published by Encore Software, Inc.
There are no public reviews for this product yet
You can write your own review for this product to share your experience with the community. Use the area above the purchase buttons on this page to write your review.
Title:
Small Town Terrors Pilgrim's Hook Collector's Edition
Genre:
Adventure
Developer:
Gunnar Games
Publisher:
Viva Media
Release Date:
Apr 18, 2013
Languages:
| | Interface | Full audio | Subtitles |
| --- | --- | --- | --- |
| English | | | |
| French | | | |
| Italian | | | |
| German | | | |
| Spanish | | | |
| Dutch | | | |
| Japanese | | | |
| Russian | | | |
See all 8 supported languages