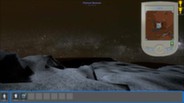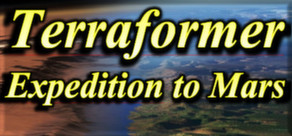 Earth is dying. In a desperate effort to save humanity, all the nations of Earth pool their dwindling resources together one last time to construct and equip three space ships. The mission: Terraform Mars and pave the way for human settlement of the planet.
Release Date: May 7, 2014
Early Access Game
Get instant access and start playing; get involved with this game as it develops.
Note: This Early Access game may or may not change significantly over the course of development. If you are not excited to play this game in its current state, then you may want to wait until the game progresses further in development. Learn more
What the developers have to say:
"Although, Terraformer Expedition to Mars is totally playable, it is still being developed.
This means the game will be improved on a regular basis, through updates that add new features, content and bug fixes.


We've decided to opt for an early release on steam to mainly get user feedback,
this will help us steer the further development of the game.
We are planning on having the first really solid release early fall of this year.
These are the 'biggies' we're currently working on:


MODS
We are currently working on a MOD/DLC interface, this will be featured in the first follow up version.
(This will probably be completed by the time we get OK'd by steam).
The MOD interface supports:
- Adding new planets and/or moons.
- Adding new game objects.
- Adding new planetary features.
- Adding new levels.
- The plugin interface will support alternative 3D rendering for game objects.
- The plugin interface will support adding new physics for game objects.
(Most of this support is actually in this version, but no docs, and not many examples,
so we're holding off on actually supporting this until the next version).

GRAPHICS
We are also working on changing the rendering algorithm stack.
Currently, the current stack filters games objects using a 'cone pointing' matrix, followed by a horizon filter, followed by ROAM modeling, followed by geo-mipmapping.

We have prototyped just using an environment map in lieu of the ROAM and geo-mipmapping,
and the performance benefit is embarrassingly better.
So we'll be switching to this.

Meanwhile, the code supports quad trees, but this is not enabled, 'cause of the added vertex performance hits.
so when we have the new stack enabled, we'll also enable quad trees.

What does all this (blah ,blah, blah) really mean?
Better and faster 3D graphics.

CACHING
Currently, when you play the game, the whole planet Mars resides in the PC's memory.
This is a lot of memory!

In order to support much bigger planetary bodies, we'll be adding a memory cache.
The active area of the world will reside in memory, and we'll load in areas of the world as needed.
This will allow us to support really big worlds.

CRAFTING
This is a little more long term, perhaps a version 2.0 item.
Instead of crafting 'canned' items, we'd like to be able to support attaching components together.
And, the have their physics properties define the behavior of the crafted object.


Background
Lastly, I've been asked a number of times, what made you decide to write this game?
I'll try to explain myself:

My son turned me on to 'Dwarf Fortress', at the same time I was working on a point cloud re-engineer project.
For the project I was using a marching cubes alg. over a convex hull voxel set.
It occurred to me that all I needed to do was add this a marching cube alg. over 'Dwarf Fortress' and just like that I'd have a 3D version.

In my spare time, I fiddled on this for awhile, but, the 3D performance was never going to happen,
unless I could get under the covers of the code.
And, I kind of got bored w/ 'Dwarf Fortress', too.

Ever since I was a kid, reading science fiction, the idea of terraforming Mars has been very interesting to me.
(What a geek)
One day it occurred to me, I could use this 'Dwarf Fortress' code and use it on top of a 'Mars simulation', I'd have a game.

So that's what I did, the more I did, the more fun it was for me, friends and relatives to play it.
I said 'what the heck', lets try to make this a commercial game, there must be other 'geeks' out there?

And, just for the record, I have never played 'MineCraft'. " Read more
Buy Terraformer Expedition to Mars
WEEK LONG DEAL! Offer ends August 4th
May 30th, 2014

These are the fixes:
- Disappearing items (typically interacting w/ spaceship)
- Dropping an item on an item.
- Crafting wasn't always using all the required materials.
- Volume controls for music and effects (turn down the breathing!)
- Confirmation dialogs for save/load/new and exit game.
- Thread timing causing jitter on some PCs. (This change also improves FPS).
- Tool tip flickering for some folks
- Placing building materials, this works way better now.
- I toned down radiation posioning by 25%, alot of folks were having a difficult start.
- Harvesting dead immature plants, these no longer come back alive, they turn into dead plant matter.
- Tooltips for using an equipped tool, had an incorrect information issue w/ dead plants.
- Save game, there was a situation where a save would not correctly save a tool.
This has been fixed.
Also, the code, upon a game load, checks for this error and then auto-fixes the tool,
so any saved games with this problem should be fixed and work correctly.
- Saved file screenshot size has been changed, this fixes an issue w/ anti-aliasing.
- Added memory checks on new game and load game.
- Mesh objects flickering


0 comments
Read more
Reviews
"I think I have made it clear that I whole heartily support Terraformer being green lit and brought to the masses"
Greenlight Gaming

About the Game
Terraformer Expedition to Mars is a first/third person 'Hard Science' based 3D simulation of survival, exploration and terraforming set on the planet Mars.

The simulation unfolds in three parts:

•The first phase is to survive on Mars using only a few canisters of oxygen, hydrogen and water and the shattered remains of your initial space craft. You will use these and the resources of the planet itself to create your own light, heat, water, air and food.

•The second phase is exploration of the planet itself: where are the other ships? Who shot you down in the first place? You will do so in a beautiful and realistically rendered 3D environment complete with dynamic interactions of light, heat, day/night cycles, and Martian geology and volcanology.

•Third and most challenging, you need to transform the lifeless, desolate and frozen wasteland into a new home for Mankind. You will do this from scratch, using constructed tools, machinery, and Earth born bacteria and plant life carefully nurtured and strategically placed. You will create a complete atmosphere, hydrosphere, and a complex biosphere - step by agonizing step - as you fight to stave off the cold, the hunger, and the loneliness of a world that will kill you without a thought, with no one to hear you scream.
Save Earth, terraform Mars.
System Requirements
Minimum:


OS: Windows XP, Vista, Windows 7

Processor: 2 GHz Single Core

Memory: 4 GB RAM

Graphics: DirectX 9.0 compatible, 256 MB (Shader Model 2.0 required)

DirectX: Version 9.0c

Hard Drive: 4 GB available space

Sound Card: Yes
Recommended:


OS: Windows XP, Vista, Windows 7

Processor: AMD Athlon 64 X2 5200+ Dual Core 2.60 GHz, Intel Core 2 Duo E6420 Dual Core 2.13 GHz

Memory: 8 GB RAM

Graphics: NVIDIA GeForce 8800 GT 1024MB graphics card or better, ATI Radeon HD 4830 10242MB graphics card or better

DirectX: Version 9.0c

Hard Drive: 12 GB available space

Sound Card: Yes
Terraformer Expedition to Mars, Developed and published by Vermont Software Studios, LLC. © 2014.
Helpful customer reviews
Title:
Terraformer Expedition to Mars
Genre:
Early Access
,
Simulation
Developer:
Vermont Software Studios,LLC
Publisher:
Vermont Software Studios,LLC
Release Date:
May 7, 2014
Languages:
| | Interface | Full audio | Subtitles |
| --- | --- | --- | --- |
| English | | | |