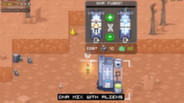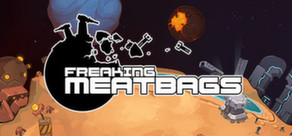 Land on a planet, pick up some rocks, leave before the solar system explodes. Oh, and don't die in the nightly robot attacks! Freaking Meatbags is a humorous real-time strategy game that's all about building a base, mixing meatbag DNA, then convincing those dolts to help you gather resources.
Release Date: May 20, 2014
Watch HD video
Early Access Game
Get instant access and start playing; get involved with this game as it develops.
Note: This Early Access game may or may not change significantly over the course of development. If you are not excited to play this game in its current state, then you may want to wait until the game progresses further in development. Learn more
What the developers have to say:
"Hello fleshy lifeform, and welcome to our Early Access release! Freaking Meatbags has reached alpha and is fully playable in its current form. A large portion of the content is already in place, including the first stages of DNA mixing and most of the buildable structures. We're hard at work fixing bugs and adding new features, so if something breaks before your very eyes, it's ok, it's supposed to do that! For now, anyway. Join the Early Access program to get the game at a discounted price and share your feedback/suggestions with the team. We promise we won't implant a brain slug into your head while you're not looking." Read more
Reviews
"This all reminds me a bit of Revenge of the Titans but with more getting your robohands dirty, which I'm certainly in favour of."
Rock Paper Shotgun - Trailer

"In the end, Freaking Meatbags is an amazing contribution to the indie scene....For being an early development game, Freaking Meatbags contains little to no glitches, and will continue to offer more content in future updates."
7.5/10 – SpawnFirst

"Freaking Meatbags is a pretty entertaining tower-defense/RTS hybrid."
7.5/10 – wethenerdy

About the Game
Freaking Meatbags throws you into a futuristic world where robots have jobs, cephalopods aren't confined to a single dimension, and humans pretty much just stand around talking to themselves. As a lowly cleaning robot, your task is to gather precious materials from each world before the solar system goes kaboom. As soon as you land, you realize this gig isn't going to be as simple as you had hoped. During the day you'll scramble to gather resources, build structures and keep your base in good repair. But when it gets dark, get ready to fight. Those rampaging wild robots aren't here to have a knitting competition.
At least you're not alone in your daily chores. Fleshy, unintelligent and very unattractive human creatures live on these planets. You've discovered they're quite amenable to being told what to do, even if those tasks are as limited as carrying resources back and forth. Mix some DNA from a few different species, however, and you can breed humans with special powers. Like, say... laser beam eyes! A little mod here, a little hack there and they might turn out to be quite useful!
Current Features
Fuse alien and human DNA: Create hybrids with special alien abilities by mixing DNA from two different meatbags. A human is useful, but a human with a rocket launcher arm is even more useful.

Build offensive and defensive structures: Hold back the wild robot hordes while simultaneously pummeling them with lasers, missiles, bolts of electricity and your very own personal attack drones. 15 unique structures to create and upgrade.

Enhance your base with technology: Influence the battlefield and manage your base with nine different pieces of buildable technology. Need to heal yourself? There's tech for that. Want to build drones? Tech for that, too!

Motivate your meatbags: The humans usually do what you ask. Unless they're tired or bored or just plain apathetic. Fortunately there's plenty of alien biotechnology you can implant to give them a little encouragement.

Robotic enemies: Nobody knows where the wild robots come from, but they sure are well-armed. Eight unique enemy types that range from creepy crawly things to dashy explodey things.

Boss robots: Three sinister bad guys to take out with your turrets. One of them has a giant brain. How do you figure it got in there?

Multiple planets and environments to explore

Four alien species to encounter, chat with and steal DNA from

One giant trans-dimensional space squid
Future Updates
New structures to build, including a Magnetic Wall, Matrix Mega Laser, Poison Plate and Tower Booster.

Two new meatbag types to create: jetpack and zombie.

New enemy robots to crush, including Exploding Robots and Robot Eggs. That's right, eggs!

Four new planets to clean up.

Linux and Mac ports.

A crazy pirate.
System Requirements
Minimum:


OS: Vista or higher

Processor: Intel i3 or equivalent

Memory: 512 MB RAM

Graphics: 3D card with 128 Mo memory

DirectX: Version 9.0

Hard Drive: 120 MB available space

Sound Card: Stéréo
Recommended:


OS: Windows 7 or higher

Processor: Intel i5 or equivalent

Memory: 750 MB RAM

Graphics: 3D card with 256 Mo memory

DirectX: Version 10

Hard Drive: 120 MB available space

Sound Card: Stéréo
Helpful customer reviews
Title:
Freaking Meatbags
Genre:
Action
,
Indie
,
Strategy
,
Early Access
Developer:
Wild Factor
Publisher:
Plug In Digital
Release Date:
May 20, 2014
Languages:
| | Interface | Full audio | Subtitles |
| --- | --- | --- | --- |
| English | | | |