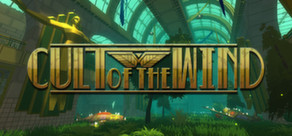 Cult of the Wind is a game about people who pretend to be airplanes.
Release Date: Jun 30, 2014
Watch all 2 trailers
July 19
It took a while, but Cult of the Wind reached Full Release on July 1st! The game is now full-featured and fully playable, with new official maps, a level editor, and Workshop support.




You can grab it here:
STORE PAGE

And see the new trailer here:
TRAILER
1 comments
Read more
June 22


-Added tentative Mac and Linux builds. May have some issues.
-New map: Ars Volatus.
-Two new clothing items: Combat Boots and Party Dress.
-Updated Skytop and Dry Lock with several fixes.
-Numerous gameplay tweaks.
-Fixed memory leak.
-Added support for Xbox 360 controller on Windows.
-Sun can no longer be deleted.
-Fixed Workshop issues on 32-bit systems.
-Fixed killbox not working on shielded players.
5 comments
Read more
About the Game
Cult of the Wind is a game about people who pretend to be airplanes.
"In an unknown time and place, a cult that worships the wreckage of ancient airplanes gathers to mimic the dogfights of old. With the peak of humanity far behind, their world is a mausoleum to a lush and verdant Art Deco past."
In Cult of the Wind, players compete and cooperate in ritualistic multi-player human dogfights, complete with imaginary weapons, pretend explosions, and airplane noises made with their mouths. Shower your friends in a hail of imaginary bullets and proclaim, "I got you! You have to lie down," to which they respond, "Nuh-uh, I have a shield." You argue about whether or not airplanes can have shields, meanwhile some other guy does a cannonball onto your head while whistling. It's great.
With an intuitive point-and-click level editor you'll be able to craft new levels or modify existing ones, then immediately share them with anyone on a server, even if you aren't the host. You can also craft a personalized appearance for your character with numerous articles of clothing and more.
Simple, robust level editor

Instantly share your creations with others

Character customization

Dozens of imaginary weapons and abilities

Infinitely expandable content

Blindingly high-speed mock combat

Weird noises
PC System Requirements
Minimum:


OS: Windows XP or newer

Processor: 1.4 gHz Intel or AMD

Memory: 1 GB RAM

Graphics: 256 MB DirectX or OpenGL

DirectX: Version 9.0

Network: Broadband Internet connection

Hard Drive: 300 MB available space
Mac System Requirements
Minimum:


OS: OSX 10.6 or newer

Processor: 1.4 gHz Intel or AMD

Memory: 1 GB RAM

Graphics: 256 MB OpenGL

Network: Broadband Internet connection

Hard Drive: 300 MB available space
Linux System Requirements
Minimum:


OS: Ubuntu 12.04 or newer

Processor: 1.4 gHz Intel or AMD

Memory: 1 GB RAM

Graphics: 256 MB OpenGL

Network: Broadband Internet connection

Hard Drive: 300 MB available space
Helpful customer reviews
Title:
Cult of the Wind
Genre:
Action
,
Indie
Developer:
North of Earth
Publisher:
North of Earth
Release Date:
Jun 30, 2014
Languages:
| | Interface | Full audio | Subtitles |
| --- | --- | --- | --- |
| English | | | |