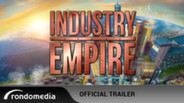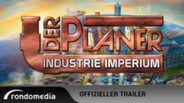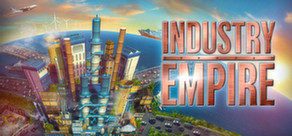 An entire industrial empire under your control. Have you always dreamed of swimming in money? In "Industry Empire" you are the boss of all bosses.
Release Date: Jul 30, 2014
Watch all 2 trailers
August 29
We are happy to announce that Steam Trading Cards are now available for Industry Empire!




Earlier this week we released patch 1.01 with new features and a lot of improvements. More information: Official Changelog


1 comments
Read more
August 26
Dear Community,

today we have released Patch 1.01. The final changelog:

Preliminarily Changelog/Vorläufiges Changelog

New Features:
- Automated selling process: added a checkbox in the market window that auto-creates vehicle tasks. Once you accept a task from the market window a proper transporter will automatically pick up the goods from the closest available factory.
- Automated selling process: added a second checkbox if you want to automate the tasks and complete the task creating more vehicle tasks at the same time. Once you have selected a big size contract several transporters will be dispatched to the closest factories in the area in order to pick up the proper amount – if it is storage.

Will follow later this week wih a seperate update:
- Added the support of STEAM® Trading cards

Improvements:
- Added a checkbox in "My Orders"- window which allows the player to auto delete completed tasks
- Resource "Manure" moved from group Food to group Farming. It is now displayed under the category "Farming" instead of "Food"
- The amount of goods which are stored are now updated immediately after the player has started the task
- A Localization update which fixes several minor localization errors
- Technology research: added a visual message that the first technology is available at level 4 for research
- Technology research: Improved the visibility of the research availability. Now the icon glows when a technology is available for research
- Added a sorting function in the "My Orders" Tab
- Added a notification: Now a short message will be displayed - when the production of a factory stops because of a full storage

Bug Fixes:
- Fixed a Bug which caused a crash while the game was trying to save uncompleted vehicle tasks
- The production rate of several products is now adapted to the intended speed (Milk, Eggs, Manure, and Wool)
- Fixed a crash which was caused by too many automated tasks at once
- Luxury items are now properly loaded from an older save game
- Money from the tutorial is no longer updated on the leaderboard
- Fixed two achievement icons
- Fixed a crash caused by roads while loading a save game
- Scenarios 1, 5 and 6 are now improved and can be played without any issues
- Updated fonts for Spanish & Turkish (which caused issues before)
- Vehicles are now wearing down when they are not properly maintained
- Changed rondomedia logo inside the credits window
- Fixed several achievements which had issues with their unlock status (e.g. crops, animals, geo survey)
- The Plantation, Cotton and raw cotton now unlocks at level 16 which causes no longer issues in the player progress
- Chickens also produce manure in the Chicken Coop from now on
- Added a fix which caused sometimes a crash if the player had more than 40 save games at once

---------------------------------------------------------------------------------------------------------------

Neue Features:
- Automatisierter Verkaufsprozess: Eine Abfrage wurde im Marktfenster hinzugefügt – die es dem Spieler ermöglicht automatische Fahrzeugaufträge zu erstellen. Sobald ein Auftrag angenommen wurde, wird automatisch ein LKW entsendet, der die verfügbaren Güter einsammelt und abliefert
- Automatisierter Verkaufsprozess: Eine zweite Abfrage wurde im Marktfenster hinzugefügt – die es dem Spieler ermöglicht bei großen Aufträgen mehrere Fahrzeuge automatisch zu entsenden, die die benötigten Güter bei verschiedenen Fabriken einsammeln, sofern sie verfügbar sind

Erscheint im Laufe der Woche mit einem seperaten Update:
- Die Unterstützung von STEAM® Trading Cards wurde implementiert

Verbesserungen:
- Eine zusätzliche Abfrage wurde im "Bestellungen" Fenster implementiert. Diese erlaubt, das automatische löschen von bereits erledigten Fahrzeugaufträgen
- Die Ressource "Gülle" wird nun nicht mehr im Reiter "Lebensmittel" angezeigt, sondern im Bereich "Landwirtschaft"
- Die Anzahl der verfügbaren Güter wird nun direkt nach der Entnahme aktualisiert und nun korrekt dargestellt
- Ein Lokalisierungs-Update wurde implementiert, welches mehrere kleinere Fehler behebt
- Im Bereich Technologieforschung wird nun eine Nachricht angezeigt, wann die erste Forschung (Level 4) verfügbar ist
- Sobald eine neue Technologie zur Erforschung bereit ist, wird dies durch einen blinkenden Button signalisiert
- Im Fenster "Bestellungen" ist es nun möglich die einzelnen Aufträge anhand verschiedener Parameter zu sortieren
- Sollte eine Fabrik nun ein volles Lager haben und die Produktion zum Stillstand kommen, wird dies über eine Warnnachricht dem Spieler mitgeteilt


Fehlerbehebungen:
- Es wurde ein Absturzproblem behoben, welches in manchen Fällen auftrat, wenn das Spiel gespeichert wurde, während Aufträge noch nicht abgeschlossen waren
- Die Produktionsrate von diversen Produkten wurde angepasst und ist nun realistischer (Kuhmilch, Eier, Gülle und Rohwolle)
- Es wurde ein Absturzproblem behoben, das auftreten konnte, wenn ein Spieler zu viele automatisierte Fahrzeugaufträge zur selben Zeit veranlasst hat
- Luxusverbesserungen werden nach dem Laden eines Spielstandes nun korrekt angezeigt
- Das Geld, welches im Tutorial verdient wurde, fließt nun nicht mehr in die "Leaderboard"-Wertungen mit ein
- Es wurden zwei Icons der Erfolge ausgetauscht
- Es wurde ein Absturzproblem behoben, das auftreten konnte, wenn Straßen fehlerhaft verlegt und gespeichert worden
- In den Szenarien 1, 5 und 6 wurden mehrere Fehler behoben, die das Lösen der Aufgaben unmöglich machten
- Die Schriftarten für Spanisch und Türkisch wurden aktualisiert, da diese zu Problemen führen konnten
- Fahrzeuge, die nicht richtig gewartet werden, nutzen sich jetzt ab und werden immer unzuverlässiger
- Das rondomedia Logo in den Credits wurde ausgetauscht
- Mehrere Erfolge konnten nicht erfüllt werden. Diese Probleme beim Freischalten sind nun behoben. (Dies betraf unter anderem den Geo-Institut-Erfolg, sowie die Erfolge für Nutzpflanzenanbau, sowie die Tierzucht)
- Die Plantage, sowie die Ressourcen Rohbaumwolle und Baumwolle sind nun ab Level 16 verfügbar
- Die Hühner produzieren nun auch "Gülle" im Hühnerstall
- Es wurde ein Absturz-Problem behoben das auftreten konnte, wenn ein Spieler mehr als 40 Speicherstände gleichzeitig angelegt hat
7 comments
Read more
About the Game
An entire industrial empire under your control.
Have you always dreamed of swimming in money? In "Industry Empire" you are the boss of all bosses. Carry out research, extract raw materials, process them in your factories and distribute your products!
Send off trucks packed with your goods to far off cities and watch how booming trade lets your locations and the region grow and fills your coffers!
Grow your business, get rich and enjoy the fruits of your labor!
With an innovative land acquisition feature: buy plots of land and determine the size and shape of your new factory site!
Features:
A new title in the successful Planner series
Mine a range of raw materials and manage the entire production chain!
Extensive research opportunities and dynamic urban growth
Produce and sell over 160 different industrial products!
Purchase land, precisely tailored to your needs and wallet!
Expand your private property and furnish it with luxury items, whether it's a country home or a villa!
Added fun through various scenarios such as saving a region from bankruptcy and modernizing old structures
Includes online leaderboard
System Requirements
Minimum:


OS: Windows Vista/7/8

Processor: Dual core CPU 2.4 GHz (or higher)

Memory: 2 GB RAM

Graphics: Graphics card with minimum 256 MB (GeForce 7600 GT series, comparable or higher)

DirectX: Version 8.0

Hard Drive: 450 MB available space

Sound Card: Sound card
© 2014 rondomedia Marketing & Vertriebs GmbH
Helpful customer reviews
Title:
Industry Empire
Genre:
Simulation
,
Strategy
Developer:
Actalogic
Publisher:
rondomedia GmbH
Release Date:
Jul 30, 2014
Languages:
| | Interface | Full audio | Subtitles |
| --- | --- | --- | --- |
| English | | | |
| French | | | |
| Italian | | | |
| German | | | |
| Spanish | | | |
| Portuguese-Brazil | | | |
| Turkish | | | |
See all 7 supported languages