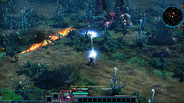 Colonies Online - a game in which a huge world awaits thousands of players. Traveling the huge planets hide in themselves unknown danger, players will fight monsters, find new friends, build and defend their colony from enemies.
Release Date: May 1, 2014
Watch HD video
Early Access Game
Get instant access and start playing; get involved with this game as it develops.
Note: This Early Access game may or may not change significantly over the course of development. If you are not excited to play this game in its current state, then you may want to wait until the game progresses further in development. Learn more
What the developers have to say:
"Early Access to the game for us is not just a way to raise up funds but also an opportunity to communicate with players. Although we have a clear concept of the project, we are very much interested to know how the new opportunities we are introducing are received and how they are used.

Purchasing Early Access makes you a part of the development process and allows you to follow the progress of the project. Standing among the first colonists you will be able to watch game opportunities transform from ideas to realization.

Attention! Please make sure you understand that the project is currently in the active stage of development. Not all of the features are implemented by this moment. We cannot guarantee constant trouble-free running of the game and servers." Read more
August 29
Translation from the command: "All units, immediately commence resource gathering protocol! Full-scale expansion is in progress. No excuses!"

Good day, colonists!

Here comes the update 0.8! We put a lot of effort into the development of the Colonies Online, and this update lays an important foundation on the way to the final incarnation of the game – a persistent universe where players have all the tools to become a true space colonists!

Attention! When the game starts, not from under Steam may be problems displaying the cursor. Run the application as an administrator to resolve this issue.

List of changes:

Resources

We have added resource gathering to the game. Now here are three types of resources: minerals, crystals and polymers. Within these types we've implemented a variety of resources that you can extract. Resources are divided into common and rare - common ones you can usually find in large quantities, but rare will be more difficult to locate, and you can't extract much of them in one place.

Full list of added resources and their gradation of rareness you can read on our forum: http://colonies-online.com/en/forums/topic?id=288.

To start mining resources, you will need the following things:

Resource digger - portable disposable device with limited amount of uses, which you can use for sampling soil for the presence of minerals. There are three types of diggers - one for each resource type. Important note: gather rare resources with this device, using mine to extract small amount of recourses is unprofitable!;

Resource mine - construct, designed for automatic large-scale resource extraction. Mines are also divided into three types according to resources they can extract. Don't forget that you will need power generators for mines to work;
Currently you can sell resources to vendors, but we recommend to reserve a part of them for yourself - in the next major content patch they will come very handy (shh, we did not say anything to you).
Turrets
Now defensive turrets require energy to work, so you need to have in mind that a power generator now is a must to protect your facility.
The character's health
The rate of character's life regeneration has been highly reduced.
Added the chance to get a non-regenerable wounds when monsters inflict damage directly to your healthbar. To replenish your health just visit a medic on the outpost of the first planet.
Energy shields for the characters
There is a new way for colonists to protect their precious health - an energy shield! Purchase one of these on the outpost of the first planet, but also do not forget to buy some quark batteries to power your shield;
Bug fixes, major game optimization
Do not forget, the game is in early access state - a lot of things are yet to be developed, we're working on improving the game every day. If you encounter some serious bugs or technical difficulties, then let us know about them on the forums of the game!
Attention! Temporarely disabled support of Windows XP.
1 comments
Read more
May 30
Update introduces the possibility to defend facilities from hostile players.

List of changes:

Aggro

Aggro system have been сhanged. Character will less often get into a fight caused by monsters aggro.

Facilities

In facilities management has appeared aggro. Two modes are available. In Defense Mode the facility turrets will attack hostile characters. In Aggressive Mode the turret will attack all unknown characters.

Attention: Before turning Aggressive Mode - make sure that your character is in the White List, otherwise the turret will immediately shoot at him.

In facilities have the ability to add characters to the Black List. These characters will be attacked by facilities turrets as soon as they fall into the range of visibility, regardless of the mode. Also you can add characters to the White List. Characters from the White List will never be attacked by facilities turrets.

Constructions

Turrets will now attack hostile players. Turrets work defined by defense settings of facility to which they relate.

Vendors have a new terminal - Defense Control Terminal. With it you can select the facilities defense mode as well as add and remove characters from the black and white lists. Terminal will be able to used by any player who can gain access to it, therefore to place the terminal in a well-protected place.

Strength of the walls equipped with an energy shield has been increased.

ILU

The capacity of the energy shield and its rate of recovery has been increased.

Bug Fixes:

Fixed opportunity to cheat character position and speed of its movement.

9 comments
Read more
Pyromancer Pack


Get access to the game and obtain equipment of Special Incendiary Division. As they start to sense thrill of the battle, these reckless guys turn out-of-control killing machines. Tactics and covert operations are not their strongest points, but if you require to clear a certain sector, no one will do better! The constructions that go with the pack are enough to install a moderate size facility which can be used as a storage for your trophies.

The pack includes:

Early Access

Pyromancer Armor Set

Flamethrower Mk2

Repair Nanobots Rp4

Set of constructions for a building
Note: You can get in-game items in the game on Delta Outpost in a special terminal "Item Pick Point".
Dreadnought Pack


Purchasing Early Access pass for two, you get an equipment set of Dreadnought Division. Dreadnoughts are legendary for their iron discipline and strongest will-to-win spirit. Unstoppable like an iron fist they move through the battlefield, able to accomplish the most important missions. And the more Dreadnoughts are feared by enemies, the more respect they earn from their allies! With this pack you also get a number of constructions for setting up a defended post which is sure to become a convenient base for projecting your operations.

The pack includes:

Early Access x2

Dreadnought Armor Set

Assault Rifle GR-50

Repair Nanobots Rp4

Set of constructions for a defended post
Note: You can get in-game items in the game on Delta Outpost in a special terminal "Item Pick Point".
Citizen Pack


For players with serious intentions we prepared Citizen's Pack. The set of constructions included in this pack allows you to start your colony almost right off. Walls with electric shields, power generators and several turrets is all you need to build your first home on a far-out planet. Additionally you shall receive a special full-dress uniform of the Citizen, assault rifle GR-50, and Early Access for three of your friends who you think can contribute to the colony development.

The pack includes:

Early Access х4

Citizen Armor Set

Assault Rifle GR-50

Repair Nanobots Rp4

Set of constructions for a colony
Note: You can get in-game items in the game on Delta Outpost in a special terminal "Item Pick Point".
About the Game
Colonies Online is an open MMO sandbox. The game is set in the distant future. As a colonist you should be prepared to explore vast territories of far-out planets, withstand numerous monsters populating them, search for rare resources and simply survive. In cooperation with your friends you can set up your own colony which will become your new home in the outland.

All players of Colonies Online are interacting in the common game world. The system implemented in the game supports almost infinite number of planets. Planet size amounts to several thousand square kilometres. Due to that we do not need to separate players in different game worlds, ensuring that there will be enough space for everyone.
Building is one of the key features of Colonies Online. Colonies are supposed to become true centres of communication, research, trade, etc. It is up to players to decide what their colony will be - a protected military base or a commercial harbour open to everyone. With various constructions at hand players can create unique facilities and protect themselves from intruders with defence systems. Auction houses, item storages, vendors and so on, disposed on the territory of a colony - all of this will help make a particular colony a popular place. And by building own spaceport, players will be able to link their colony to amicable colonies on other planets.

In Colonies Online we do not have built-in classes. Instead, there is a big number of various skills a player can choose from to create and study a set of skills of their own. A new profession may be originated on the base of this skill set and then taught to other players. Rare skills obtained by a player can make such profession appreciated and highly-demanded.
We introduced fair "non-target" system in the game, which in combination with isometric view and original game controls makes battling dynamic and unpredictable. It is better to think over the combat tactics in advance in order to shoot your enemies and avoid hurting allies.
Colonies Online is a free PvP, so other players may pose serious threat. Hunting other players' characters is risky but sometimes the loot is worth it. It may be a highway robbery for the sake of plunder or a well-planned attack on a hostile colony with the aim to take over resources and technologies.

Uncommon patterns of "infuences" are implemented in the game. Analysis of tissue specimens taken from dead monsters enriches players with new knowledge, thus improving their technologies, which allows to create more sophisticated armour. At the same time advanced technologies are likely to attract other players' unwanted attention.
The majority of objects in Colonies Online are created by players on the base of technologies they own. Flexible schemes allow to set up any parameters of items and create unique equipment and objects.

All planets in Colonies Online are rich with treasures of the soil, which only need to be discovered and extracted. Some resources require large-scale approach to exploitation - building mines and long-term development. Locating deposits of rare resources and
their further development will make a true experience in remote corners of planets.
Key features
One common game world and a big number of planets

Planet sizes estimated in dozens of thousands square kilometres

Isometric view and non-target system

Versatile crafting system

No restrictions for building on planet surface

Flexible character development

Open PvP

Massive battles of hundreds of players at one time
System Requirements
Minimum:


OS: Windows XP Service Pack 3 / Vista / 7 / 8

Processor: CPU that supports SSE2 (Intel Dual Core @ 1.6 GHz, AMD Dual Core @ 1.6 GHz)

Memory: 1 GB RAM

Graphics: GPU with 256 MB VRAM or more that supports Shader Model 3 and DirectX 9.0c (AMD Radeon 2600 XT or NVIDIA GeForce 8600 GTS)

DirectX: Version 9.0c

Network: Broadband Internet connection

Hard Drive: 1 GB available space

Sound Card: Supports SSE, Direct Sound compatible
Recommended:


OS: Windows 7 / 8

Processor: Intel Pentium i7 Series or AMD X4 @ 2.0 GHz or greater

Memory: 2 GB RAM

Graphics: AMD Radeon 6790 or NVIDIA GeForce GTX 560 or better with at least 1 GB VRAM

DirectX: Version 9.0c

Network: Broadband Internet connection

Hard Drive: 1 GB available space

Sound Card: Supports SSE, Direct Sound compatible
Helpful customer reviews
Title:
Colonies Online
Genre:
Action
,
Early Access
,
Indie
,
Massively Multiplayer
,
RPG
Developer:
Iron Bit
Publisher:
Iron Bit
Release Date:
May 1, 2014
Languages:
| | Interface | Full audio | Subtitles |
| --- | --- | --- | --- |
| English | | | |
| Russian | | | |