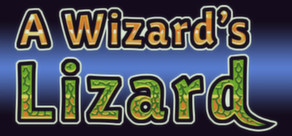 Conquer the forces of Death in A Wizard's Lizard, an action RPG for Windows, Mac, and Linux. Explore ever-changing dungeons, filled with powerful weapons and items. Battle back the hordes of evil. Rescue villagers to improve your town and increase your power for your next trek into the dungeon.
Release Date: Jun 16, 2014
Watch HD video
July 4
Whether you celebrate July 4th or not, independence is a grand thing. We here at Lost Decade Games care deeply about independence, and indie games are a fun way to express that.

To celebrate properly, we've added a new Skyrocket weapon to A Wizard's Lizard (available in update 2.0.13). It's available for purchase in town. If you can't afford it yet, you might need to explore the dungeons to see if any grateful hostages might contribute to your cause…

Happy 4th, happy gaming, and thanks for all your incredible support!
8 comments
Read more
July 3
Since launching a couple weeks ago, we've been hard at work making A Wizard's Lizard better in many ways. We heard your feedback regarding totems and Soul Blast and those features have seen significant improvement. In addition, we've fixed many small issues with the game and added "quality of life" changes.

But, there's more coming! We've got new content in the pipeline and continue to improve game stability and performance.

Here are the major changes in this update:

Buffed Soul Blast in various ways: Increased range, number of projectiles, reduced cooldown, reduced player stun duration

Consolidated various totem stats into Totem Power, which affects all aspects of totems

Buffs/tweaks to most totems, including more benefit per point of Totem Power

Charms can now affect many other stats besides totems, such as max health, weapon damage, and speed

Added a complete set of Dark Iron gear (used to be Lead) and removed speed penalty

Increased the amount of damage gained from attack buff items such as Spiked gear

Many other balance tweaks to various weapons and items

Increased delay when a Mimic is activated until it becomes hazardous to the player

Reduced pentacle charge time from 10s to 5s

Greatly improved Gambling Shop, removed terrible rewards, increased gold payouts, way more item variety

Improve town Marketplace layout, items are now sorted by slot (weapon, head, chest, etc)

Moved extra boss loot (Health Potion and treasure) to the room containing the Gold Chest (fixes issues with Sewer Hag)

Added option to disable screen shake (screen shake is enabled by default)

Hostages can no longer be killed

Added a regular shop to Sewer 1 to fix the Merchant count for Merchant Murderer achievement

Removed Soul Orbs from shops

Fixed dungeon layout bug in Cemetery 2 causing Slime Key room to be missing

Fixed fullscreen settings bugs

Fixed boomerang cooldown and collision bugs

Fixed incorrect blueprint counts

Fixed bug where player could have < 0 health

Fixed flickering/corrupted text rendering

Fixed issues with the Ice Cube: Removed immunity to non-fire damage from Ice Cube and Ice Monsters, expanded room size

Fixed a bug which caused key bindings to reset each restart

Fixed a bug with the wizard's equipment buffs stacking causing very low cooldown and high projectile count

And a bunch of other small fixes/tweaks!
10 comments
Read more
About the Game
Conquer the forces of Death in A Wizard's Lizard, an action RPG for Windows, Mac and Linux. Explore ever-changing dungeons, filled with valuable treasure and powerful items, while battling back the hordes of evil. Rescue townsfolk to improve your town and aid your next trek into the dungeon.

Fans of The Legend of Zelda, Gauntlet, and The Binding of Isaac will love the retro-inspired twin-stick action of A Wizard's Lizard.

When the wizard of Amberfall unlocks the magic of eternal life, Death comes to take him away. Now his faithful pet lizard must brave procedurally-generated dungeons to save him!

Master Life & Death: Death is only the beginning as you continue to unlock secrets in the realm of the dead. Find hidden items only accessible to those who have died and discover the power of resurrection. Tread carefully, the dead do not wish to be disturbed.

Rebuild the Town: Rescue townsfolk trapped throughout the dungeons for increasing reward. Discover lost blueprints which allow the town's blacksmith to craft new weapons and armor.

Restore the Museum: Search Death's domain for stolen artifacts and legendary weapons. Every item you find is returned to the museum for display. Can you recover all of the powerful weapons, legendary armor, and magical items?

Control your lizard using your favorite gamepad (including the Xbox 360 controller) for full 360 degree movement and attacking.
PC System Requirements
Minimum:


OS: Windows XP

Processor: 2 GHz Dual Core

Memory: 2 GB RAM

Graphics: Hardware accelerated graphics with dedicated memory

Hard Drive: 150 MB available space
Mac System Requirements
Minimum:


OS: OS X 10.7

Processor: 2 GHz Dual Core

Memory: 2 GB RAM

Graphics: Hardware accelerated graphics with dedicated memory

Hard Drive: 150 MB available space
Linux System Requirements
Minimum:


Processor: 2 GHz Dual Core

Memory: 2 GB RAM

Graphics: Hardware accelerated graphics with dedicated memory

Hard Drive: 150 MB available space
Helpful customer reviews
Title:
A Wizard's Lizard
Genre:
Action
,
Indie
,
RPG
Developer:
Lost Decade Games
Publisher:
Lost Decade Games
Release Date:
Jun 16, 2014
Languages:
| | Interface | Full audio | Subtitles |
| --- | --- | --- | --- |
| English | | | |