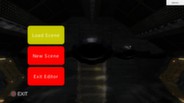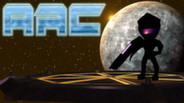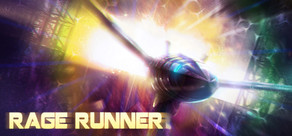 Rage Runner is a fast paced 3D runner that will challenge your memory and your reflexes. Blast down a treacherous space trench as you avoid an onslaught of fast and furious obstacles. A rich dubstep soundtrack, fun speed mechanics and a freestyle powerup system will keep you hitting retry again and again.
Release Date: May 16, 2014
Watch all 3 trailers
September 4
Rage Runner
FIXED Multiple connected gamepads are now handled properly. If you previously were disconnecting extra controllers just to play, we apologize :(

ADDED Workaround for Mac font rendering on ATI cards. See discussion thread on Font Workaround.
Arc
ADDED Optional setting to force player 1 to use keyboard/mouse.

FIXED Keyboard/mouse menu navigation shortcuts.

FIXED Generic gamepad button and axis mappings.

FIXED Menu navigation and state issues on entry screen, main menu & armory.

FIXED Test room item browser not triggering for players 2-4.

FIXED UI aspect ratios to prevent items getting cut-off on square-er resolutions.

FIXED No longer allow zero length names.

FIXED Allow bypassing press start screen with any button or click.

UPDATED Respawn points and triggers to prevent z-depth issues after death in Marcio and Test Room.
0 comments
Read more
September 1
The 1.7.1 update fixed a camera bug. The camera would go into the wrong position after an explosion if the user had never cycled between camera views.
0 comments
Read more
Reviews
"The gameplay is rock solid, and while extremely challenging it is addictive enough that you will find yourself attempting just one more go."
8/10 – GAMERamble

"Go faster, go faster, go faster, go faster FUUUU too fast!"
#HyperRage – Rooster Teeth

"EVERY SECOND COUNTS"
Indie Game Magazine

Just Updated
New

You can now delve deeper into the Arconian backstory by playing Arc, the first title in the Hyper Arcade Bundle!

Defeat the evil Blockubus and you'll unlock the nimble Arconian ship in Rage Runner!

We now have a public Roadmap where you can vote on items that you'd like to see next in Rage Runner. Join the community discussion here on Steam to let us know what features you want. Then cast your vote on The Rage Runner Roadmap.
Fixed
Allow exiting the keybinding screen even if all keys are not bound.

Alternate camera views no longer get messed up after explosions.
Full Controller Support

This game only supports Xbox 360 controllers. Other controllers may work but their button mappings may be unpredictable.
Feature List
Fun speed mechanics

9 handcrafted levels + 4 Official Steam Workshop levels provide over 10 hours of Rage!

Includes bonus Arcade Game Arc!

Freestyle powerup system that allows developing your own play style

Rocking dubstep soundtrack

46 Steam Achievements

11 Steam Leaderboards

Level Editor with Steam Workshop integration
About the Game
In Rage Runner, you pilot a spaceship down a trench, dodging and weaving obstacles as you fly. In a race against the clock, you cautiously feather your afterburners to squeeze in as much speed as possible. As you fly over a power module, the ship surges with energy, the energy can be converted into a weapon, a shield or a utility - you choose your play-style!
In Rage Runner, the combination of speed, music and level design combine into a fast-paced 3D adrenaline rush. A perfect performance plays out like a ballet of dubstep synchronized with the movements of your space ship. All levels in Rage Runner are hand-crafted to fit a unique soundtrack, theme and mood.
Rage Runner also includes the Hyper Arcade Bundle. In this bundle you'll find Arc. Arc is a 1-4 player cooperative game that combines run and jump platformer action with reticle controlled shooting. Blast the bad guys, take down bosses and try not to shoot your friends! If you want to survive, you'll have to balance controlling your vulnerable marine who can restock ammo supplies and your heavy weapon which can blast falling asteroids.
PC System Requirements
Minimum:


OS: Windows XP/Vista/7/8

Processor: 1.5 GHz or faster

Memory: 1 GB RAM

Graphics: 7600 GT / HD 2600

DirectX: Version 10

Hard Drive: 300 MB available space
Recommended:


OS: Windows 7/8

Processor: 1.5 GHz or faster

Memory: 2 GB RAM

Graphics: 8800 GTS / HD 2900

DirectX: Version 10

Network: Broadband Internet connection

Hard Drive: 300 MB available space

Additional Notes: Xbox 360 Gamepad Recommended
Mac System Requirements
Minimum:


OS: OS X 10.5 or later

Processor: 2 GHz or faster

Memory: 1 GB RAM

Graphics: Nvidia 8800

Hard Drive: 300 MB available space
Recommended:


OS: OS X 10.5 or later

Processor: 2 GHz or faster

Memory: 2 GB RAM

Graphics: Nvidia GT 750

Network: Broadband Internet connection

Hard Drive: 300 MB available space
2013-2014 Hypercane Studios
Helpful customer reviews
Title:
Rage Runner
Genre:
Action
,
Casual
,
Indie
,
Racing
,
Simulation
Developer:
Hypercane Studios
Publisher:
Plug In Digital
Release Date:
May 16, 2014
Languages:
| | Interface | Full audio | Subtitles |
| --- | --- | --- | --- |
| English | | | |
| French | | | |
| Italian | | | |
| German | | | |
| Spanish | | | |
| Arabic | | | |
| Bulgarian | | | |
| Czech | | | |
| Danish | | | |
| Dutch | | | |
| Finnish | | | |
| Greek | | | |
| Hungarian | | | |
| Japanese | | | |
| Korean | | | |
| Norwegian | | | |
| Polish | | | |
| Portuguese | | | |
| Portuguese-Brazil | | | |
| Romanian | | | |
| Russian | | | |
| Swedish | | | |
| Thai | | | |
| Turkish | | | |
See all 24 supported languages