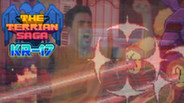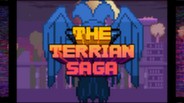 KR-17 is a 32-bit, story-driven, side-scrolling action puzzle-platformer which follows the story of a military robot on a mission to subdue a rogue agent operating out of an installation on the planet Valiant. It will be the first in a multi-genre series of games centered around the story of Terrius, KR-17's home.
Release Date: Jul 9, 2014
Watch all 3 trailers
August 15


Heyup! Time for the CHAMPION UPDATE 1.3! We've been working on fixing some remaining issues with the game as well as tightening up some loose edges. Thanks for all your feedback and patience while we figured out wtf we're doing with our lives.

CHANGELOG:
1. Additional save system work.
2. Fixed city Trainasaurus Wrecks from disabling dash after death
3. Fixed overlapping sounds
4. Fixed overlapping music on end levels
5. Slight remapping UV textures on sassafras

Keep us posted with your progress, reviews, comments and things! Love you guys,

Greg
0 comments
Read more
July 25


And it's about that time when the game players, video reviewers and speed runners realized "This silence, I've never heard anything like it before…" and THAT is when WE realized "hot muffins, we forgot to add music the final level!"

Hot fixes, cold fixes, and some general other bug fixes! Here's a list of the latest tunes your hard drive will be singing:

1. Additional save game work. There's not much to say here, you guys are so kind!

2. The soundtrack has grown! That's right, it HAS grown (although the majority of you haven't reached the level yet, so you won't even realize this update was a thing.

3. More level pathfinding enhancements.

4. Added additional sassafras

5. Fixed an issue with Triceratracks

6. Added leaderboards display to main menu!

Thanks for all the kind reviews, and thanks for spreading the word!
-Wonderfling


0 comments
Read more
Reviews
"A must play for anyone looking for a new platformer."
9/10 – Hooked Gamers

"I would certainly recommend this game. Its retro aesthetic and soundtrack will certainly entertain most."
7.5/10 – We See In Pixels

"...look beneath the sugary-sweet retro veneer of Terrian Saga KR-17 and you'll observe the beating, savage heart of a brilliantly old-school platformer that'll provide hours of nostalgia-tinged entertainment..."
8.5/10 – Strategy Informer

ON SALE NOW!
About the Game
In Terrian Saga: KR-17 players take control of a misfit military drone as it gains sentience and grows a conscious after being activated for war. Players will use an assortment of upgradable weapons including a laser, grenades, and flame thrower along with their trusted friend and sidekick, an also sentient guided missile named J1M. Players must fight their way through hordes of varying enemy robots while exploring intricate levels to uncover their mysterious past and discover the true enemy.
Within the galaxy on the Carina arm live twin solar systems riddled with conflict: the Terrius system and his brother, the Cyrinus system. These two empires travel so closely together they share multiple planets within their gravitational complex. However, the Cyrians have become embroiled in an interplanetary conflict with the Glortac People's Resistance. Terrius has begun building military installations in order to better help combat the threat of the GPR. One of these bases, built on the planet Valiant, has been sabotaged. A terrorist has released thousands of killer robots on the Valiant base, destroying all personnel. The Terrius military has determined that this terrorist may have contacts with the GPR. Due to the risk of one of their most powerful military installations and armory falling into the hands of the GPR, Terrius has sent a strike force of 100 advanced KR drones to destroy these evil robots and restore order to the base- all before Valiant makes it's swing into the Cyrinus system.
Features
Adventure across 65 boards spread over 9 themed zones

Test your mettle against 8 deadly bosses

Fire and guide J1M to take out hard to reach enemies, blast open new passages and explore

Receive important updates and explore the relationship between KR-17 and J1M with in-level dialogue

Collect Gears, find hidden jetpacks, and race the clock to climb the Steam leaderboards

Experience varied level design: play through non-linear levels that encourage exploration, along with high intensity action platforming sequences

Earn Steam Achievements that unlock alterations to your character
System Requirements
Minimum:


OS: Microsoft® Windows® XP / Vista / 7 / 8

Processor: 1.2GHz processor

Memory: 1 GB RAM

DirectX: Version 9.0c
Recommended:


OS: Microsoft® Windows® XP / 7

Processor: 1.4GHz processor or faster

Memory: 2 GB RAM

DirectX: Version 9.0c

Additional Notes: Microsoft Xbox 360 Controller or XInput compatible controller recommended.
All trademarks referenced herein are the properties of Wonderfling Studios, LLC and their respective owners. Digital Tribe Games © 2014. All Rights Reserved.
Helpful customer reviews