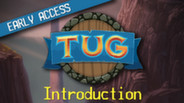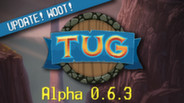 TUG is a multiplayer, open-world, sandbox-RPG using social sciences to allow players to impact how the game evolves. TUG is about exploration, discovery, crafting, survival, role-playing, adventure, and science. We call it The Untitled Game because this is yours, and you have yet to name it.
Release Date: Mar 28, 2014
Watch all 4 trailers
Early Access Game
Get instant access and start playing; get involved with this game as it develops.
Note: This Early Access game may or may not change significantly over the course of development. If you are not excited to play this game in its current state, then you may want to wait until the game progresses further in development. Learn more
What the developers have to say:
Why Early Access?
"We are an independent developer and being on Early Access allows us the chance to earn the trust and support of our community by sharing our progress, intentions, and ideas. Also equally important to us is that we are able to make a game and utilize new technology with and for the community and even other developers. We get the opportunity to create strong relationships with our players and get deeper insight into what they are doing and saying so that we can act on what things actually need to change and look at things from other perspectives."
How long will this game be in Early Access?
"At the very least until all of our core systems are online. At that time, the tools and engine functionality will give the community a chance to build and modify whatever they like, beyond the scope of our own game's design."
How is the full version planned to differ from the Early Access version?
"The final form of the game is ever evolving with the new features we discover our technology can do and the discussions we have with the community. The great thing about making an open world sandbox game is anything and everything is possible. The bad part about making an open world is... well, anything and everything is possible. The engine will also be much more stable and the community will be able to make amazing games, models, and maps of their own. When the game is complete, we will have a great deal of new features from physics based projectiles, to responsive water and in game logic systems."
What is the current state of the Early Access version?
"Right now you are able to craft simple tools and weapons in survival. You can also explore a massive procedural generated world and modify it in either survival or creative mode. We also have a primitive form of a closed PvP map which we refer to as the Proving Grounds. For those that like to dig into things, you can also modify much of the world and game rules."
Will the game be priced differently during and after Early Access?
"We will slightly increase the price with major milestones in the game and technology over time. Currently we are asking for a smaller amount of money in support of the game because we feel that the amount of work in justifies a small price this early. If anything were to happen to the game and for some reason it could not receive the support needed to be completed, we hope our community would not feel cheated, as opposed to paying 40 or 50 dollars for an unfinished project."
How are you planning on involving the Community in your development process?
"We use a multitude of platforms to watch and create dialog with the players from live streams and videos from the community, to forum discussions and random twitter exchanges. We also look for insights all over the interwebs and encourage lots of conversation and debate between one another in the community." Read more
August 25th, 2014
Greetings!

It's just about that time again, and we are preparing to launch some major content and engine updates... New terrain system, performance enhancements, predators, apothecary, alchemy, and more in development.

The Awesome News/Update:

We are in the final testing phases for the next update, which should be ready to go really soon. But we have a way to get you guys access to even MORE broken things, much faster than the traditional update schedule. These "Indev Builds" will go up quite a bit more frequently and will be all kinds of not working sometimes, but it will let you all see what we are working on, as we are working on it. This way, we can take what we have from these "Indev Branches", and push to the main game, as it becomes more stable.

So, what's coming in the next update?

Crafting refinement
Item and objects durability now take effect. What does this mean? You can hit trees with a rock but you'll have to use a whole bunch of rocks, or you can craft a crude axe and chop it down in a few swings. The choice is yours.


Tool Tips & Name Plates
Tool tips are back and refined so you can see durability/health status of objects now. Oh yea! Name plates!


Predator
We showed you the art concepts about 6 weeks ago. Now they are in the world of TUG. We cannot guarantee your safety any more as we accumulated over 1000s of deaths just testing it. Good luck!


Apothecary
Early stages of apothecary are in the next update. The Pumpkin cauldron and everything needed to make the potions are in. With an important one, you'll need to consume to sprint your way out of danger. There are 5 potions being added, but we will leave it up to you to figure out what they do.


Mod Support
We have exposed more of our API engine and it is now easier than ever to mod. Mods can now be installed by simply copying it to your mod directory. More information will be posted on our forums soon. Be sure to check out the Eternus API here.
In The Works:
Here are the latest work in progress videos if you missed it.
Apothecary and more
https://www.youtube.com/watch?v=cGvH2JrqK_8
Hostile Predator
https://www.youtube.com/watch?v=_zueAxk1dXY
Potions and Predator
https://www.youtube.com/watch?v=3aR6aszfPeE
Alchemy & Terrain Gen v2
https://www.youtube.com/watch?v=7mkPOuca214
The Not-So-Awesome News, but added typical PR spin to negate potential rage!
The new terrain is NOT going into the main build with this update, HOWEVER since we are going to be pushing "Indev Builds" out, as well as this major update, you guys will be able to explore the new terrain and see what is going on. And as usual, you guys are free to stream and post videos on this branch as well, we just ask that you make it VERY clear that you are working off an exceptionally unstable build we use to work from, internally.
Importantly, you guys rock (OMG did we just say that?) and thank you for supporting TUG and Nerd Kingdom. We will try to make sure these news and updates are out more frequently (bi-weekly).
Shoot us an email at support@nerdkingdom.com if you still haven't claimed your TUG early access key on Steam. They have been sent out since April :-p
To follow our development go to our
2014 Dev Board on Trello
Tweet Tweet?
@TheUntitledGame
Like TUG? Like TUG on
Facebook!
Bloggity bloggity, Al~right~ The Nerd Kingdom
Tumblr!
Forum Junkies Unite! The TUG
Forums!
Join our circle in Google+
here
If you think we have not done a TERRIBLE job so far, please share our project and news with your friends. As usual, every penny earned in Alpha and Beta goes right back into development.
3 comments
Read more
August 18th, 2014
A message from Ino:

As many, or very few, of you may know, this project is all about modding. Even the start of this project was much less to do with Minecraft, and more to do with the amazing things people created, and giving them the power, and support needed to take things further. Our own game is built on the API that sits on the engine, utilizing this same tools that you all have access to (or at least will by this next update)… idk how much more modder friendly than that you can get… well, yea, actually I have a pretty solid idea how you can do that, you put the founder of Feed The Beast as the director of mods, on the project - *high five*

The value in community and integrity that FTB holds is astounding. Their very existence came from a desire to give recognition to modders in the community, while others did not even ask permission for things like map packs. This consideration of modders, as developers, has lead to a deep connection between player, developer and content creator; and everything learned from this is invaluable to us and this project as a whole.

While the founder of FTB, Slowpoke (@slowpoke101), will be a formal member of Nerd Kingdom, FTB will of COURSE remain independent and Nerd Kingdom will give no directive to how they do things. As a matter of fact, we will find ways to support and expand on their work, even for the Minecraft community. And the first major steps in doing this, is open dialog and discussion to get to the bottom of what people actually need to get things done on their own projects. We will be actively looking for ways to help support modders and their projects. We will share more details on the "how" in a later update.

On the game and tech side of things, we are in the bug squashing process, getting ready for another big update that will hit early next month. We will post some more videos on things to come on our youtube channel. And as always, if you are interested in keeping up with development, we post progress reports to our trello here

And you can see FTB official announce here

If you guys have any questions about stuff n things, hit me up @inoritewtf, or mod stuffs @Slowpoke101 or someone to yell at for things being late @BrennanPriest42 or general game updates @nerdkingdom @TheUntitledGame

2 comments
Read more
About the Game
TUG sits at the crossroads where survival sandbox and multiplayer RPGs meet, offering both elegant simplicity and a world of complex secrets for those who desire to seek them out. The gameplay focuses on crafting, exploration, pvp, and role-playing, with an emphasis on immersion and player freedom.
Begin your journey as a Seedling, a race of humanoid beings with special crystals on their hands enabling them to interface with the strange energies and ancient secrets in the world around them. TUG offers a massive procedurally-generated world to explore, full of mystery and danger. How will you and your friends harness these powerful tools to build a new world?
Game Modes
We currently offer 3 game modes in our current alpha state. Currently, survival mode is our main development focus and we will be adding a lot of content and features in the upcoming months.
Survival Mode: This is our traditional survival mode which allows you to gather resources, build shelter, hunt, and farming. This is our current development focus as we plan to add many of the key features.

Creative Mode: This single and multiplayer mode gives you the freedom to build and manipulate the terrain, craft, break, and control all aspects of the world at your own pace.

Proving Grounds: Compete in limited PVP arena matches! Spawn as a helpless Seedling and collaborate or compete with others to gather resources and tools. Will you be the last Seed standing? (Currently broken due to our focus on Survival mode)
Key Features
We want TUG to immerse you in it's world. We are dedicated to bringing you that experience even if we have to build an engine from the ground up.
Eternus Game Engine: We are building our very own game engine from the ground up. Are we crazy? Yes, but we feel that building an engine to support advanced terrain generation and modding support was very important to our vision.

Dynamic Crafting: TUG's intuitive, crafting interface allows creation of a constantly expanding set of tools, weapons, and armor.

Biomes: Procedural generated biomes - Explore the biomes of TUG, from forests to deserts, including complex cave systems with many more to come.

Lore and Mythos: Uncover the secrets of TUG's world through exploration and gameplay, including an entire original language to translate and decode.

Player-driven design: How you play will directly influence what Nerd Kingdom prioritizes in development.
Released & Testing Phase Features (Updated 7/14/2014)
These features have been updated into our game for you to play and provide feedback since our launch on Early Access. We will continue to improve these current features and implement new ones.
Projectile Weapons: Physics-based projectile weapons to throw at people's faces!

Prey Critters: Creatures to hunt for resources and a nice juicy steak.

Farming System: Craft a shovel and hoe to prepare your own farm. Gather fruits and vegetables, extract the seeds, and grow your way into a self-sustainable state. Build a fences to protect your food source.

Modding: Full Lua script integration for more robust modding.

Multiplayer: Host your own dedicated server, or host a game session within the game itself. Only survival mode is single player and we are working on a new network code for better multiplayer experience. (Temporarily Broken)
Upcoming Features
TUG have been in development for over a year and we realize that building our own game engine takes up a lot of time. We wish to implement these features before we launch TUG early next year in 2015. We decided to release this early because your feedback, ideas, and thoughts means everything to us in this early stage. We wouldn't be here without the community so please get involve and let us know how we can make TUG fun for you. We are committed to launching gameplay updates every 4-6 weeks and hotfix patches occasionally.
Predator Critters: Roam around but be cautious of hostile creators that may take your head off. Shall you try to tame or die trying?

Dynamic Voxel Manipulation: Voxel placement, block smoothing, and the ability to push and pull within them.

Sub-Biomes: A biome inception! Sub-biomes will allow larger biomes to be more immersive by allowing more variation.

Pets and Companions: A pet that follows roams the world with you. Golems you can build, find within the world, and program!

Higher Tier Recipes: More crafting and recipe variations, as well as traps and armor!

Dynamic Character Progression: Characters that physically change and grow as a result of how you play them! Eat too much and become heavy, run great distances and become lean, or swing heavy weapons and watch your muscles grow over time!

Dynamic Skill Progression: Skill and health system based on your Seed's actions. The more you do something, the better you'll get at it.

Higher Tier Tools: More building tools, like terrain smoothing and shape variations.

Logic System: Programmable "magic" abilities and effects, traps, companions, and more!

Dynamic Combat: Advance combat mechanics inspired by such games as Monster Hunter and Skyrim. A system that requires proper timing and skills to delivery to death blows to your foes!

Unique Worship System: Perform tasks and rituals to gain blessings and boons from mysterious beings.

Official Dedicated Servers: Dedicated servers that is hosted by us for the players. You can still host your own and have full control over on your own server.

Water: It's hard to survive in a world without some H20!
More to be listed as we continue development
About Nerd Kingdom
We are a team of game designers, artists, programmers, and academic scientists--the game is intended to serve as a platform for social science research of player interactions within virtual worlds. This ongoing research will be used to continuously improve the game, as well as further our academic understanding of how people interact in online spaces. TUG is an experiment in collaborative game design.
System Requirements
Minimum:


OS: Windows Vista, 7, 8, 8.1

Processor: Quad-core Intel® or AMD® processor

Memory: 4 GB RAM

Graphics: DirectX® 11 compatible card with 1 GB of memory, nVidia® 4XX+/AMD® 5XXX+

DirectX: Version 11

Hard Drive: 10 GB available space
Recommended:


OS: Windows 7

Memory: 8 GB RAM

Graphics: DirectX® 11 compatible card with 3 GB of memory, nVidia® 7XX+/AMD® 7XXX+

DirectX: Version 11

Network: Broadband Internet connection

Hard Drive: 10 GB available space
Copyright © 2014 Nerd Kingdom. All Rights Reserved.
Helpful customer reviews
Title:
TUG
Genre:
Adventure
,
Indie
,
RPG
,
Early Access
Developer:
Nerd Kingdom Inc.
Publisher:
Nerd Kingdom Inc.
Release Date:
Mar 28, 2014
Languages:
| | Interface | Full audio | Subtitles |
| --- | --- | --- | --- |
| English | | | |