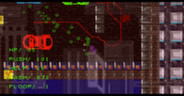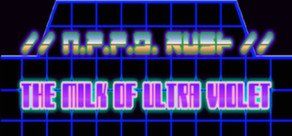 Experience the speed run, glitch punk micro epic. Blaze a trail of destruction around the open world city of Nauseous Pines. Take your experimental Police //RUSH// unit right into the heart of the action, race up the five tier city to save whats left of the cities junkies.
Release Date: Feb 13
Watch HD video
September 4
Hi guys :D

My new piece of metaphysical, interactive entertainment is out on the 12th of sept. (Not for the un-initiated)

To celebrate, I am going to choose some of the most creative and inspirational reviews from Nppd; Things that have actualy inspired me and contributed to the whole cult lore of this thing, They will get free keys for Uriel's Chasm.(IT HAS CARDS)

In some cases you guys went above and beyond the call of duty and read things into this experience that i didnt even intend, which I LOVE!!.

I promise True fans are in for an abstract treat with the highly metaphysical Uriel's Chasm. http://store.steampowered.com/app/292630/

I will be PMing the very greatest of the reviews :D of which i have read all (often posting them on twitter) .

To the people that didn't like the game, I read everything and i understand your points completely. You also had some great reviews/points , but, yeah read some of the more insane positives. Your reviews have helped me to focus more on my how i can better express what i felt making this. (strangley enough)

I would warn you against the new thing. We are about to turn the avante garde meta dial up to 11, because, thats my jam.

Thank you everyone, hope you enjoyed the free album (some feedback!!!! )

Here is a taster of one of those tear jerker reviews.

"You know when you went to that arcade when you were really young, that one with all the cool games that all the cool kids were able to go to because they had money and stuff? You know that one and only time that your father finally said you could have one go at one of the games, and then you pick the downright coolest one in the whole place? You remember how surreal and awesome it was, and how you had absolutely no idea what you were doing but it was a total blast at the same time? And then you died like really really quicly and you didn't really understand why?

This is that game."
4 comments
Read more
July 26
Rail slave games are pleased to announce Steam trading cards!!

These all feature the 'Glitch-punk', teletext art of Dan Farrimond http://portfolio.illarterate.co.uk/

The cards feature a variety of Youtube retro gaming personalities that play the parts of the various venders between the levels of 'Nauseous Pines'.
1 comments
Read more
Reviews
"A really amazingly well thought out experience. Short but sweet (and incredibly intense!). Unique and quite powerful in narrative - right up there with things like Ghost in the Shell, Blade Runner, and RoboCop, in my optinion."
Tobor Prime(Savage the shard of Goshen)

"An open world bullet hell romp unlike any other, upgrade your guns and jump in on the fun."
Desura

"I measure a game by experience I get from it. The emotions I get from the game are as precious as thoughts I have after i exit. And your game started as an experiment. And then it provoked me to make my very frist steam review. And it was noticed by you. This whole story up until now is very good. And I am glad that I've got your game in the first place."
Steam User [x]Zmey

About the Game
Experience the speed run, glitch punk micro epic.

Blaze a trail of destruction around the open world city of Nauseous Pines. Take your experimental Police //RUSH// unit right into the heart of the action, race up the five tier city to save whats left of the cities junkies.

Solve the mystery of enigmatic nightclub owner Ultra Violet at breakneck speed and uncover the origins of the super drug "Nox" that has left so many without the use of their limbs; and so many females missing.

Featuring teletext art by Dan Farrimond

Plus intense soundtrack feat:
Cardiffs Techno terrorist "Manpanics"
and Dylan Barry (Super killer hornet Resurrection, G.M.O.S.S.E., Zenodyne, Every zig, Psichodelya, Flying V)



Developed by UK based micro-indie team Rail Slave Games, N.P.P.D. RUSH: THE MILK OF ULTRA VIOLET is an intense, vehicular, open world, arena shooter combined with lite RPG elements and a 80s British bedroom programmer feel. There is also an exclusive track written by British electro artist MANPANICS plus classic tracks written by Dylan Barry, Founder of Rail Slave Games.

"Rail Slave Games are to today's indie dev scene as punk rock was to the music scene back in the late 1970's" commented Darryl Still, CEO Kiss Ltd. "I can guarantee you that you will not play anything else like this - it is about as original as it gets". Dylan Barry, Founding Director at Rail Slave Games added " N.P.P.D. RUSH: THE MILK OF ULTRA VIOLET has been a labour of love and it is an amazing feeling knowing that with the help of Kiss we have completed our journey. Taking our inspiration from memories of our Amstrad computer gaming days and the much missed Teletext TV service, we think we have delivered gaming experience like no other! Special mentions need to go to Softotaku, Stellboxhead, David Webster and Timeteam1982 from the YouTube retro gaming community"
System Requirements
Minimum:


OS: Windows XP Service Pack 3 or newer

Processor: dual core 1.8

Memory: 1 GB RAM

Graphics: Graphics card with latest drivers

DirectX: Version 9.0c

Hard Drive: 100 MB available space

Sound Card: Sound blaster Audigy 2 or newer
Helpful customer reviews
Title:
//N.P.P.D. RUSH//- The milk of Ultraviolet
Genre:
Action
,
Indie
Developer:
Rail Slave Games
Publisher:
KISS ltd
Release Date:
Feb 13
Languages:
| | Interface | Full audio | Subtitles |
| --- | --- | --- | --- |
| English | | | |