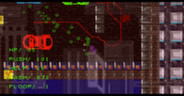 Experience the speed run, glitch punk micro epic. Blaze a trail of destruction around the open world city of Nauseous Pines. Take your experimental Police //RUSH// unit right into the heart of the action, race up the five tier city to save whats left of the cities junkies.
Release Date: Feb 13, 2014
Watch HD video
July 26th, 2014
Rail slave games are pleased to announce Steam trading cards!!

These all feature the 'Glitch-punk', teletext art of Dan Farrimond http://portfolio.illarterate.co.uk/

The cards feature a variety of Youtube retro gaming personalities that play the parts of the various venders between the levels of 'Nauseous Pines'.
1 comments
Read more
June 28th, 2014
Hi guys and gals, this is a bit experimental but i thought I'd try a game postmortem, I'm pretty new to all this so bare with me, its pretty raw and completely uncut .

Hopefully a bit of insight into what went into this game will enrich the experience for you all. I have some admittedly unorthodox views on games so, err, buckle in.

https://www.youtube.com/watch?v=ddvVW3smDG4

Hopefully adding some steam cards soon :D

In the mean time enjoy this free full album of music

http://www.mediafire.com/download/w37tybni1kht7x7/Dylan_Barry__The_Movie.rar
5 comments
Read more
Reviews
"A really amazingly well thought out experience. Short but sweet (and incredibly intense!). Unique and quite powerful in narrative - right up there with things like Ghost in the Shell, Blade Runner, and RoboCop, in my optinion."
Tobor Prime(Savage the shard of Goshen)

"An open world bullet hell romp unlike any other, upgrade your guns and jump in on the fun."
Desura

"I like games that experiment with unique visual styles and the music is awesome"
Tom Fulp (Newgrounds)

About the Game
Experience the speed run, glitch punk micro epic.

Blaze a trail of destruction around the open world city of Nauseous Pines. Take your experimental Police //RUSH// unit right into the heart of the action, race up the five tier city to save whats left of the cities junkies.

Solve the mystery of enigmatic nightclub owner Ultra Violet at breakneck speed and uncover the origins of the super drug "Nox" that has left so many without the use of their limbs; and so many females missing.

Featuring teletext art by Dan Farrimond

Plus intense soundtrack feat:
Cardiffs Techno terrorist "Manpanics"
and Dylan Barry (Super killer hornet Resurrection, G.M.O.S.S.E., Zenodyne, Every zig, Psichodelya, Flying V)



Developed by UK based micro-indie team Rail Slave Games, N.P.P.D. RUSH: THE MILK OF ULTRA VIOLET is an intense, vehicular, open world, arena shooter combined with lite RPG elements and a 80s British bedroom programmer feel. The game features a superb sound track including a track donated by Toshikai Sakoda, composer for publishers such as Konami, Hudson, Namco and Square-Enix back in the Genesis (Mega Drive) and Famicom days. There is also an exclusive track written by British electro artist MANPANICS plus classic tracks written by Dylan Barry, Founder of Rail Slave Games.

"Rail Slave Games are to today's indie dev scene as punk rock was to the music scene back in the late 1970's" commented Darryl Still, CEO Kiss Ltd. "I can guarantee you that you will not play anything else like this - it is about as original as it gets". Dylan Barry, Founding Director at Rail Slave Games added " N.P.P.D. RUSH: THE MILK OF ULTRA VIOLET has been a labour of love and it is an amazing feeling knowing that with the help of Kiss we have completed our journey. Taking our inspiration from memories of our Amstrad computer gaming days and the much missed Teletext TV service, we think we have delivered gaming experience like no other! Special mentions need to go to Softotaku, Stellboxhead, David Webster and Timeteam1982 from the YouTube retro gaming community"
System Requirements
Minimum:


OS: Windows XP Service Pack 3 or newer

Processor: dual core 1.8

Memory: 1 GB RAM

Graphics: Graphics card with latest drivers

DirectX: Version 9.0c

Hard Drive: 100 MB available space

Sound Card: Sound blaster Audigy 2 or newer
Helpful customer reviews
Title:
//N.P.P.D. RUSH//- The milk of Ultraviolet
Genre:
Action
,
Indie
Developer:
Rail Slave Games
Publisher:
KISS ltd
Release Date:
Feb 13, 2014
Languages:
| | Interface | Full audio | Subtitles |
| --- | --- | --- | --- |
| English | | | |