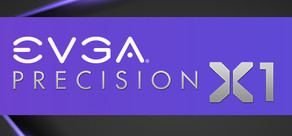 The future is now with EVGA PrecisionX 16. This software allows you to fine tune your graphics card, including GPU Clock Offsets, Memory Clock Offsets, Fan Speed, voltage and much more.
Release Date: Sep 19
July 21
We understand that there is a lot of confusion and misinformation in the internet community about Guru3D's article titled "Did EVGA just Steal the Rivatuner RTSS design concept into PrecisionX 15 ?". We would like to clarify the following:

1. Precision's original main GUI concept was designed and provided to the community by EVGA in 2008.
2. The RivaTuner control panel and backend code in prior versions of Precision were developed and is owned by the RivaTuner developer. EVGA does not own the source code for any RivaTuner code. EVGA paid for the development and distribution rights per the contract.
3. The new EVGA PrecisionX 15 was coded from scratch by EVGA without copying any of the RivaTuner code.
4. Both RivaTuner and EVGA PrecisionX 15 make use of the NVIDIA NVAPI to communicate with NVIDIA graphics cards and drivers, which is owned and provided by NVIDIA.

Some people mentioned that the file structure in EVGA PrecisionX 15 is similar to the previous version of Precision. During development, we referenced the USF skin format (which has been published by RivaTuner developer at Guru3D forums in 2009 http://forums.guru3d.com/showpost.php?p=3316361&postcount=8 to allow the community to create their own skins). The above mentioned feature would make it simple to allow users to recompile any previous skins to work with the new version of PrecisionX 15. However, we do understand the confusion caused by trying to maintain this feature and we will change it in the next release.

Next, it was also mentioned that the code contains text references (not code) to the word "RivaTuner" and the word "RTTSH.dll", a RivaTuner file. This actually came from the user interface localization / help (wording). During the original Precision development, EVGA worked with several outside firms to help translate user interface help files into various languages, unfortunately this is a misprint in the translation files and will be fixed. Again, no RivaTuner code was ever used in EVGA PrecisionX 15. We apologize to the RivaTuner developer for this error.

Originally our goal was to add more features such as 64bit OSD, Steam, updated voltage controls, and more to a new version without changing the Precision user's experience that they were already familiar with. Unfortunately, the "similarities" between the two programs have led people to believe that EVGA might have copied the code and design from RivaTuner, which is not the case. Given the circumstances, in order to remove any questions and to further differentiate it visually from the previous versions of EVGA Precision, EVGA has decided to listen to the community and suspend the downloading of EVGA PrecisionX 15 temporarily while these updates are being implemented.

Please remember, Precision was and is built for the community and without the community EVGA Precision and many other overclocking utilities would not be where they are today. It is EVGA's commitment to continue investing in the development of PrecisionX by adding the features the community asks for while providing it free of charge!

Thank You,
EVGA
19 comments
Read more
July 16
The day has finally arrived, EVGA PrecisionX 15 is now available for download!

Version 5.0.0 is a major software rewrite, with new features and updates.


New GUI with improved voltage and pixel clock control

Support for both 64bit and 32bit OSD

Improved OSD compatibility

Built in Steam Achievements

Improved K-Boost function

GPU vitals area on main GUI is now scrollable

GUI now shows clock and voltage adjustments in real time

+ more!
Please post any and all feedback in the forums, we will continue to add more requested features!
25 comments
Read more
About the Software
The future is now with EVGA PrecisionX 16. This software allows you to fine tune your graphics card, including GPU Clock Offsets, Memory Clock Offsets, Fan Speed, voltage and much more. This latest version of PrecisionX has been revamped with a new GUI, new OSD (On-Screen Display) features, improved voltage and pixel clock control, integrated Steam Achievements and more. True enthusiasts know to go with the number one choice for GeForce overclocking; EVGA PrecisionX 16.
Key Features
GPU, Memory and Voltage Control

Power Target Control

Pixel Clock Overclocking – OC your refresh rate!

Integrated Steam Achievements

Frame Rate Target Control

Custom Fan Control/Fan Curve

System Tray Reporting Support

Profiling system allowing up to 10 profiles with hotkey

Robust monitoring including ingame OSD with 64 and 32bit support

In game screenshot hotkey supports BMP and JPG formats

Support for wireless Bluetooth overclocking via custom Android app
System Requirements
Minimum:


OS: Microsoft Windows 8.1 / 8 / 7 / Vista

Graphics: GeForce GTX TITAN, 900, 700, 600 series recommended

Hard Drive: 50 MB available space
Helpful customer reviews
Software Details
Title:
EVGA PrecisionX 16
Genre:
Utilities
Developer:
EVGA
Publisher:
EVGA
Release Date:
Sep 19
Languages:
| | Interface | Full audio | Subtitles |
| --- | --- | --- | --- |
| English | | | |
| Japanese | | | |
| French | | | |
| Spanish | | | |
| Dutch | | | |
| Korean | | | |
| Polish | | | |
| Portuguese-Brazil | | | |
| Russian | | | |
| Traditional Chinese | | | |
See all 10 supported languages