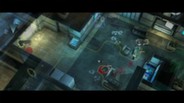 Enter the world of Shadowrun: Online and play one of the greatest Pen and Paper RPGs on Steam. In a dystopian 2075s of our world where magic meets technology, you team up with your friends to fight sinister corporations, menacing gangs and a new deadly virus in this tactical turn-based combat RPG.
Release Date: Mar 31, 2014
Watch HD video
Early Access Game
Get instant access and start playing; get involved with this game as it develops.
Note: This Early Access game may or may not change significantly over the course of development. If you are not excited to play this game in its current state, then you may want to wait until the game progresses further in development. Learn more
What the developers have to say:
Why Early Access?
"We want you to help us shape the game. From its Kickstarter days to the basic design elements Shadowrun Online is about shaping the game together with the community. And we need the nuyen to feed our habits."
How long will this game be in Early Access?
"Until End of 2014"
How is the full version planned to differ from the Early Access version?
"The full version will have the full features, obviously, and a lot more content. See out "What will be" section for more details."
What is the current state of the Early Access version?
"The current version is mostly bug-free. We focus on making each feature as polished as we can before adding more.
The current version contains a small campaign highlighting elements like combat, security systems and combat-hacking and fixed characters for you to play."
Will the game be priced differently during and after Early Access?
"Yes, you will save about 30% on Early Access vs. release pricing."
How are you planning on involving the Community in your development process?
"We do regular live Q&As and actively engage the community about features and what they would like to see in the Steam Forums and on www.shadowrun.com" Read more
Buy Shadowrun Online: Founders Package
Buy Shadowrun Online: Deluxe Package
September 3
We have released a new Update for Shadowrun Online! This new version adds several improvements and new features, including the new "Rent-a-Hench" system, elves, additional missions and an in-mission chat.

Here are the Patch Notes:


New features:
Rent-a-hench: Choose your henchman for the next mission from a list of other player-generated characters

New Metatype: Elves have been added as playable characters into the Character Creation

New Missions: Three new runs round out our prequel campaign about the missing girl Alisi

New Outfit: The Tribal Shaman outfit has been added to the Character Customization

In-Mission-Chat: When playing Coop or PvP, players now switch to a dedicated chat-channel, allowing easier in-mission communication.

Character name as nick name: The name of your character is now used as chat name

Action Counter: A new indicator shows you how many actions each character has left in this turn.

Know who you run with: The name of the character you're playing with is now shown in Coop missions.

Know what your partner does: Floating texts above a character now show which skill is used, allowing you to see what your Coop-Partner is doing.

What comes next? The name of the next mission is now shown in the main menu.

Quick switch: The animation for switching weapons doesn't delay the gameplay anymore.

Longer Names: The number of allowed characters for the player name has been increased to 18 up from 12

3D-Sound: Sound effects are now played on the corresponding speaker, depending on the camera position.

Improved Effects: Visual weapon effects have been reworked:
new Shield effect,
Machete's "Stimulants" now increases character animation speed,
new Mana Bolt and Spark effects,
new bullet streaks for Rifle, Pistols, Shotgut
blood splatter now look more voluminous

Updated info screens: Credits, Options and Help screen have been reworked.
Fixes:
Fixed a lot of clipping issues in character customization

If matchmaking gets aborted by a matched opponent an appropriate error message is shown.

Options menu can now be opened and closed using the ESC key

Credits have been updated

It's not possible anymore to press any hidden buttons while the news screen is shown.

Players don't see the opponent's chance to hit display during PvP- and Coop-matches anymore.

Fixed an issue that made the UI of the mission visible in the debriefing
See you in the game, Chummers!
3 comments
Read more
August 7
Hoi Chummers!

A new update for Shadowrun Online has just arrived, filled to the brim with new features, improvements and fixes. As already announced, this one brings Character Customization as well as Random Coop, but there is a lot more to discover, so be sure to check it out!

Here are the patch notes:


New features:
Character customization: Design your own Character, choose a name, metatype (currently Ork and Human are available), gender, outfit, weapons and a second character to accompany you on your Shadowrun!

Your Avatar in missions: All missions are now played with your self-designed Character, accompanied by the chosen henchman.

Random Coop: Don't want to play solo anymore? With Random Coop you can play a random mission with another, randomly-selected player instead of your henchman.

Fatigue: Magical attacks now cause a fixed amount of "Fatigue", which regenerates at one point per turn - so be careful not to spam spells or you won't be able to cast at a critical moment!

Immunities: Some enemies are now immune to certain types of damage, so make sure to adapt your tactics accordingly! No more manabolts against cameras!

Second Weapon: The second weapon of a character is now visible on the characters' back.

Updated UI: The user interface has been updated, allowing easier switching between characters by clicking on their portraits.

Shortcuts: By popular demand we have added several shortcuts:
Select next character: TAB
Directly select player characters: F1,F2,F3
Skills: 1,2,3,4,5,6
Reload: R
Move camera to active agent: Space
End Turn: Backspace or End

Updated Main menu: We have cleaned up the main menu:
"Player Character" opens the Character customization screen
"Campaign" starts the latest unlocked mission
"Daily mission" starts the currently available daily mission, these change after a certain amount of time.
"Play Coop mission" starts looking for a partner to play a Coop mission
"Player vs. Player" queues you for a PvP-match
"Mission Archive" opens a list of all already played missions, allowing you to replay them.

Sound Effects: Mission completion and failure now have an appropriate sound.

Auto-Reload: Weapon switching now occurs only through selecting a skill, a click on the other weapon automatically switches and reloads.

Character Shader: Characters now have self-illumination and a rim shader.

New Animations: Female walk animations and customisation scene idles have been added.



Fixes:



Fixed an issue with floor decoration that overlapped the movement marker

Camera gets centered on a character if he is selected using their character portrait

Fixed an issue where activating hotspots was blocked by a character standing in front of it.

Opened body drawers provide half cover now

Fixed a typo in the mission debriefing displayed after finishing 'Damsel in Distress'

The 'Skip Turn' button shows an appropriate tool-tip

The movement range delimiter in daily mission levels is displayed above dirt layers and objects for better visibility

Fixed a gap in the wall of two daily mission levels

It's no longer possible to move the camera outside of the scene in several resolutions in mission 02

Improved weapon switch animation so it doesn't look "jumpy" anymore.

Logo has been removed from the main menu

Fixed an issue where Bri's gun had to be reloaded despite the fact that there was still ammunition left

Audio sliders in the options menu behave correctly now
9 comments
Read more
Founder's Edition
The Founder's Edition will provide you with the complete Lockdown campaign for Shadowrun Online on release of the full game as well as a set of extra items, weapons and armour which help you get an edge on the streets. You will also contribute to our development effort and help us make the game that much better.
Digital Deluxe Edition
The Digital Deluxe Edition will provide you with the complete Lockdown campaign for Shadowrun Online on release of the full game as well as a set of extra items, weapons and armour which help you get an edge on the streets PLUS the first campaign update for Shadowrun Online for free on release of the update.

You will also contribute to our development effort and help us make the game that much better.
WHAT IT IS
This version is an early version of the game and contains a small campaign and a number of daily missions. This means that while you can get a good impression of what the core gameplay will be like, there is only archetype characters and no items or rewards in the game yet. It is mostly bug free, but it is not in any shape or form feature complete. We built it this way because it allows us to get feedback and work on the core gameplay before we move on to the next features of the game. We have fighting, magic and combat-hacking (No Matrix runs yet) and a good cast of enemies in.

Word of warning: The game is tough - it's designed that way. Running the shadows is never easy and going in guns blazing will certainly get you in trouble!

We will add new elements, tweaks and content every 4-6 weeks. We hope that this will allow growing and maturing the game together with you, our players and give us the information we need to stay on the right track.
WHAT IT WILL BE
We have a lot of neat ideas for the game and of course we will add more elements. Things that will be added as development continues:

Class-Free Character Creation: Create your own Shadowrunner and skill any way you want, with a ton of visual customisation options.

Items: Weapons, armour and cyberware, magic talismans and cyberdecks: Loot them, buy them or upgrade existing items. Our item system separates the visual aspects from the item ability, so no need to wear a silly hat just for the bonus it grants!

Co-op or single player mission gameplay: Play with your friends or lead a team yourself, when you want to play solo.

Dynamic Security and Alarm Levels: Depending on what you do in a mission you may trip alerts, making some missions more difficult – or shut off the alarm in time.

PvP duels and PvP Missions: Test your Shadowrunners in PvP against other players.

Evolving world campaign: New content will be released based on the collective actions of the players. This is your world!

Tough missions: Because life in the shadows is never easy!
Basic Edition
The Basic Edition will provide you with the complete Lockdown Campaign content for Shadowrun Online on release of the full game. This is the complete Shadowrun Online MMO!

You will also contribute to our development effort and help us make the game that much better!
About the Game
Enter the world of
Shadowrun: Online
- the Pen and Paper RPG classic finally brought online! Play with or against friends in this multiplayer tactical turn-based combat RPG set in the dystopian world of 2075. A world where magic meets technology, where Elves, Dwarves, Orks and Trolls walk among us. A world controlled by ruthless corporations, where you become a Shadowrunner - a secret operative on the edge of society, a cyberpunk rebel surviving by skill and instinct!

Featuring
Gripping and deadly tactical turn-based combat in the Shadowrun world: Choose from a wide array of skills, magic, technology and weapons to survive the challenging missions! Control your team of runners and make every move count! Dive behind cover, outsmart security systems and use any weapon at your disposal to make it out alive.

Full character customization: Create your individual Shadowrunner in completely skill based character progression using a variety of outfits, cyberware, abilities and of course a ton of weapons! A successful run requires commanding a team of runners with the right balance of combat, tech, and magical abilities.

Deeply tactical Co-Op and PVP: Team up with friends to face huge variety of deadly enemies or enter PVP combat and develop new strategies to survive in the Shadowrun world.

Directly shape the future of Shadowrun: Developed together with the tabletop RPG writers and based on the Lockdown Campaign setting, Shadowrun Online will allow you to shape the future of the Shadowrun Universe by your actions!
PC System Requirements
Minimum:


OS: Windows XP/Vista/Windows 7/Windows 8

Processor: 1.7+ GHz or better

Memory: 2 GB RAM

Graphics: 512 MB NVidia or ATI graphics card

Network: Broadband Internet connection

Hard Drive: 500 MB available space
Recommended:


OS: Windows Vista/Windows 7/Windows 8

Processor: 2+ GHz or better

Memory: 4 GB RAM

Graphics: 1024 MB NVidia or ATI graphics card

Network: Broadband Internet connection

Hard Drive: 500 MB available space
Mac System Requirements
Minimum:


OS: OSX 10.7 +

Processor: 1.7+ GH or better

Memory: 2 GB RAM

Graphics: 512 MB NVidia or ATI graphics card

Network: Broadband Internet connection

Hard Drive: 500 MB available space
Recommended:


OS: OSX 10.7 +

Processor: 2+ GHz or better

Memory: 4 GB RAM

Graphics: 1024 MB NVidia or ATI graphics card

Network: Broadband Internet connection

Hard Drive: 500 MB available space
Under License of Microsoft. All characters and visuals copyright Cliffhanger Productions Games GmbH 2014
Helpful customer reviews
Title:
Shadowrun Online
Genre:
Indie
,
Massively Multiplayer
,
RPG
,
Strategy
,
Early Access
Developer:
Cliffhanger Productions
Publisher:
Cliffhanger Productions
Release Date:
Mar 31, 2014
Languages:
| | Interface | Full audio | Subtitles |
| --- | --- | --- | --- |
| English | | | |
Awards
Awarded Most Promising Newcomer at RPC Awards 2013