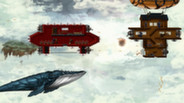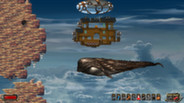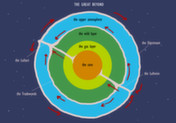 WindForge is a side-scrolling block-building game where you explore hostile skies in an ever-changing Steampunk world. Everything you see can be created or destroyed, creating an RPG without barriers that rewards creative problem solving and improvisation.
Release Date: Mar 11, 2014
Watch all 3 trailers
May 16th, 2014
Hey everyone, we have a new update available. Besides a few fixes, and gameplay tweaks, we also added a new recipe, a giant version of the kraken, and around 10 new ships to spawn. Enjoy!


Fixed up the naming and items in some of the stores

Reduced the weight of background blocks

Increase repair speed for background blocks

Increased background block crafting quantity

Added destroy effects to a bunch of objects

Fixed a bug where building on anchored ships doesn't update the collisions properly

Added support for neutral ships that will only attack if they are attacked first

Improved crew AI idle when they don't have a target

Fixed a problem with ship danger level calculations

Fixed bug where tight walls to the side of propellers could cause obstruction

Improved scrolling cloud popping problem

Fixed issues with meteor spawning not working at area boundaries

Fixed an issue where some of the temple guardians would wander around before they saw you

New enemies including a Giant Kraken, and varieties of gas layer ships, and elite ships

Added neutral whaling, oil tanker, and traveling merchant ships

Added new recipe as a reward for beating the main quest (Spoiler:

Craftable Aetherkin Auto Turrets

)
11 comments
Read more
May 12th, 2014
We have a new patch available! This one includes customizable controls, and a whole lot more. Check out the change list below:


Added customizable controls

Removed the portraits in Englestrome that sometimes appeared on top of other portraits

Made the collisions for the artillery and machine gun turrets consistent for each direction

Fixed generation issue that was causing auto turret collisions to be partially overwritten

Displaying ship buoyancy in the examine window now

Fix a bug that would bring you back to life if you die in the Temple of Cordeus interior and try to go back to town

Added life meter to inventory and simlar pages

Added text amounts for your heath on your health bar

Fixed bug in the driftstone fortress that could sometimes duplicate your active ship

Inventory items that are in your quick slots will be marked in your inventory list

Fixed the underpowered starting ship in the first area

The ship in the starting area uses the proper indicator icon now

The screen edges will go cloudy now when you are choking on gas

Improved positioning of squid corpses when they die

Fixed a rare divide by zero error when generating temples

Improved tool tip positioning

Added quantity increase holding and acceleration to buying, selling, stashing, and dropping

Clearing areas in the world when loading ships at the dock to ensure that really large ships don't get stuck in islands

Distinguishing between the case where you successfully defend Englestrome or just run away.
3 comments
Read more
Reviews
"Windforge gets to a very hard place to reach."
Kotaku

"There isn't much time to take in the majestic beauty when your makeshift airship is under attack by a flying whale."
Polygon

"One of the best looking games at GDC in March."
Rock Paper Shotgun

About the Game
WindForge is a side-scrolling block-building game where you explore hostile skies in an ever-changing Steampunk world. Everything you see can be created or destroyed, creating an RPG without barriers that rewards creative problem solving and improvisation. Take off in fully customizable airships, and embark on a journey of discovery and survival that will take you to the heart of the world and beyond.
Features
Epic story line and quests that drive gameplay without constricting freedom

The first game to include minable sky whales, and meat blocks

Large completely destructible procedural world with multiple environments

Contra-style action mixed with the creative fun of Terraria

Build and fly fully-functional airships

Over 1200 craftable items and counting

Easy-to-control, skill-based combat with 360-degree aiming
Storyline
The modern way of life on Cordeus is reliant on refined Sky Whale oil. Everything from the machines used daily, to the food that is eaten, is ultimately dependent on the oil. The citizens of Cordeus are so hungry for oil that the once abundant population of Sky Whales is dwindling. At current rate, the noble species will face certain extinction in a few short years. To avoid falling back into the dark ages, civilization must find a new source of energy. It is said that an ancient people named the Aetherkin had exotic sources of energy. Energy more powerful than anything any human has ever seen. Unfortunately, research related to the Aetherkin is strictly forbidden by law. In an attempt to save humanity's way of life, YOU have been secretly hired to uncover this ancient energy source.
Highlights
Freedom & Creativity

Explore, create and destroy anything!

A Dynamic Procedural World

Steampunk Airships
Connect With Snowed In
Join the community! Check out the
Windforge Forum
!
Official Website
|
Facebook
|
Twitter
|
YouTube
|
Tumblr
|
Instagram
Join the
Windforge Steam Community group
. We also have
T-Shirts and Prints for sale!
We would love to hear your feedback!
System Requirements
Minimum:


OS: Windows 7 or later

Processor: Core 2 Duo

Memory: 2 GB RAM

Graphics: 512 MB graphics memory and Open GL 3 compatible GPU

Hard Drive: 2 GB available space
Helpful customer reviews