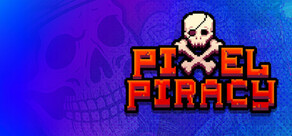 Pixel Piracy is a side-scrolling 2d, real time strategy/sandbox/simulation game created by indie developer Vitali Kirpu and produced by Alexander Poysky. In the game, the player leads the life of a pirate captain. Recruit a crew, outfit and customize your ship and set sail on the open seas.
Release Date: Jul 31, 2014
Watch HD video
August 1st, 2014
Hello there everyone! Alex Poysky here with the first official Post-Launch patch that adresses a few niggles here and there.

Fixed bug where salary where you sometimes paid more salary than needed!

Fixed bug where your pirate crew would attack berrry bush forever even if yuu order them not to.

Fixed typo on new game creation

Food Value decreased by 50%, pirates will now always drink rum and eat food at tavern when they are below 40% morale/hunger.

Pirates will now prioritize food over rum in taverns.

Cannons will not target enemy pirates who boarded your ship anymore.

Throwable projectiles will not bounce anymore

Arena Mode now cleans dead bodies!

Arena mode now drops 80 different melee weapons and 30 different ranged weapons!

Arena mode now gives extra 2 levels for your pirate.

P.S: We are aware that a player has ALREADY beaten the game and discovered that the end-game screen was not functioning correctly. In light of this we are working on getting a new end-game state up and running that won't be in until NEXT patch (next friday).

For now, PLEASE imagine the most incredible and awesome, mind boggling and traumatic thing possible, and apply that instead!
10 comments
Read more
July 31st, 2014
Hello everyone, Alexander Poysky here.

It has been a wild ride, and an intense day here at the office in Turku, Finland!

I flew here from Spain this morning to be with the team when we launched the game. We took the decision of soft launching it now to all of those who currently have it PRIOR to our launch in a few hours.

The changelog from our previous version is WAY too long to even begin to describe, with around one thousand changes having been made, and ALL mantis bugs having been squashed!

Let me list off just a few of the major differences.

There is now an End-Game!

There is now a rather large compendium/tutorial that you can reach by pressing f1.

Cannon combat has been fixed and tweaked, with the focus being on cannon combat only applying BEFORE boarding, and cannon shots target showing in red.

We have DOZENS of new systems in place for all of our FREE content patches that we will be adding in the coming months. Yes, you read correctly, we plan on continuing work on Pixel Piracy TOMORROW. There will be no slow down in work, and we will continue pushing new content as we come out with it!

Here are some basic truths about Pixel Piracy that I thought I would share with you all since I have always been very compelled to be transparent about everything I do.

Pixel Piracy:

Was created with a budget of 80 euros (until early access), which I paid out of pocket to purchase some basic sound effects and music.

Has sold over 200 thousand units worldwide, JUST in early access.

Is one of the quickest games to pass through green-light, in a little under 11 HOURS. Compared to the normal waiting time of 6-8 MONTHS we are very proud of this fact!

Is one of the first games to successfully LEAVE Early Access to become a full game.

Is one of the quickest games to enter and exit Early Access, having first appeared at the end of December and leaving today.

Was taken FROM PROJECT CONCEPTION to PROJECT COMPLETION in UNDER a year (364 days).


I can without a doubt say that this project has changed our lives for the better.

Re-Logic has been a WONDERFUL and INVALUABLE publisher, and I invite everyone who reads this to take this to heart. We aren't writing this to butter anyone up, or are we under any sort of obligation to do so. We feel they are some of the finest PEOPLE we have ever had the chance to meet, and that comes SECOND to the fact that as a company they are incredible, and provide a wealth of knowledge.

Vitali, thank you for trusting me, and for becoming such a dear friend!

Mikko, thank you for all of the wonderful things you have brought to the project, your help has been invaluable!

Andrew, Whitney, David, from the bottom of our hearts, for trusting and believing in our fledgling studio, and for offering the support and guidance we needed!

Jesus, our FANTASTIC community manager who has always been a great friend to me!

Last, but not least, a HUGE thank you to our wonderful testers,
Adrien Francioli
Andrew Wojtkoowsky
Sphynx
Crunchepillar
Kristaps
Lorentz Factor
Naxeus
Seva
Stefan Bauer
pizzaNif,
they have been a critical part of getting this game into tip-top form. I want to thank all of them, even the ones who for one reason or another were not able to stick around to the end, as well as the OVER 200 REGISTERED MANTIS HELPERS WE HAVE!

We also want to thank each and every one of you for making our dreams come true. It is your faith in us that has brought us this far. This game is as much your doing as ours. I'm a good producer, and Vitali is an amazing programmer, thanks to the tools YOU gave us, the funding, the feedback, the support, the COMMUNITY.

Ultimately that is what we set out to prove with Early Access, that it WORKS!

Tomorrow is Pixel Piracy's birthday, if you have been a supporter, if you enjoy the title, and if you like the 1.0 version. I would invite you to write a short review on steam, or leave an honest score.


Thank you all

-Quadro Delta

PS: 1.0 changelog (We've been tweaking the game during the last 24h, so maybe there are a few improvements missing in this list):

IMPORTANT: You should start a new game with 1.0 since the savegame format has been changed to include group configuration. Also devs stated there won't be more savegame wipes.

Bug Fixes

Character customize screen was looking greyed out

Player was not able to travel to locations at the very edge of the map

Hit up or down keys on keyboard, makes WASD stop working until clicking.

Moving Boxes? Maybe make them stay but make their name "Mimick" and have them be mythical enemies?

Cannot interact with Chicken Nest?

Zooming in and out, followed by moving the camera down as far as you can allows you to see underwater, where things despawn

Counter Attack skill is not getting XP

Light Steps skill now works again

Doctor aura skill now works again

Bounty targets no longer spawn on rooftops in towns

Not all of pirate greetings were displayed

Fishmen are no longer OP

It was possible to get so much gold it would flip over to negative

Throwing Medicine now works correctly

Strange white stripe on the ship plant graphic

Couldn't attack bounty target

Cannons not spawning on enemy ships

Sometimes grappling ropes would linger behind when sailing away
Improvements
Added solid background to in-game settings screen

BETTER NIGHT

When creating a new game, on the difficulty screen, we should make the (30% hunger/morale etc say * RECCOMENDED FOR NEW PLAYERS)

BETTER POOP SPLASH EFFECT

Pirates will no longer poop if they are hungry (less than 50% hunger)

Re-organized some skills priorities to make pirates smarter

Pirates who are hungry, will prioritize fishing if they are holding a fishing rod

Added like a kazillion (totally a number) new pirate dialog lines, mostly courtesy of the good people at Steam Forums

Added new ship variations

Main menu settings has a toggle for autosave

Pirates will now clean the nearest poop instead of any old poop

Flying poop now deals 5% max HP damage (as opposed to a small fixed value)

Passive animals who drown no longer yield XP

Light Steps will gain XP from walking

Throwing Medicine: user will now attempt to throw it at the crewmate with the least HP

Plunder message log has been cleaned up a little

Cannons have a target indicator effect

Ship to ship combat has a cannon phase for 30 seconds before boarding comes available

Ingame tutorial texture updated

Updated main goal of the game: Kill the 4 legendary pirates
73 comments
Read more
Reviews
"Wow, a 10/10, but why?! Why? because this game managed to captured my heart immediately, with its excellent sound effects, cute, even if unpolished, pixel art and the ability to not only lead a pirate life, but do it with your own customized ship and crew. the promised features will make it from a 8/10 right now to the 10/10 it could be. should be. will be. this one is bound to be a classic, and not reviewing it as such would only make me look fool in hindsight."
10 – Indiedb

"Pixel Piracy is a loveable game with its own barrel of charm the mood seems perfect and I can just forget all my other needs. I can't help but hear the sounds the pirates make every now and again even when I'm not playing. Very interested to see where this games goes down the line. The loss of my pirates may seem a bit unforgiving at the moment but I'l only try harder next time ! If you like a bit of randomness and the ability to design your own ship, assemble your crew whilst managing their needs then you might as well try this out."
9.5 – Indiedb

"I don't give games a 10/10 that often, if not ever. But this game has so much going on for it, and it is under the radar right now. So, do yourself a favor, download the demo, have an awesome time, and then buy this game, cause it really is a gem. If you like pirates, and high sea adventure in highly randomized generated worlds, this is the game for you! It is very unforgiving, so you have to be very sure about your intentions when you play. One false planning and you have to start over from scratch (although there outside methods to save your game if you want to "cheat" save so do not worry). But the gameplay is fun, the art style, and sound effects are smarmy and swaggy. If you don't like this game, just walk the plank, because you don't enjoy fun things evidently :)"
9.7 – Indiedb

About the Game
Pixel Piracy is a side-scrolling 2d, real time strategy/sandbox/simulation game created by indie developer Vitali Kirpu and produced by Alexander Poysky.
In the game, the player leads the life of a pirate captain. Recruit a crew, outfit and customize your ship and set sail on the open seas. There you'll use any combination of aggression, diversion and trade to become the most infamous pirate crew of the seven seas! You can raid, pillage and plunder everything in your path, divert and lie to get what you want or trade for a quick buck. Remember to be careful though, death is everywhere and quite permanent! Adventure awaits…


Current features:

Sandbox open world Pirate simulator.
Procedurally generated world that changes each new game you play. While not a Roguelike in the strictest of sense, it does strike of one.
Vast over-world map full of danger, loot, and people to prey on.
Comprehensive loot system, upgrade-able weapons and armor, special and secret loot to deck out your sailors.
Parrots, Pets and Plunder!!
Death around every corner, our permadeath system will have you tearing your hair out at each loss and shrieking in delight at each victory.
Each playthrough will require around 20 hours to get through (with at least 4 playthroughs needed to see all the game has to offer)
CONSTANT updates and content patches. We update on a weekly basis (Friday), and will continue to do so for at least a year after launch in order to provide many new systems, fixes, and bits of content.

For more details on the game visit or follow us @pixelpiracygame or @alexpoysky or visit www.piracysim.com
PC System Requirements
Minimum:


OS: Windows 7

Processor: 1.6 GHZ

Memory: 1 GB RAM

Graphics: Pixel Shader Capable Graphics card

DirectX: Version 9.0c

Hard Drive: 200 MB available space
Mac System Requirements
Minimum:


OS: 10

Processor: Intel I-3
Linux System Requirements
Minimum:


OS: UBUNTU

Processor: 1.6 GHZ

Memory: 1 GB RAM

Hard Drive: 200 MB available space
Helpful customer reviews
Title:
Pixel Piracy
Genre:
Indie
,
RPG
,
Simulation
Developer:
Vitali Kirpu
,
Alexander Poysky
Publisher:
Quadro Delta
,
Re-Logic
Release Date:
Jul 31, 2014
Languages:
| | Interface | Full audio | Subtitles |
| --- | --- | --- | --- |
| English | | | |
| French | | | |
| German | | | |
| Spanish | | | |
| Finnish | | | |
| Portuguese-Brazil | | | |
See all 6 supported languages
Awards
Indiedb IOTY Editors choice 2013