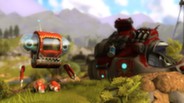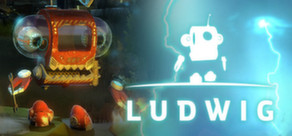 Join Ludwig on an exciting journey through the world of physics. Find out how energy is created from fire, water, wind and sun and use them cleverly to protect the Robotronics on Unitron against the impending energy collapse! Ludwig is a new type of learning game, which not only conveys knowledge, but is also really fun to play!
Release Date: Jun 6, 2014
Watch HD video
July 31
GOOD NEWS!

We want to thank everyone, who gave feedback on Ludwig. We appreciate and value your feedback! Therefore, we´re happy to announce, that a new version of Ludwig is available on Steam!

Features:

Login removed
There is no need anymore, to create a separated Ludwig account and you don´t have to log in to play the game. No online DRM anymore. Yeah!

Language selection added
There is a new section in the settings menu, which allows you, to change the language of the game. Please note, that you have to restart the game for the language change to take effect.

Japanese language version added
Say ハロー to our japanese friends!
We hope, you like the new features 
Thank you for supporting Ludwig!
3 comments
Read more
About the Game
OVERVIEW
2098. Mankind has left the Earth and is now living in space colonies. Ludwig, a research robot from a faraway civilisation and his spaceship are looking for forms of new energy. Unfortunately, mankind´s new space colonies are not listed on his interstellar maps, which results in a fatefull crash with the physis, the biggest station with a billion inhabitants. The crash does not only tear a huge hole into the physis´ protective cover, but also damages Ludwig´s spaceship badly enough for him to lose control of it and crashland on planet Earth. Now it´s a race against time.
Will Ludwig succeed and get his spaceship going in time to save the physis?
FEATURES
Explore the area where the spaceship crashed or an enormous dam, travel by balloon through the snow and ice or cross an almost endless desert. There's so much to discover!

Find the weirdest components and construction plans. Use them to develop practical new gadgets to supply Ludwig with energy!

Discover physical phenomenons and analyse them in order to reveal the laws of physics and solve the tricky puzzles in the game.

thrilling storyline arching over 4 unique environments

more than 8 hours of gameplay

developed with physics-teachers, pupils and educators - 100% curiculum based

comes along with didactic materials for school useage
WHAT THE GAME IS ABOUT
The game tells the story of "Ludwig" - a small research robot who is on an important mission to find new forms of energy for the home planet of the Robotronics. After a long journey he finally reaches earth - just to find it abendoned. Humans exhausted nearly all energy sources and left the planet. They live in big space stations. Unfortunately Ludwig hits one of these spacestations with his spaceship and crashes down on earth. A damaged spaceship, a far away homeplanet in desperate need of energy know-how and 1 billion humans in a damaged spacestation - now it´s up to you as a player to clean up this mess!

While following the storyline Ludwig has to learn about the human technologies on earth. Starting with the most basic form of energy production - combustion - he has to advance through a techtree to find and learn about more sophisticated forms of renewable energy.

Ludwig doesn´t know anything about the laws of physics on earth (remember - he´s an alien from a far away robot civilization called the Robotronics...). So he uses his scanner to find and analyse physical phenomenons which appear in the gameworld. All the knowledge is stored in a dynamical conceptmap - the knowledgebase.

The knowledgebase is empty when you start the game. While playing, it fills step by step with new nodes. You will end up with a huge concept map of physical knowledge on renewable energies. (developed together with physics teachers and educators).

The game features 4 unique "themeworlds". These quests in these environments are based on a specific topic (combustion, water power, wind energy, solar energy). The themeworlds are connected by the storyline.

Every themeworld features a minigame - called laboratory. A laboratory illustrates the core knowledge of the themeworld (for example: How does a pumped storage power station work? or Where should i place my windmills to get the most efficient energy output?

All this educational gameplay is nicely embedded in the storyline. The game is NOT devided into playing- and learning- or assesment elements. You always KEEP PLAYING the game!

Ludwig is designed to be fun to play (please judge for yourself ;-) but it can also be played in schools. The game comes along with a set of didactical materials for teachers to support embedding Ludwig in classes.
System Requirements
Minimum:


OS: XP (SP3) / Vista / 7 / 8

Processor: Intel Celeron 2.6 GHz

Memory: 2 GB RAM

Graphics: Geforce 8400 GS

DirectX: Version 9.0c

Network: Broadband Internet connection

Hard Drive: 600 MB available space
Recommended:


OS: 7 / 8

Processor: Intel Core i5

Memory: 4 GB RAM

Graphics: Geforce GTX 760

DirectX: Version 9.0c

Network: Broadband Internet connection

Hard Drive: 600 MB available space
Helpful customer reviews
Title:
Ludwig
Genre:
Adventure
,
Indie
,
Simulation
Developer:
ovos
Publisher:
ovos
Release Date:
Jun 6, 2014
Languages:
| | Interface | Full audio | Subtitles |
| --- | --- | --- | --- |
| English | | | |
| German | | | |
| Portuguese-Brazil | | | |
| Simplified Chinese | | | |
| Japanese | | | |
Awards
Best Serious Game 2011
E-Virtuoses Award 2012
Worlddidac Award 2012
Cornelius Edumedia 2013
ACGA 2012
Futurezone Award 2012