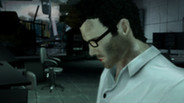 It's 2021, and a devious spy has infiltrated the Pacific sanctuary of the Nakagawa robot company. This secret agent has re-programmed the island's robots to carry out a terrifying scheme. With only three days left before Armageddon, your help is needed to root out the spy and save Bot Colony.
Release Date: Jun 17, 2014
Watch all 2 trailers
Early Access Game
Get instant access and start playing; get involved with this game as it develops.
Note: This Early Access game may or may not change significantly over the course of development. If you are not excited to play this game in its current state, then you may want to wait until the game progresses further in development. Learn more
What the developers have to say:
Why Early Access?
"Bot Colony makes unscripted conversation with the characters a pillar of gameplay. We've developed advanced Natural Language Understanding technology to bring you this new experience. In a nutshell, it means our in-game characters understand what you say – whether you speak it or type it. Merged with a classic adventure game design filled with twists and turns, Bot Colony's innovative interaction has the potential to revolutionize PC games. This integration is novel, and obviously needs to be refined based on community feedback."
How long will this game be in Early Access?
"We plan to remain in Early Access while development continues towards a stable alpha version of Episode 3, Riot, for Early Access players. During this time we'll also be adding more content and refinements to the currently playable episodes."
How is the full version planned to differ from the Early Access version?
"This will just address the Landfall package, our first complete season.
Bot Colony has evolved since its initial release, and will continue to evolve (see update history next). We are introducing the first pass of Robot Visual Memories, or RVM, in the Early Access launch build. With RVM you can ask a robot questions and get access to stored videos (and information linked to what the robot personally witnessed) of events in its memory. You can watch a new development diary of RVM in action in the media section.
In addition, we are actively developing more content for Episode 1, Intruder, and Episode 2, Arrival – the episodes you can play right now.
We will be integrating a new prologue and an expanded narrative that introduces more interactive elements, while incorporating new AI updates that feature deeper world knowledge and more expressive personality for our robots.
The first round of Steam Achievements and Trading Cards will also go live shortly after release."
What is the current state of the Early Access version?
"We've improved the game since its initial limited release: Alpha 1 shipped to testers on May 30, 2013; Alpha 2 on July 16, 2013; Alpha 3 on October 18,2013; and Alpha 4 (when our alpha sales went live) on December 13, 2013. Alpha 5 released on May 12 2014, and Alpha 6 – our Steam release – is now in Early Access. With each release we are improving our language pipeline and tightening up the foundation of the game. We invite players to try our free text-based web demo, 20 Questions with Jimmy, to sample a slice of the technology in a guessing game featuring full dialogue with an in-game robot.

As with any large piece of software that's still in development, you can expect some bugs; we're working hard to squash them, and your valued feedback will make the difference.

Our key challenge will always be language understanding and common-sense knowledge. While we can't guarantee that a character will always understand what you say, we promise that our robot AI will attempt to learn in the process."
Will the game be priced differently during and after Early Access?
"The first three episode bundle launches at $15.95 (two episodes are available now and the third episode is a pre-order).
Thanks to Early Access, players can enjoy the innovative experience that Bot Colony offers without having to wait for the entire season to be completed.
We expect the price of the game to increase as more downloadable content is added."
How are you planning on involving the Community in your development process?
"We eagerly look forward to working with the Steam Community to evolve Bot Colony to its full potential. Bot Colony introduces unscripted language-based gameplay to an Adventure title, which presents serious challenges and enormous opportunities for innovation and a new level of immersion. We're ready to receive the community's feedback to help improve all facets of Bot Colony going forward.

We're ecstatic to be on Steam and we deeply appreciate the early support of our game's concept, world, and technology. North Side will remain committed to regular updates (whether it's bug squashing or integrating new content) in Early Access." Read more
July 10
We'd appreciate your feedback on the text-to-animation idea described here (spoiler alert: Intruder will be much easier once you see this! BTW, this was done through speech, and it shows game performance with a trained profile isn't bad at all):

https://www.dropbox.com/s/pai63dfy04530gx/Text-to-animation.mp4

WHY THIS MATTERS?
In Bot Colony, you can command robots to do things. What if we made this available as a tool in which you could import your own characters, a setting of your choice, and you could command the characters using a text script? (as you do in Intruder). Add special effects and editing tools, and you'd have what it takes to produce your own CG videos. With appropriate controls to synchronize character behaviour and speech, you could also make your own games (so, a modding tool). The key idea is to create animation through language, which opens this up to anyone (today, it's only animators).
A new medium of creative expression. Thoughts?
4 comments
Read more
June 26
For those interested in the more technical side of Bot Colony, today Gamasutra featured my blog post containing quite a bit of technical information about the game's innovative Natural Language Understanding pipeline. The material featured in the article is the meat of our next update (should be available in the next few days). Take a look!

http://www.gamasutra.com/blogs/EugeneJoseph/20140626/219765/Natural_Language_Understanding_and_TexttoAnimation_in_Bot_Colony.php


0 comments
Read more
Reviews
"Despite...my occasional exasperation with Jimmy, it turns out I enjoy the hell out of telling robots to do things and then watching them do things. When it works, it's oddly satisfying. When it doesn't work, it's generally amusing."
Rock, Paper, Shotgun

Season One: Landfall
Season One: Landfall is the initial Bot Colony core game featuring the Intruder and Arrival playable episodes, in addition to the pre-order and first access to Riot, this season's third episode.


Intruder - The Nakagawa Robot Corp. requires your skills to investigate a potential case of espionage, but first the high-tech giant will test your sense of observation and situational awareness in the simulation of a crime scene. After you learn to interact effectively with robots using language and pass the multiple challenges of Intruder, Nakagawa will entrust you with the mission to track down the spy.


Arrival - As you land on the beautiful south Pacific island, you learn that something is amiss in Bot Colony. You'll need to use your skills to communicate with robots and get their help to overcome a life-threatening situation to proceed with your mission. Be prepared to hit the ground running and keep your eyes and ears open as you enter Nakagawa's world of corporate espionage and industrial terrorism.


Riot (available soon) - After swooping down on mutinous robots aboard a futuristic Hunter Bot aircraft, you land on an abandoned oil platform. There, you'll encounter robots operating under a new agenda, looking to purge any who question the mutiny. If you're caught, you'll have to prove that you're human in order to survive – by passing the Humanity Test. If you're incarcerated and turned into a human guinea pig, you'll have to find a way to escape.
About the Game
Bot Colony is based on a thriller novel involving a large Japanese robot manufacturer, Nakagawa Corp. It's 2021, and a spy from KHT, Nakagawa's arch-competitor, has infiltrated the high-tech giant's seemingly impregnable south Pacific sanctuary. The spy has re-programmed the island's robots and is destabilizing Bot Colony, but this is only the precursor to a larger, more terrifying scheme.You have 3 days to catch him, and you'll need to rely on machines to get the job done.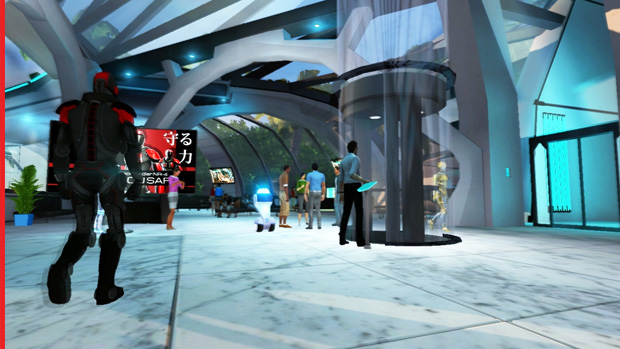 In Bot Colony you have the opportunity to experience first-hand interaction with an Artificial Intelligence that, until now, could only be romanticized in science fiction novels and movies. It's a unique experience that will challenge your mind and entertain you; the ultra literal way robots understand language makes you realize how much we take for granted when we speak with other people.
KEY FEATURES
Embark on a multi-episode quest to catch the spy before he destroys the island.

Travel across a spectacular South Pacific island fully-realized in the Havok Vision engine.

Speak freely and discover the story using your own words. Compare this to typical game storytelling, where canned dialog lines and selection trees are the rule.

Make the game your own: Teach robots about people and the world to get them to help you.

Command robots to manipulate objects and interact with the environment.

Game sessions are unique to each player: You control what is said and how characters react. Sessions of other players will have different dialog than yours.

Based on the Bot Colony novel by studio founder and high-tech entrepreneur Eugene Joseph.
Note regarding Speech-to-Text: The game comes to Steam with support for Microsoft Speech (included with Windows), so you can set up a voice profile to play the game and communicate with characters by speaking into a mic. Remember that we also allow players to type messages, or you can seamlessly combine speaking and typing according to one's preference.

We do not offer a Dragon version of the game on Steam, but we're pleased to offer full speech-to-text support for players who already own Dragon NaturallySpeaking
.
System Requirements
Minimum:


OS: Windows 7 64-bit [make sure you have 64-bit Windows!]

Processor: Dual Core 3.5GHz / Quad Core 2.40 GHz greater

Memory: 4 GB RAM

Graphics: NVidia GTS 240 (1 GB VRAM) or greater, ATI Radeon HD 4850 (1 GB VRAM) or greater

DirectX: Version 9.0c

Network: Broadband Internet connection

Hard Drive: 4 GB available space

Sound Card: Yes

Additional Notes: Internet connection required. A microphone is required if you wish to play through speech.
Copyright © 2014 North Side Inc.
Bot Colony is a registered trademarks of North Side Inc.
Helpful customer reviews
Title:
Bot Colony
Genre:
Adventure
,
Casual
,
Indie
,
Early Access
Developer:
North Side
Publisher:
North Side
Release Date:
Jun 17, 2014
Languages:
| | Interface | Full audio | Subtitles |
| --- | --- | --- | --- |
| English | | | |