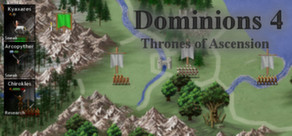 You are a God! You are master and ruler of a loyal nation. You have unimaginable powers at your disposal. You have claimed this world as yours. But there are others who stand in your way. You must defeat and destroy these pretenders. Only then can you ascend to godhood and become the new Pantokrator.
Release Date: Dec 5, 2013
Watch HD video
June 26th, 2014
This update brings a new nation to Dominions called Ragha. It is a nation that likes both cold and heat as some of the better units require extreme temperatures to recruit. There are also many bug fixes, new features and some improvements for modders.

Game
New nation called Ragha
Caelum nations have got some new/altered units, equipment, descriptions and sites
Ice Crafting for MA Caelum
Ice Lances have charge ability
Many new Pretenders for Caelum and Abysia
New Summons for Caelum/Ragha
New national spells for Caelum/Ragha
Can only blood sacrifice in own lands
Just Man's Cross is now armor piercing
Event fixes and new events
Could transform into a ... with Transformation ritual
Awe now printed among bless effects
Never healing wound now gives -20% of start HP instead of -20% of modified HP
Chi Kick is now a bonus weapon
Improved error detection for map loading
Fixed unit2com inconsistency bug when viewing casualty reports
Increased chance of getting the better divine titles
New divine titles
HTML status page divided by teams
Smooth scrolling for GUI
Fliers get size*2 as charge damage if it exceeds the old AP/3
Added 2048*1152 and 2880*1800 screen resolutions.
Fixed undefined behaviour in CRC caclulation
Typos fixed
High level Thrones didn't spread more dominion
'l' to send item to lab didn't work properly
Wraith Lord from Ghost Riders looked wrong
Crystal Throne and Throne of Knowledge had wrong dominions spread
Reduced chance of starting behind rivers or mountain passes
Tainted Presence affliction
Transformed priests could not be blessed
Unclaiming of thrones now happens before victory and before income
Bless effects were not always removed when losing a throne
Set name of home province even on maps with fixed province names
Fixed UW shark knight defence
Removal of smouldercones that could be created by incorrect random events in 4.05
Don't print 'army routed' for Vengeance of the Dead
Wrong popup text for Dispel ritual
Helheim can no longer trace income across oceans
Special random names for wastes and farm coasts.
More random province names
Random maps with <500 provinces will never have any duplicate names.
Tower of the Moon changed to summon Dire Wolves
Serpent King got nature 1 in snake form too
Innate Spellcasters skipped every other scripted spell
Events can yield horror marks
Select unit shows more of the more interesting targets and at least 2
Floating units were not immune to Earth Attack
Lure of the Deep could crash the game
Battle log details for Ethereal, luck, etc.
Non artifact items can be unique
Poison from poison dagger ignored etherealness
Improved spell info for some spells
Lance is now before second weapon
Population capped at 300000
Enchantment and dispel strength was calculated incorrectly
Tome of High Power boosts ritual range
Ichtytaur had wrong shape change
Arcane Nexus got more basic income
Acorn Neclace shockres 5 -> 15
Ice forging icon
Multiple secondary spell effects works now
Communion slave/master icons
Ambdextrous icon
New monster: Flame Spirit
Magic for some secondary shapes for gift of reason purpose
Raiding could crash the game
Trade Wind could be cast on non coastal provinces
No items found in messages for defeating sneaking enemy
Wrong message when a third party fights outside a castle
Added missing description for Cleansing Chime
Certain effects (e.g. blood vengeance) are no longer affected by mirror image
Reinvigoration now removes all (up to 200) fatigue
Burning ground should look correct on fast forward now
Shape changing back to original form after battle didn't work
'c' to view combat spells only
'g' to view globals only
Can no longer yank Monument with harpoon
Ziz couldn't fly during storms
Give pretender capital as home province
Shapechange starting pretenders if necessary
More + info on spells
Improved popup info for storm power
Heroes get capital as home province
Improved pluralisation of unit names
Red warning when having an impossible throne setting
New start options for random maps: --mapdscol, --mapccol
Air Bless gives range bonus
Slave Markets and some other sites are less common
Fix for slow rec with limited resources
Vine Bow now has on hit effect instead of on damage
Black bow of Botulf now affects on damage
Some magic bows got 1 increase in damage
Units without headslots didn't die from soulslay
Monster fish can damage large targets
Icons for dominion scale changing effects
More likely to use gems against small armies of only mages
Some spells will never be cast unless scripted (communions + VoR)
Improved battle log details
3rd player assassins could assassinate besieged units too
Items of enslaved commanders have a chance of being found now
Gelatinous Cube now got an Acid Splash defensive ability
Swallow on trample no longer swallows those who evade the trample
Vile Water ritual cost 8 -> 4
New Worm Mage sprite

AI
Don't charge with centaur archers
AI can now upgrade forts
Spell AI less likely to target immobilized units

Modding
Automatic mod downloading of mods in network games
New sitch: --nodownlmods to skip automatic mod download
Improved mod error checking
New nation mod commands: #cavenation, #coastnation
Changed names to #restricteditem and #userestricteditem
Removing a secondary path from an existing spell made it unchoosable
Fixed random priest level
Command #undeadonly didn't work
New commands: #guardspirt, #guardspiritbonus, #restricted, #userestricted
Mod sanity check button to check for missing files

9 comments
Read more
April 12th, 2014
This is a quick patch to fix the music that doesn't loop properly and a crash bug when hosting an old game in Linux. Dominions 4.05b is fully compatible with version 4.05 and those versions can be mixed in multiplayer games.

1 comments
Read more
About the Game
You are a God! You are master and ruler of a loyal nation. You have unimaginable powers at your disposal. You have claimed this world as yours. But there are others who stand in your way. You must defeat and destroy these pretenders. Only then can you ascend to godhood and become the new Pantokrator.

In Dominions you take control of a powerful being that rules a nation and aspires to godhood. The type of Pretender Gods can vary from magically powerful arch mages to huge titans or large monuments. The pretender gods have different strengths dependent on what kind of god you choose and what nation you play.

When you start the game you decide what kind of god you are and how your Dominion affects your lands and followers. It is an expression of your divine might and the faith of your followers. If your dominion dies, so do you. Your dominion also inspires your sacred warriors and gives them powers derived from your dominion.

In order to win and become the one true god you have to defeat your enemies one of three different ways: conquer their lands, extinguish their dominion or claim the Thrones of Ascension.

In Dominions 4 you can also play team games where one of the players take the role of supreme god, and the other members of the team are his servants and loyal subjects. The lesser gods rule their nations, but you all share the dominion of the supreme god.

Dominions is set in a fantasy world that draws inspiration from historical nations, cultures and myths. You will not encounter the elves of conventional fantasy in this game. Instead you might lead a nation of vanir from old norse myth. Aztecs, romans, israelites, greeks, shona and kievian rus are just a few of the inspirational sources of the game.

The first Dominions game was released in 2002 and was well received by strategy gamers. Since then Dominions has been much refined and Dominions series is still actively played making it one of the longest running 4x turn based strategy games.

Dominions 4 is also a highly moddable game. You can create your own monsters, spells and entire nations. Since Dominions 3 there has been a vivid modding community and Dominions 4 will enhance this capability even further.
PC System Requirements
Minimum:


OS: Windows XP/Vista/7

Processor: 1 GHz

Memory: 1024 MB RAM

Hard Drive: 500 MB available space
Mac System Requirements
Minimum:


OS: 10.3 or later

Processor: 1 GHz

Memory: 1024 MB RAM

Hard Drive: 500 MB available space
Linux System Requirements
Minimum:


OS: any 32 or 64-bit distro

Processor: 1 GHz

Memory: 1024 MB RAM

Graphics: OpenGL and libSDL1.2

Hard Drive: 500 MB available space
Helpful customer reviews
Title:
Dominions 4: Thrones of Ascension
Genre:
Indie
,
Strategy
Developer:
Illwinter Game Design
Publisher:
Illwinter Game Design
Release Date:
Dec 5, 2013
Languages:
| | Interface | Full audio | Subtitles |
| --- | --- | --- | --- |
| English | | | |