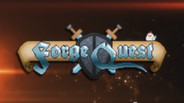 Forge Quest is a dungeon crawling rpg set in a voxel world. Explore the land full of chickens on a light hearted quest to becomes heroes. Delve deep into the randomly generated dungeons to battle monsters, find treasure and upgrade your equipment.
Release Date: Nov 20, 2013
Watch HD video
Early Access Game
Get instant access and start playing; get involved with this game as it develops.
Note: This Early Access game may or may not change significantly over the course of development. If you are not excited to play this game in its current state, then you may want to wait until the game progresses further in development. Learn more
What the developers have to say:
"Welcome to the Forge Quest Early Access launch!

Forge Quest has been in development for some time now, and it has gone through many changes. At this stage most of the major content is complete. However, there are still a few features we would like to implement before calling it complete, including a large amount of polishing and balancing of the overall system.

We are very interested in hearing user input about our game. We are open to new ideas from the community and want to have the userbase involved in the development process. Even after the game is released, we intend to continue developing Forge Quest, adding additional features not yet mentioned and expanding the overall game.

Below are the major features that need to be completed
- Final Boss
- Additional Storyline Content
- Pets System
- Additional Equipment & Crafting Options
- Icons & Other Misc Assets
- Achievements
- Bug Fixing
- Balancing" Read more
Buy Forge Quest Four Pack
Includes four copies of the game - Send the extra copies to your friends.
June 20th, 2014
(ATTENTION: This update will require people to rebuild their world. Many storyline and game flow have been added or modified. You will be prompted the next time you go to load your character.)

Today's update is a fairly heavy weight one. There are a number of features and bug fixes, but also a large potion of story content added to the game, including the final boss fight. As an early access keep in mind that not all of this content is final, and we will be tweaking and adding to this content in future updates. If you have any feedback on the changes please let us know in the community!

Features

Player revive. While in multiplayer, when a character dies he will now go to a fainted state. Other players have a short window to revive this player by interacting with him. Reviving is not instant, so you may have to kill an enemy or two before returning to your friend. Reviving only puts the player back up to half maximum health. (A few sound effects for this process are not yet complete, they will come later)

Huge story update. There are now several story points in the game that have been added which trails the progression of the game until the final boss. We already suspect we may need to trim some of the length, a lot of that will come with player feedback. Because of these changes, a world rebuild is required.

Final Boss version 1.0. The final boss has finally been added to the game, he is fought right after the fire dungeon and a few storyline moments. He is being labelled as 1.0 as his mechanics and level are likely to change in future updates. Also many of the sound effects for the battle are not yet complete, those will come in later updates. If you have feedback about the boss fight please let us know in the forums!

Achievements! Yes they are finally here, you can find all of them along with their requirements on Steam. It's likely we will be adding and tweaking a few of these. If you have any comments or have any good ideas for ones you would like to see let us know.
Bug Fixes
Fixed, crash when you would open menu while in the middle of a sword swing

Fixed, error caused level up effect to show on player and pets at inappropriate times.

Fixed, swamp overworld not having as many enemies as it should.

Fixed, petshop merchant now lets you know if your inventory is full when giving you the pet dragon.

Fixed, runes will no longer have sockets. This was never intended.

Fixed, after forging an item the component values were not being properly updated.

Fixed, pilliars could sometimes obscure button puzzles.

Fixed, in multiplayer, Terry could sometimes spawn multiple copies of himself when he fights you before the earth dungeon.
If you experience any issues or simply have feedback, please contact us either on the community discussion page or via e-mail at support@forgequestrpg.com.
0 comments
Read more
May 22nd, 2014
ATTENTION: You will be forced to rebuild your world before you can continue playing with an old character. This is because we have made changes that require core world files to be updated. Your character won't change, you will still have your items, exp, and the progress in the game is preserved, but the structure of the world will be updated. As we go through the final stages of Early Access this will likely be required in the future as well.

This update is a bit longer to come out the previous, but there is plenty of work that was put into it during that time. The major noticeable changes are the addition/change of story for Terry and the new pet system. There have been a good number of visual updates as well and you will likely notice them as you are playing through the game. For an exact detailed list, you can look below.

Bug Fixes

Fixed, logic error that would allow you to fight bosses again, after already defeating them
Fixed, bog that would only allow 3 buffs total to be on a player at once
Not a bug per say. The dungeon puzzle placement now uses a system to only place puzzles which have been use the most infrequently. This will assist in preventing similar puzzles being placed next to each other. Because of room sizes repeats can still happen. When more puzzles are built it will completely eliminate you from seeing any repeats.

Fixed, Conditional mods/buffs now check on loading a character as well as when equipment is modified. This was affecting the Mystic "Force Of Will" ability to only for the condition when equipment was modified, but not when they zoned.

Fixed, Dodge value from equipment was not being applied to the character.

Fixed, Monk Fistwraps and Gloves of the Raven can't be equipped

Fixed, If some chicken swarm chickens are left in a boss room and the player dies and has to come back - they can crash the game.

Fixed, With 100% Cooldown reduce you cant cast Spells!!!

Fixed, Cooldown reduction is not visible in stats page

Fixed, Creating a character with no name

Fixed, Items that proc buffs on hitting or killing enemies, doing so on destructible/neutral entities

Fixed, No longer gain health/mana on hit or kill when doing so on destructible/neutral entities

Fixed, puzzle blocks no longer obstructed by pets.
Features
Player camera now is bounded by the world bounds. You will notice this only in town and the overworld.

Levels now fade off into black, instead of using the old backgrounds. Your world needs to be rebuild to see this effect.

Updated beginning of game text. Mostly grammar and spelling errors.

Updated attack animation of the wolf/dog entities.

Joystick selection is now an option in the input menu. It will save your selection and recognize that same joystick on start up.

Changed visual look of item cooldowns to have a bit more contrast. I'm not 100% happy with it, but it's better for now.

Player now has a super epic level up animation and sound.

If you successfully dodge an incoming attack, "dodged" will be shown on the screen.
Storyline Changes
Terry Cloak has been updated, both visually and in his NPC encounters. This is a whole new rewrite to the character.

You are now required to speak with Solomon after each fight before you can go to the next dungeon.
Pet System
Pets now work differently then in the past.

Pets are now equipped to the power bar and can be used like an ability

Pets while equipped will gain xp and levels along with you, and you do gain xp for any kills a pet makes.

Pet damage will increase with their level.

Pet level is now shown in the item inspection display.

Only three pets can be equipped at the same time. This will likely change later

Dog pet updated

Hawk pet added

Pet owner now has text to teach you about the new pets and pet system.
Other Changes
Changed the types of monsters in primal/swamp overworld areas. (Honestly, swamp needs a lot of changes)
3 comments
Read more
About the Game
Forge Quest is a dungeon crawling rpg set in a voxel world. Explore the land full of chickens on a light hearted quest to becomes heroes. Delve deep into the randomly generated dungeons to battle monsters, find treasure and upgrade your equipment. Play single player, or invite your friends to play over the internet and crawl the dungeons together.
PC System Requirements
Minimum:


OS: Windows 7

Processor: x86-compatible 1.4GHz or faster processor

Memory: 300 MB RAM

Graphics: OpenGl 3.2 compatible 3D graphics card with at least 256MB memory

Hard Drive: 150 MB available space
Mac System Requirements
Minimum:


OS: OSX 10.7

Processor: x86-compatible 1.4GHz or faster processor

Memory: 300 MB RAM

Graphics: OpenGl 3.2 compatible 3D graphics card with at least 256MB memory

Hard Drive: 150 MB available space
Linux System Requirements
Minimum:


OS: Linux - 64 & 32 bit

Processor: x86 or x64 compatible, 1.4GHz or faster processor

Memory: 300 MB RAM

Graphics: OpenGl 3.2 compatible 3D graphics card with at least 256MB memory

Hard Drive: 150 MB available space
Helpful customer reviews
Title:
Forge Quest
Genre:
Action
,
Adventure
,
Indie
,
RPG
,
Early Access
Publisher:
Release Date:
Nov 20, 2013
Languages:
| | Interface | Full audio | Subtitles |
| --- | --- | --- | --- |
| English | | | |