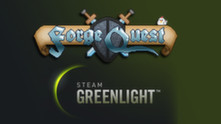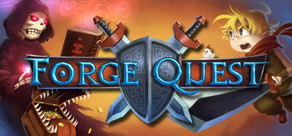 Forge Quest is a dungeon crawling rpg set in a voxel world. Explore the land full of chickens on a light hearted quest to becomes heroes. Delve deep into the randomly generated dungeons to battle monsters, find treasure and upgrade your equipment.
Release Date: Nov 20, 2013
Watch HD video
Early Access Game
Get instant access and start playing; get involved with this game as it develops.
Learn more about Early Access.
What the developers say:
"Welcome to the Forge Quest Early Access launch!

Forge Quest has been in development for some time now, and it has gone through many changes. At this stage most of the major content is complete. However, there are still a few features we would like to implement before calling it complete, including a large amount of polishing and balancing of the overall system.

We are very interested in hearing user input about our game. We are open to new ideas from the community and want to have the userbase involved in the development process. Even after the game is released, we intend to continue developing Forge Quest, adding additional features not yet mentioned and expanding the overall game.

Below are the major features that need to be completed
- Final Boss
- Additional Storyline Content
- Pets System
- Additional Equipment & Crafting Options
- Icons & Other Misc Assets
- Achievements
- Bug Fixing
- Balancing"
Read more
Buy Forge Quest Four Pack
Includes four copies of the game - Send the extra copies to your friends.
April 13th, 2014
We are happy to announce we just released version 1.45b. As of late we have been hard at work brewing up new content for the game, story, gameplay elements as well as improvements for the game. Only a small portion of that is coming out in this release, but there will be more to come as we implement and polish the content.

As always if you experience any issues please let us know in the community section, or at support@forgequestrpg.com.

Features

Push Block Puzzles - These are your classic Zelda style push block puzzle. Much like monster trap rooms and the floor button puzzle, you will encounter them in dungeons and will need to push the blocks to the correct location to continue. We have created a number of puzzles which increase in difficulty through the dungeons.

Keep in mind that to see the puzzle, you will need to rebuild your world. This can be done as an option when you select your character to play.


UPNP Network Routing - To improve network connectivity we have included the ability for the application to use UPNP. If your router supports and has this feature turned on, it allows your to host a game without needing to manually port forward the port to your machine. This is done automatically in game, so there is nothing you need to change in our settings. When you start a public game we will attempt to configure UPNP and let you know the results in a message window.
Notable Bug Fixes
Fixed bug that may cause jittering of player's actions when they pick up an item.
0 comments
Read more
March 24th, 2014
This version has a number of changes in every category. Most exciting is our Linux 32 bit version, monster path finding and treasure is now separate per character! For more information below is a detailed list of the changes.

Bug Fixes

Item "Recover Runes Greater" was not doing anything when used. It works now.

Fixed error that caused some melee attacks to hit twice.

Fixed player health bug, caused players who sometimes equipped +max_health items to have less max health then expected.

Fixed several issues with UI elements that were acting funny.

Pet dog wasn't showing his true model, now it does.

GUI would sometimes flicker, or elements would show incorrectly for one frame. This is now solved.

Minimap icons now-again are saved to the level vision, and will show up next time you go to that zone.
Features
Linux 32 bit version now available.

Monsters now intelligently path when they pursue a player. This should make monsters a bit harder to get away from, and make mazes much more of a challenge. This doesn't affect pets right now, as we are in the middle of reworking that system completely.

Treasure and hearts drops are now local to each player, not shared. If an item drops on screen, only you can see and pick it up.

Hearts are now picked up automatically like all other treasure.

Inventory tabs are now big icons. Looks much better then text tabs we had before.

Item drops in world are now billboards instead of models. Should give slight render improvement.
Balancing
Skeleton now attack faster after coming out of the ground

Necromancer spawns skeletons immediately after seeing player. Necromancer also now has x1.5 health.

Large jellies health was reduced form 2.5 to 2 times.
4 comments
Read more
About the Game
Forge Quest is a dungeon crawling rpg set in a voxel world. Explore the land full of chickens on a light hearted quest to becomes heroes. Delve deep into the randomly generated dungeons to battle monsters, find treasure and upgrade your equipment. Play single player, or invite your friends to play over the internet and crawl the dungeons together.
PC System Requirements
Minimum:


OS: Windows 7

Processor: x86-compatible 1.4GHz or faster processor

Memory: 300 MB RAM

Graphics: OpenGl 3.2 compatible 3D graphics card with at least 256MB memory

Hard Drive: 150 MB available space
Mac System Requirements
Minimum:


OS: OSX 10.7

Processor: x86-compatible 1.4GHz or faster processor

Memory: 300 MB RAM

Graphics: OpenGl 3.2 compatible 3D graphics card with at least 256MB memory

Hard Drive: 150 MB available space
Linux System Requirements
Minimum:


OS: Linux - 64 & 32 bit

Processor: x86 or x64 compatible, 1.4GHz or faster processor

Memory: 300 MB RAM

Graphics: OpenGl 3.2 compatible 3D graphics card with at least 256MB memory

Hard Drive: 150 MB available space
Helpful customer reviews
Title:
Forge Quest
Genre:
Action
,
Adventure
,
Early Access
,
Indie
,
RPG
Publisher:
Release Date:
Nov 20, 2013
Languages:
| | Interface | Full audio | Subtitles |
| --- | --- | --- | --- |
| English | | | |