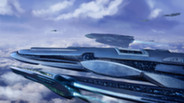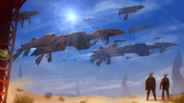 Lords of the Black Sun is an epic, complex, dense, turn-based 4X PC strategy game, set in deep space. Take command of one race to join the struggle for supremacy in the galaxy. As the leader of your empire you are tasked with exploring the stars, colonizing new worlds, managing your empire and conquering whoever dares to oppose you.
Release Date: Dec 6, 2013
Watch all 2 trailers
Early Access Game
Get instant access and start playing; get involved with this game as it develops.
Note: This Early Access game may or may not change significantly over the course of development. If you are not excited to play this game in its current state, then you may want to wait until the game progresses further in development. Learn more
What the developers have to say:
"With Lords of the Black Sun we're taking a crack at rejuvenating classic 4X gameplay, by emphasizing features such as diplomacy, spying and conspiracy. Generals can become a decisive factor in your war effort, but don't ignore the homefront, as rebellion may always be around the corner. We're a new studio filled with a young crew, and are looking forward to your ideas, feedback and enhancements, so that we can make Lords of the Black Sun all it promises to be - and more !

We opted to go into Early Access, as 4X games are very complex, and your feedback is very important for us to make sure we can create the game you want to play. Meanwhile you will hopefully be helping us track down bugs and stability issues as well. You can aid us by reporting any issues you have with the game, so we encourage you to give your honest feedback, warts-and-all, by completing the in-game questionnaire. Any and all feedback is appreciated, so don't be shy !

Lords of the Black Sun will remain in Early Access for as long as it takes for us to get the game as good as it can possibly be. It's hard to pinpoint exactly how long this may take, but we have made strides and reached beta stage now ! Lords of the Black Sun now has most features implemented and should be very playable.

There are some features still under development and others are still a work-in-progress, the big feature yet to be included is the Multiplayer. It is currently undergoing internal testing and will be available in the Beta as soon as we consider it to be 'good to go'.

With more features having been added during the last months, the price of Lords of the Black Sun has now reached a last threshold of $ 24.99, leading to the launch price of $ 29.99. So, as a thumbs-up to our early supporters and the help they will provide, we are showing our gratitude by offering the game at a lower price, for now.

Once again, we are creating this game for you, the gamers - we appreciate your help in making this an unforgettable 4X experience, and with your help we might just make that happen." Read more
July 10
Hello everyone !

As the title implies, we have a brand new build for you guys and this one is a major build.
It includes several and important bug and crash fixes, new content such as technologies and ship parts but above all, the first version of the multiplayer.

Being the first build of the multiplayer being released to the masses, we expect people to stumble upon some bugs and crashes. As always we'd really appreciate any feedback you can give us on whatever you find.
Also it is only LAN and Internet/IP for the time being, but more on this later.

As for what else you can find, here's the changelog:

- Intelligence screen largerly improved. The window is significantly larger, showing more information and bigger and less cluttered text.

- First playable version of the Multiplayer. Expect bugs and possibly crashes. Anything you can report on that side would be greatly appreciated. At this moment it is Lan and Internet/IP only but we plan on implementing Steam Lobbies to make matchmaking much easier.

- New Technologies and ship parts, as well as rebalanced military tech tree.

- Improved combat mode and fixed several bugs related to it introduced in the last build, some of which made the combat almost unusable since the last build.

- UI changes/improvements: Now selecting a planet will indicate how much you can profit from trading with it, as well as how much others can profit from trading with your planets.

- Added a new option for Auto Save frequency.

- Tentatively fixed several crashes related to beta 1.2.

- Some general bug fixing and overall balancing and polishing in several areas of the game.

Have fun !

EDIT:
We have just released a minor revision that fixes the game breaking issues with combat people had since the last two builds as well as some small but important additions.

Full changelog:

- Fixed Can't attack during combat after 1st turn bug
- Fixed Keyboard input issues
- Rebalanced Tech tree, updated some ship parts and changed some things around (Improved ship range is in the science branch for example)
- Fixed Autosave not working issue
- Fixed some fonts in the main menu
- Fixed Selection panel vertical size issue
- Added Icon during combat indicated a ship hasn't attacked or defended yet
- Added Inverted Mouse Buttons option for people with left handed/inverted mouses
1 comments
Read more
June 9
Hello everyone !

We're back with a brand new build, this one introducing several major improvements in several areas. Research, ship design and combat are three of the areas we focused the most, so as usual we're eager to know what you think about the brand new stuff !

-If you don't have enough research production, certain technologies and branches will be invisible to you.

-The tree has been rebalanced and new technologies have been added. This is the first half of what we plan to do, the next update will include a new batch of technologies and ship parts, as well as some more balancing to do.

-Added Shield component. Armor now adds to the hitpoints of the ship, while Shield eats up damage until it's completely depleted. You now have two Defence slots where you pile up armor or shield parts, or use combinations of armor+shield, just shield or just armor.

-Added a new weapon type, Plasma. Plasma inflicts damage directly regardless of whether or not the target has shield. Plasma weapons have the same range as beam weapons but are significantly heavier.

-You can now use different weapons in the same ship design, allowing for interesting combinations and tactics.

-UI has been improved in several areas.
Visually, we tweaked several details so as to feel less washed out and more pleased to eye, the negotiation screen now shows the landscape of the respective race you're talking with, along with it's portrait and the Research menu is now full screen.
To know more information about each fleet or stationed unit you just have to hover the mouse over it's respective icon instead of using the right mouse button.
The Unit panel now shows a icon of the respective weapon type(s) it possesses.

-The overall presentation has been improved, with a brand new menu screen and new menu song.

-Each galaxy is now significantly bigger, and we added a new galaxy size named "Massive" which is more than twice as big as the "Huge" galaxy size in previous builds.

-Each player stats with the Defence Tower building available, but with less building slots. More slots can be researched.

-Revamped the Draakians's Heavy and Capital ship models.

-The usual batch of bug and crash fixes. We tentatively fixed one particular crash that occurred frequently by mid game, please let us know if the game still crashes for you.

Hope you enjoy this new update, have fun !

4 comments
Read more
About the Game
Lords of the Black Sun is an epic, complex, dense, turn-based 4X PC strategy game, set in deep space.
Take command of one race to join the struggle for supremacy in the galaxy. As the leader of your empire you are tasked with exploring the stars, colonizing new worlds, managing your empire and conquering whoever dares to oppose you.
The galaxy is full of secrets and dangers: Discover ancient ruins and artifacts, repel or befriend pirates, promote a general to guide your fleets to victory. Concoct complex plots with your allies or use your intelligence services to uncover weak spots on that threatening empire whose leader has vowed to destroy you.
Make sure to keep your population happy or be prepared to face protests against your rule, or in a worst case scenario, rebel factions within your empire.
Only the mightiest rulers can prevail in the depths of space. Are you up to the task of becoming a Lord of the Black Sun?
Key features:
8 major races each with their own ship designs, technologies, unique traits and unique abilities, meaning playing with each race is a different challenge and offers new ways to approach the game.

Big, living universe: In addition to the major powers, independent races and pirate clans also claim the galaxy as their residence; their existence can be an annoyance, or a blessing if you can take advantage of them.

Deep economical and political layer: War isn't the only way to weaken your rivals. Diplomacy, inteligence and trade can be one of many powerful tools that, if used properly, can be very effective as well.

Tactical Turn based combat.

Create and customize your own ship designs.

Generals: These unique and powerful units evolve as they battle and if used well can be the difference between defeat and victory.

Randomly generated universe, tech tree and units: You will never play the same game twice.

Empire shattering: Unrest might lead rebels to start a civil war which in turn might lead to the creation of a new, independent empire that might grow to rival your own.

Plotting: Secretly finance a war against your rivals in order to weaken them or prepare a surprise joint war along with your allies in a bid to destroy that frighteningly fast growing empire.

Human-like AI that doesn't cheat and plays by the same rules as human players, while presenting a constant challenge.

Play Multiplayer and Hotseat online via LAN or IP/internet.
System Requirements
Minimum:


OS: Windows XP SP3, Vista, 7, 8, 8.1

Processor: Dual Core 2.0 Ghz

Memory: 2 GB RAM

Graphics: 256 MB graphics card

DirectX: Version 9.0c

Hard Drive: 1150 MB available space

Sound Card: Integrated

Additional Notes: There is a known issue with people using ATI cards on Vista so if you are one of those we recommend you skip the game until a fix is found
Recommended:


OS: Windows XP SP3, Vista, 7, 8, 8.1

Processor: Quad Core 2.0 Ghz

Memory: 4 GB RAM

Graphics: 512MB graphics card

DirectX: Version 9.0c

Hard Drive: 1150 MB available space

Sound Card: Integrated
Lords of the Black Sun © 2013-2014 Arkavi Studios. Developed by Arkavi Studios. Licensed exclusively worldwide to and published by Iceberg Interactive B.V. All brands, product names, and logos are trademarks or registered trademarks of their respective owners. All rights reserved. Made in Europe.
Helpful customer reviews
Title:
Lords of the Black Sun
Genre:
Indie
,
Strategy
,
Early Access
Developer:
Arkavi Studios
Publisher:
Iceberg Interactive
Release Date:
Dec 6, 2013
Languages:
| | Interface | Full audio | Subtitles |
| --- | --- | --- | --- |
| English | | | |