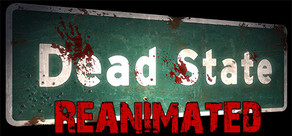 Dead State is currently in Early Access - purchasing now will eventually unlock the full game for you at final release, and in the meantime you can playtest the first seven days of the game (ongoing feature updates are planned).
Release Date: Feb 13, 2014
Early Access Game
Get instant access and start playing; get involved with this game as it develops.
Learn more about Early Access.
What the developers say:
"
Dead State: The First Seven Days - Early Access of Dead State

Dead State: The First Seven Days is an early, WIP preview of the first week of Dead State's gameplay - an opportunity to prepare your strategy for the full game and help us test and polish the full Dead State experience. You'll meet some of your initial allies, explore a dozen or so locations, and settle into your base of operations, the Shelter. There are several solid hours of gameplay in the Early Access alone, and it barely scratches the surface of what the full game will provide. The full game will unlock automatically for anyone who purchases the Early Access once we release the final game (ETA: Summer 2014).
Q&A:
1. Why is our game in Early Access?

We are releasing on early access to show our progress to Kickstarter backers/pre-order customers, as well as to bring the pre-release game to potential customers who supported us on Greenlight and have been asking us to bring a version of the game out on Steam. We would also like to get feedback on this earlier revision of the game so that we can improve the game for release.

2. How long do we plan to be in Early Access?

Our current goal is no more than 3-5 months, though we would like to release the final game as perfect and bug-free as possible.

3. What is the current state of the game?

The game is about to enter Beta internally, though we may decide to take extra time and revamp some of the current systems and assets.

4. What features are we planning to add to the game?

Right now, we're working on getting additional content/areas/art into the game, revamping some of the GUIs, and working on improving AI. The biggest missing features right now are final intros/endings, our final XP system, some skill/perk functionality, and animal NPCs.

5. What is our pricing strategy during and after Early Access?

Early Access will be discounted to $24.99 until release, at which point the price will be $30.

6. How can the Steam Community help us during our development process?

We will be monitoring gameplay feedback from the Community, tracking technical issues, helping players with bugs/issues, and making sure players are kept informed about changes and release info.

From all of us at DoubleBear, thank you for your support and enjoy Dead State: The First Seven Days!" Read more
April 4th, 2014
Hi everyone!

First, DoubleBear is pleased to endorse Gamepedia.com's Dead State wiki as our official wiki for the project. The wiki has existed for a while as an unofficial resource, maintained by our most active community members - it just seemed like the logical step to make the whole thing official! If you haven't checked it out yet, I highly recommend you visit it and consider becoming a contributor. Please spread the word to other members of the gaming community who either already love Dead State or are curious to learn more about it. Right now, there's still a lot of content on there waiting to be fleshed out, so this is the best time to get involved and really help expand the Dead State wiki. If you're looking for more ways to help us out in addition to playing the Early Access build and providing feedback, this is a great option! I hope this wiki proves useful to everyone, and I look forward to seeing it grow and develop!

For those who are curious what we've been up to since Update #1 - we're finishing up Systems beta, and while it may be anywhere from a couple of weeks to a month before you see our next update, it'll be a HUGE one. You'll be getting character creation, combat barks, experience progression, and more content. As always, we'll need your help and feedback to improve and tweak these systems and your bug reports to make sure we don't miss anything in the final game! In the meantime, we appreciate your patience and love seeing all the screenshots, videos, and more coming out of the community. It just makes us that much more excited and motivated to get the updates - and then the final game - out sooner!

Yours,
The DB Team
7 comments
Read more
March 16th, 2014
Hi everyone,

Welcome to the very first update of Dead State's Early Access! In this update, we have a healthy mix of stability improvements and content additions. We're happy to report that many crash and soft lock issues in the previous build have been eliminated. Check out the changelog below to find out more specifics about the contents of this update.


Update #1 Changelog
Added random encounter functionality and ten random encounter maps

Added harvesting and harvesting locations on the area map

Added fishing locations on the map (fishing pole item is not in current build, but we'll see about patching that in soon)

Added ally inventory management on shelter storage screen

Added healing over time for characters inside shelter

Added a button on the job board to pass time

Added GUI for choosing # of parts that are assigned towards repairing fence, and made them be used immediately, and refunds parts if everyone is removed from task

Fixed a crash that reported "none of the directions match"

Fixed a soft lock happening during zombie movement

Fixed a soft lock that occurred when loading a save from the main menu

Fixed an issue where a zombie's turn would be skipped

Fixed an issue where zombies would get up after knocking someone down, move to another square, and then feast on empty square

Fixed an issue where zombies wandered a bit before moving to enemy

Fixed a soft lock occurring in the code related to allies following player

Fixed noise so that it degrades over time more appropriately

Fixed a bug where fence repair progress was lost if you left the shelter after assigning a job and returned before the job was completed

Corrected spelling of Abilene on area map

Fixed issue where knockback after knockdown caused zombies to feast on an empty square

Fixed an issue where bodies T-posed upon returning to a visited place

Fixed a soft lock where console reported "teleporters graph has too few nodes"

Fixed problems with drag & drop functionality on inventory screens

Fixed issue where hitting Esc. while in inventory screen took you to menu instead of exiting GUI

Fixed a crash bug that occurred when attempting to quick save in shelter inventory

Fixed a soft lock occurring when stunned / downed enemy was surrounded

Fixed a bug where reloading a save incremented the counter on # of visits to an area

Fixed a crash where reloading a save after dying from exhaustion crashed the game

Fixed a bug where morale-reducing items are automatically stocked

Fixed some blocking issues

Fixed a bug where medical items (gauze, painkillers) could be equipped directly rather than loaded in satchel

Other small fixes here and there
We will be updating the Known Issues list
here on Steam
and
on our forums
as soon as we can with more detailed info about the bugs we're aware of so far that aren't yet fixed in the Steam build. We hope you enjoy the new update, and as always, please continue to share your feedback and bug reports with us either here or on our dedicated forums. We have a special
bug-reporting subforum
available where you can provide your quicksave files and screenshots, which goes far in helping us track down and squash those more elusive bugs. Speaking of which, we want to say a big ol' "THANK YOU" to everyone who helped us track down issues before now and reported reproduction steps to us on Steam EA discussion boards and on our forums. We're also particularly grateful to our mods, Caidoz and DrunkZombie, who have worked tirelessly to answer questions, track down and report bugs, and help compile all the bugs being reported by the rest of the community. I don't know what we'd do without them!
Have fun, and thanks for playing Dead State's Early Access!
20 comments
Read more
About the Game
*Note: Dead State is in Early Access. Buying now will provide access to seven days of gameplay with ongoing feature updates, and at final release (ETA: Summer 2014) this purchase will automatically convert into the full version of the game.*

Dead State is a compelling, high-tension survival RPG set at the beginning of the zombie apocalypse.

As society is beginning to fall apart, the player must organize a scant handful of allies, working on fortifying a shelter, scouting for food and supplies, making uncertain alliances with others, and attempting to hold together a group as humanity teeters on the brink of extinction. A full-fledged RPG featuring shelter building and management, turn-based tactical combat, and reactive story and dialogue with an emphasis on survival at any cost.

Attract new allies, scavenge food and supplies, and protect your shelter at any cost. Do you have what it takes to lead a desperate group through a crisis? This is your chance to find out.
System Requirements
Minimum:


OS: Windows XP/Vista/Windows 7/Windows 8

Processor: 1.7 GHz Processor or better

Memory: 2 GB RAM

Graphics: Nvidia Geforce 8500 GT / ATI Radeon HD 7290 (512 Mb) or better

DirectX: Version 9.0c

Hard Drive: 1500 MB available space
Helpful customer reviews
Title:
Dead State
Genre:
Early Access
,
Indie
,
RPG
,
Strategy
Developer:
DoubleBear Productions
Publisher:
DoubleBear Productions
Release Date:
Feb 13, 2014
Languages:
| | Interface | Full audio | Subtitles |
| --- | --- | --- | --- |
| English | | | |