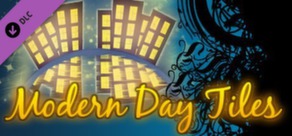 Dette indhold kræver grundapplikationen RPG Maker VX Ace på Steam for at køre.

Udgivelsesdato: 3. jun 2013
Indhold, der kan downloades
Dette indhold kræver grundapplikationen RPG Maker VX Ace på Steam for at køre.
Køb RPG Maker: Modern Day Tiles Resource Pack
Om spillet
Dreaming of building a sprawling modern city? How about a modern apartment for your hero? With Modern Day Tiles Resource Pack, all this is possible - and more! Add a bit of modern flair to your games with everyday objects and technology. Create urban zones and pleasant homes in a style that complements RPG Maker VX-Ace's default art.
This Set Includes
Auto-tiles walls for buildings, homes and skyscrapers.

Paved streets, sidewalks and traffic essentials (traffic signs, cars)

Inner tiles for bedroom, bathroom, kitchen, living room and children's rooms

Animated single and double doors

Animated traffic light, flying cloud/smog and dumpster with flies
Extra: A static star background, only available to Steam users.
Systemkrav
Minimum:


OS:Microsoft® Windows® XP / Vista / 7 (32-bit/64-bit)

Processor:Intel® Pentium® 4 2.0 GHz equivalent or faster processor

Memory:512 MB RAM

Graphics:1024 x 768 pixels or higher desktop resolution

Hard Drive:400 MB HD space
Anbefalet:


Processor:Intel® Pentium® 4 2,0 GHz-tilsvarende eller hurtigere processor

Hukommelse:512 MB RAM
Helpful customer reviews
15 af 15 personer (100%) fandt denne anmeldelse brugbar
0.5 timer bogført
The Modern Day Tiles Resource Pack is well worth the price given the rights attached to purchasing the set. It comes with sheets for A2 (although nearly empty), A3, A4, A5, B, C, and D. There are two sheets for doors, various styles of dumpsters because why not, numerous traffic signals, and a Steam exclusive background if you're into that kind of thing.

What is not as nice about the pack is that it's fairly limited in what you can build with it, but that's okay. I strongly recommend editing the stylesheet with your other tiles. The Futuristic Tiles Resouce Pack and the DS+ Resource Pack contain many assets that are invaluable for creating a richer environment than what you can accomplish with just the pack. Due to the lack of A1 and E sheets and because the D, A2, and A3 sheets are not completely filled out (A2 being nearly empty), you can squeeze far more into your tilesets to create a more complete city. This set isn't necessarily complete on its own, but it's a great resource if you're looking for more contemporary-looking assets.
9 af 17 personer (53%) fandt denne anmeldelse brugbar
Titel:
RPG Maker: Modern Day Tiles Resource Pack
Genre:
Design & illustrering
,
Webudgivelse
Udvikler:
Degica
Udgiver:
Degica
Udgivelsesdato:
3. jun 2013
Sprog:
| | Grænseflade | Fuld lyd | Undertekster |
| --- | --- | --- | --- |
| Engelsk | | | |