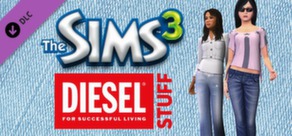 Om dit spel te kunnen spelen moet je het originele spel The Sims™ 3 hebben.

Releasedatum: 20 nov 2012
Downloadbare inhoud
Om dit spel te kunnen spelen moet je het originele spel The Sims™ 3 hebben.
The Sims 3: Diesel Stuff kopen
Info over het spel
Style your Sims with the latest Diesel apparel, accessories and furniture and get ready for successful living. The Sims™ 3 Diesel Stuff Pack contains the hottest fashions and home furnishings for your Sims from one of the world's most popular lifestyle brands. Update your Sims' wardrobes with Diesel styles straight off the runway. Dress your Sims in Diesel's iconic cutting-edge pieces that have made it a go-to brand for denim apparel. Complete your Sims' transformation with fashionable designs for the home featuring distinctive Diesel furniture. The Sims 3 Diesel Stuff Pack preps your Sims for the look and the lifestyle they've always wanted no matter what neighborhood they live in.
Features
Dress to impress! Fit your Sims' attitude with hot styles straight from the Diesel runway. Outfit your Sims in stylish Diesel fashions showcasing the trends that are all the rage this season!
Be chic, casual, and confident. Be tough, rugged, and modern. Upgrade your Sims' style with the latest women's and men's fashions from Diesel.
Customize your Sims' homes with industrial Diesel furnishings and décor from the showrooms of Milan to your ultimate urban loft.
Make your living room party ready, serve-up a second-date-worthy dining room or freshen up your bedroom with furnishings that reflect an edgy, urban, sophisticated style made possible by Diesel.
Bring a mix of rock and roll attitude and refined denim quality to your Sims this summer with The Sims 3 Diesel Stuff Pack.
Online Disclaimer
INTERNET CONNECTION, ONLINE AUTHENTICATION, ACCEPTANCE OF END USER LICENSE AGREEMENT, AND LATEST THE SIMS 3 PATCH UPDATE REQUIRED TO PLAY THE SIMS 3 DIGITAL DOWNLOAD PRODUCT. ACCESS TO ONLINE SERVICES INCLUDING SIMPOINTS AND DOWNLOADS REQUIRES AN INTERNET CONNECTION, EA/ORIGIN ACCOUNT AND GAME REGISTRATION WITH THE PROVIDED ONE-TIME USE SERIAL CODE. REGISTRATION IS LIMITED TO ONE EA/ORIGIN ACCOUNT PER SERIAL CODE AND IS NON-TRANSFERABLE. EA ONLINE PRIVACY POLICY AND TERMS OF SERVICE CAN BE FOUND AT www.ea.com. YOU MUST BE 13+ TO REGISTER FOR AN EA/ORIGIN ACCOUNT. MAC USERS MUST UPDATE TO THE LATEST VERSION OF THE SIMS 3 LAUNCHER TO ACCESS ONLINE SERVICES, INCLUDING SIMPOINTS AND DOWNLOADS. EA MAY PROVIDE CERTAIN INCREMENTAL CONTENT AND/OR UPDATES FOR NO ADDITIONAL CHARGE, IF AND WHEN AVAILABLE. The Sims 3 digital download PRODUCT uses SecuROM digital rights management technology provided by Sony DADC Austria AG. For more information about SecuROM, visit http://faq.securom.com/. GAME CAN BE PLAYED ON UP TO FIVE COMPUTERS AT THE SAME TIME; USERS CAN MANAGE WHICH COMPUTERS ARE AUTHORIZED OR DE-AUTHORIZED TO PLAY GAME. VISIT http://activate.ea.com/deauthorize/ FOR MORE INFORMATION ON DE-AUTHORIZATION. INCLUDES SOFTWARE THAT COLLECTS DATA ONLINE NECESSARY TO PROVIDE AND ACTIVATE IN-GAME ADVERTISING FOR ALL THE SIMS 3 PRODUCTS PREVIOUSLY OR HEREAFTER INSTALLED. EA MAY RETIRE ONLINE FEATURES AFTER 30 DAYS NOTICE POSTED ON www.ea.com/2/service-updates.
Systeemeisen
Minimum:

OS:XP SP2 / Vista SP1 / Windows 7
Processor: For XP 2.0 GHz P4 processor or equivalent; For Windows Vista and Windows 7 2.4 GHz P4 processor or equivalent
Memory:2 GB RAM
Graphics:128 MB Video Card with support for Pixel Shader 2.0
Er zijn nog geen openbare recensies voor dit product
Je kunt je eigen recensie voor dit product schrijven om je ervaring met de community te delen. Gebruik het gebied boven de aankoopknoppen op deze pagina om je recensie te schrijven.
Titel:
The Sims 3: Diesel Stuff
Genre:
Simulatie
Ontwikkelaar:
The Sims Studio
Uitgever:
Electronic Arts
Releasedatum:
20 nov 2012
Talen:
| | Interface | Spraak | Ondertiteling |
| --- | --- | --- | --- |
| Nederlands | | | |
| Tsjechisch | | | |
| Deens | | | |
| Engels | | | |
| Fins | | | |
| Frans | | | |
| Duits | | | |
| Hongaars | | | |
| Italiaans | | | |
| Koreaans | | | |
| Noors | | | |
| Pools | | | |
| Portugees | | | |
| Russisch | | | |
| Spaans | | | |
| Zweeds | | | |
| Chinees (traditioneel) | | | |
| Braziliaans Portugees | | | |
Alle 18 ondersteunde talen weergeven