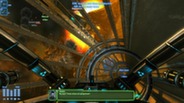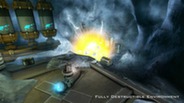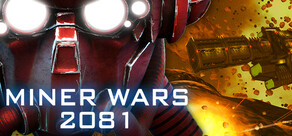 Operate an advanced mining ship in a fully destructible and open-world environment!
Veröffentlichung: 28. Nov. 2012
Alle 2 Trailer ansehen
Soundtrack Included With Purchase!
Songs will be placed in your Miner Wars 2081 folder in the Steam Directory:
...\Steam\SteamApps\Common\MinerWars\Soundtrack
Über das Spiel
Miner Wars 2081 ist eine Survival-Weltraumsimulation mit 6 freien Bewegungsgraden. Das Spiel ist im Jahr 2081 angesiedelt, 10 Jahre nach der Zerstörung aller Planeten im bekannten Sonnensystem.
Der Spieler besitzt die Kontrolle über ein verbessertes Bergbausschiff in einer voll zerstörbaren und offenen Welt, deren Zustand persistent über den Verlauf des gesamten Spiel sowie im Onlinespiel mit anderen Spielern bleibt. Realismus und das eigene Überleben sind die Kernaspekte des Spielerlebnisses. Platzmanagement des eigenen Inventars und die Art und Weise, in der Ressourcen wie Treibstoff, Munition, Sauerstoff oder Erz sowie Waffen eingesetzt werden, sind entscheidend angesichts der Vielzahl von gefährlichen Fraktionen, die den Spieler umringen.
Das Spielerlebnis wird durch eine epische Geschichte vorangetrieben und bietet die Wahl zwischen Einzelspielerkampagne und kooperativem Spiel oder Death-Match mit anderen Spielern.
Der Verlauf der Geschichte wartet mit verschieden gearteten Missionen auf: Rettung, Erforschen, Vergeltung, Basis-Verteidigung, Diebstahl, Transport, Schleichmissionen, "Suchen & Zerstören" , Sammeln, Wettrennen oder auch einfaches Umherfliegen und Zerstören von allem, was vor den Schiffsbug gerät.
Offene Welt
Voll zerstörbar und persistent (bohren Sie durch Asteroiden, zerstören Sie Weltraumstationen, uvm.)

Nahtloser Übergang zwischen Außen- und Innenbereichen

Reisen durch ein vollständiges Sonnensystem (Milliarden von Sektoren)
Intuitive Steuerung
6DOF - sechs freie Bewegungsgrade

Übung macht den Meister

Adrenalinschübe durch schnelle Action

Joystickunterstützung
Reichhaltiges Spielerlebnis
Einzelspielerkampagne bestehend aus 31 epischen Missionen

Bergbau und Erforschen – Spieler werden belohnt, wenn sie die Welt erforschen und ihre Resourcen abbauen

Handeln & Plündern

50 Waffen, Panzerungen, Medikamente, Werkzeuge...

22 steuerbare Schiffe

Rollenspielelemente / Überleben in einer gefährlichen Welt
Mehrspielermodus
Kooperation mit bis zu 16 Spielern

Death-Match mit bis zu 16 Spielern
Überleben & Endlosspiel
Fraktionen: Viertes Reich, Euro-Amerikanische Konföderation, China, uvm.

Engagierte Community, deren Spenden bereits die Entwicklung des Spiels finanziert haben

Integrierter Editor und zwei kostenfreie Zusätze: Cheats und 2.5D-Experiment
ACHTUNG:
Source Code der engine (VRAGE) und Spiel veröffentlicht für leichtes Modding:
https://github.com/KeenSoftwareHouse/Miner-Wars-2081
Systemvoraussetzungen
Minimum:


OS:Microsoft Windows XP

Processor:CPU: 2.0 GHz

Memory:1 GB RAM

Graphics:NVidia GeForce 6 series or better, ATI Radeon R520 (X1300-X1950) or better, Intel GMA X3000 or better. Requires at least Pixel-Shader 3.0.

DirectX®:9.0c

Hard Drive:3 GB HD space

Sound:DirectX 9.0c Compatible

Other Requirements:Broadband Internet connection
Recommended:


OS:Microsoft Windows 7

Processor:CPU: 2.5 GHz

Memory:2 GB RAM

Graphics:NVidia GeForce GTX 460 or better

Hard Drive:3 GB HD space

Sound:DirectX 9.0c Compatible

Other Requirements:Broadband Internet connection
Miner Wars™, Miner Wars 2081™, Miner Wars MMO™, Miner Wars Arena™ are trademarks of Keen Software House a. s.
Hilfreiche Kundenreviews