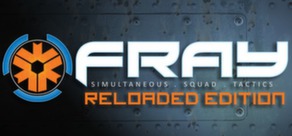 De strategische elementen van turn-based games combinerend met de actie van een shooter, is dit een zeldzame hybride die een geheel nieuwe gameplay-ervaring biedt. Ben je klaar om de strijd te voeren?
Releasedatum: 19 jun 2012
HD-video bekijken
This item does not have support for your local language. Please review the supported language list before purchasing
Opmerking: Spel is momenteel alleen compatibel met 64-bits Windows-systemen
Info over het spel
Fray:Reloaded Edition is a fully simultaneous, turn-based multiplayer strategy game. Set in a dystopian future in the year 2098 where human interaction is confined to virtual reality modules, three mega-corporations vie for control of Earth. Within the combat module, Fray, pledge allegiance to one of the corporations and take control of a squad of four soldiers from six classes with unique weapons and abilities. Choose your squad wisely, assign actions and when the turn timer is up, watch the action play out in real-time cinematic fashion.
Combining the strategy elements of turn-based games with the speed and action of a shooter, Fray: Reloaded Edition is a rare hybrid that offers a fresh and exciting gameplay experience. Choose and equip your squad, execute your moves and predict your enemy's actions. Are you ready to enter the fight?
With Fray: Reloaded Edition, experience the game like never before with new special effects, a new user interface, solo maps, complete class and weapon rebalance, matchmaking and much more. You will also have access to the game's Original Soundtrack composed by electro band Sound Washed!
Key Features
Create your own squad with 6 unique Classes (Assault, Tank, Medic, Sniper, Support and Shadow)
Over 20 different weapons and equipment, ranging from the classic Line Launcher to the Orbital Strike or the destructive Quake
20 unique maps
2 to 4 players
XP and credit system
Intricate leveling system for each Class
Online leaderboard
Solo Training maps
Systeemeisen
Minimum:

OS:Windows XP 64-bit
Processor:Dual Core
Memory:3 GB RAM
Graphics:Nvidia 8800GT
DirectX®:9.0c
Hard Drive:3 GB HD space
Other Requirements:Broadband Internet connection
Recommended:

OS:Windows 7 64-bit
Processor:Dual Core
Memory:4 GB RAM
Graphics:Nvidia GT240
DirectX®:9.0c
Hard Drive:3 GB HD space
Other Requirements:Broadband Internet connection
Nuttige klantrecensies