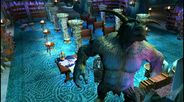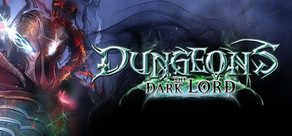 Exciting new features, including four-player multiplayer in four modes and the ability to play as some of the game's popular bosses
Release Date: 27 Sep, 2011
Watch HD video
Buy Dungeons: The Dark Lord
Packages that include this game
Buy Dungeons Gold
...Includes Dungeons, it's DLC, and Dungeons: The Dark Lord.
Steam Exclusive Offer
Dungeons - The Dark Lord Steam Special Edition contains three exclusive multiplayer-maps. The maps Dunst, Playfreight and Labda were specifically designed for the brand-new game mode Piñata and are ideal for fast and thrilling multiplayer battles.
About the Game
Dungeons: The Dark Lord
is the sequel to Dungeons, the game where the more evil you are, the better! There are a slew of exciting new features, including four-player multiplayer in four modes! Along with the addition of multiplayer modes such as Deathmatch and King of the Hill, there's now the ability to play as some of the game's popular bosses (Minos, The Dungeon Lord, the Zombie King and more) in multiplayer, along with the addition of an extensive single-player campaign, a new dungeon setting and 25 new prestige gimmicks.
Key Features
Four multiplayer modes for up to four players: Deathmatch, King of the Hill, Piñata and Survival

Entirely new, fully scripted and voiced single-player campaign

New dungeon setting (ice crystal cave) with new graphics, unique prestige gimmicks and a new boss monster

Playable bosses in multiplayer modes (Minos, Zombie King, Calypso and Dungeon Lord)

Various dungeon graphics sets and inventories are now available

New set of skills specifically for multiplayer modes

System Requirements
OS: Windows XP SP2, Vista, 7

Processor: 2.0 GHz Dual Core

Memory: 3 GB

Hard Disk Space: 2 GB free HDD

Video Card: 256 MB DirectX 9.0c Graphics card with Shader Model 3.0

DirectX®: 9.0c

Sound: Windows-compatible Soundcard

Helpful customer reviews